Lisa Vanderpump was apparently blindsided by the alleged "Vanderpump Rules" cheating scandal.
"Gobsmacked. Flabbergasted," the reality star and restaurateur said on "Watch What Happens Live with Andy Cohen," describing her initial reaction to the news.
"I mean, literally no words," she said. "I didn't see it coming, nobody saw it coming."
The former "Real Housewives of Beverly Hills" star, 62, added that she has filmed with her "Vanderpump Rules" co-star Ariana Madix in the midst of the alleged infidelity scandal, "because obviously it's an integral part of the story now."
"We've got to tell the real story," she said. "I would say the word I would use is 'devastated.' Devastated, a lot of tears. Ariana was always that ride or die girlfriend."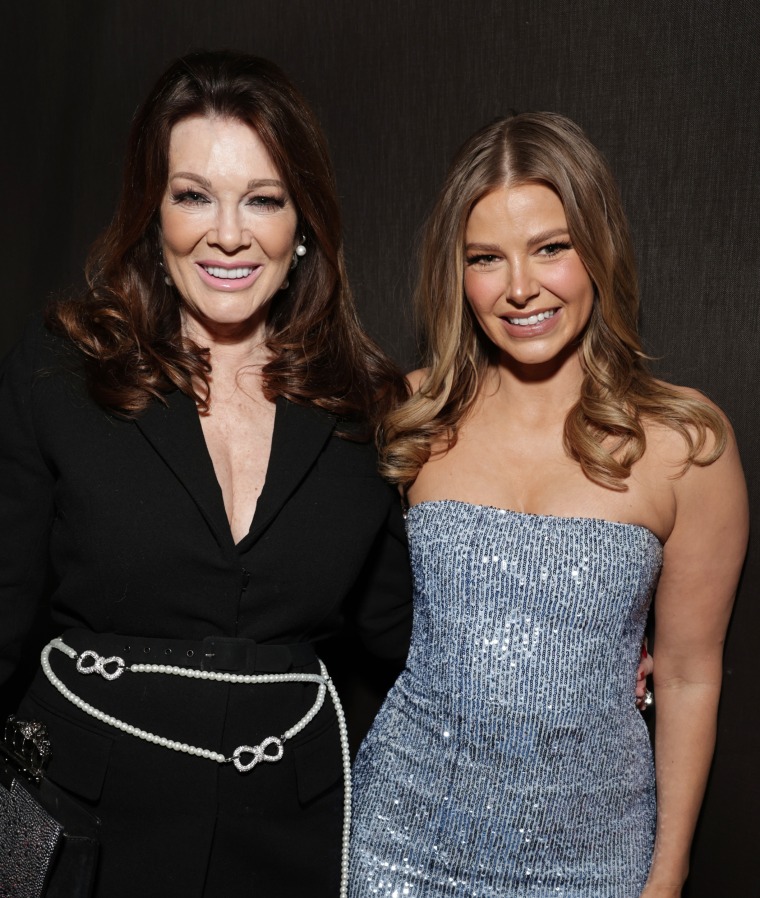 Earlier this month, Madix, 37, and her "Vanderpump Rules" co-star, Tom Sandoval, 39, broke up after nine years together.
Their split came amid rumors that Sandoval had cheated on Madix with fellow "Vanderpump" cast member Raquel Leviss, 28. 
The alleged cheating scandal blew up online, with some fans taking to social media to harshly condemn the parties involved.
On "Watch What Happens Live," Vanderpump had some stern words of her own for those attacking Sandoval and Leviss.
"I really want to talk about this, because this kind of vigilante justice, I don't agree with at all," she said. "I think these are people that are living their life in a public forum, which is very difficult. There's so much infidelity in the world. It's not like they murdered someone. You know, it's a show, but they're all hurting.
"I'm not saying we should let them off the hook," she continued. "Condemn their actions, but don't condemn the people, OK? All this aggression, it can have serious ramifications. I really mean that. I think everybody should be careful with that. I don't like it, and I don't want to see it."
"Unless it's to Kyle (Richards) or Lisa Rinna," she quipped at the end, alluding to some past rocky relationships with her former "RHOBH" co-stars.
Vanderpump also said she thinks Sandoval and Leviss had a "game plan" when it came to their alleged affair going public. 
"I think it was to get through the reunion, then to let the bomb kind of drop, and if there was another season, then have a few weeks, a few months, for people get used to it," she told Cohen.
On March 9, Leviss addressed the recent scandal in an Instagram statement.
"Besides the indefensible circumstances surrounding our relationship, my feelings for Tom have always been sincere and born out of a loving friendship," she wrote. "Knowing how many people we hurt, I need to understand my choices and learn to make better ones.
"I need to take care of my health work on self growth and take time to be ok with being alone," she continued. "I care for Tom and I don't want to label anything or predict what lies ahead. Right now I need to heal."
Season 10 of "Vanderpump Rules" is currently airing on Bravo.
(Bravo is owned by NBCUniversal, TODAY's parent company.)
After news of the alleged affair broke, Bravo confirmed that this storyline will be included in the show, writing on Twitter, "We have resumed filming on #PumpRules and this story will be unfolding on camera."