Lisa Marie Presley has been laid to rest at Graceland after her death at age 54 on Jan. 12.
The service for the late singer-songwriter began at 9 a.m. on Sunday, Jan. 22 on the front lawn of Graceland, the former home of rock 'n' roll legend Elvis Presley.
She is survived by her mother, Priscilla Presley, and three of her children: actor Riley Keough, 33, and twins Finley Aaron Love and Harper Vivienne Ann Lockwood, 14.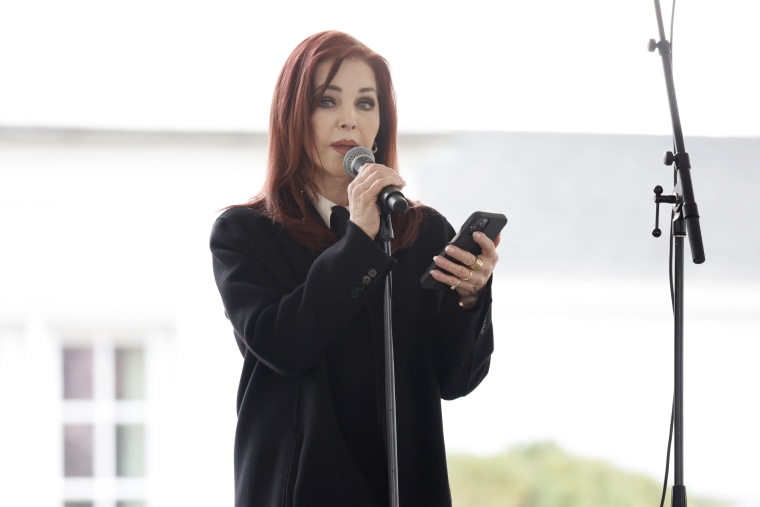 Priscilla Presley, 77, spoke during her daughter's memorial, sharing a tribute she said that one of her granddaughters wrote.
"Lisa Marie Presley was an icon, a role model, a superhero to many people all over the world," she read. "But mama was my icon, my role model, my superhero, in much more ways than one. Even now, I can't get across everything there is to be understood or known about her. But as she always said, 'I'll do my best.'"
Priscilla then read a poem written by her granddaughter, sharing, "She always knew she wouldn't be here too long. Childhood passes by with a glimpse of her green eye. She then grew a family of her own. Then came her second child, leaving her with suspicion. Could this be the angel that takes me home?"
"Now she is home where she always belonged, but my heart is missing her love," she continued. "She knew that I loved her. I fear I'll never touch her, but the old soul is always with me. She doesn't drift above."
Priscilla Presley ended her tribute with a short personal message as she addressed the crowd, saying, "That says it all, and thank you all for being here...Our heart is broken. Lisa, we all love you."
Lisa Marie Presley's oldest daughter, Riley Keough, didn't speak at the memorial. Instead, her husband, Ben Smith-Petersen, read a letter that she wrote for her late mother, thanking her for "being my mother in this life."
"I'm eternally grateful to have spent 33 years with you," Smith-Petersen read. "I'm certain I chose the best mother for me in this world and I knew that as far back as I can remember you. I remember everything."
In the letter, Keough reflected on several moments in her childhood, whether it was time in the car, cuddling in bed, listening to her mother sing her lullabies, and notes left in her lunchbox.
"I remember how it felt to be loved by the most loving mother I've ever known," he read. "I remember how safe it felt to be in your arms. I remember that feeling as a child and I remember it two weeks ago on your couch. Thank you for showing me that love is the only thing that matters in this life."
In the letter, Keough thanked her mother for giving her "strength, my heart, my empathy, my courage, my sense of humor, my manners, my temper, my wildness, my tenacity."
"I'm a product of your heart. My sisters are a product of your heart. My brother is a product of your heart," the letter concluded. "We are you. You are us. My eternal love. I hope you finally know how loved you were here. Thank you for trying so hard for us. If I didn't tell you every day, thank you."
At the service, several speakers paid tribute to Lisa Marie Presley and her family, including former Memphis Mayor A C Wharton and Sarah Ferguson, the Duchess of York and longtime friend of the Presley family. Jerry Schilling, Alanis Morissette, and Axl Rose were among the performers, honoring the late musician with their songs "Rest" and "November Rain."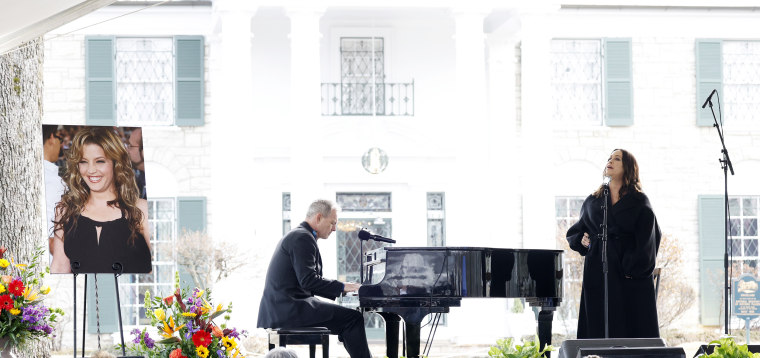 Lisa Marie Presley died earlier this month after suffering a cardiac arrest. She was rushed to the hospital after she was found not breathing at her home in Calabasas, California.
Lisa Marie Presley grew up at Graceland until her father's death, which occurred when she was 9 years old. The estate in Memphis, Tennessee, marks the final resting place of several members of the Presley family. Lisa Marie Presley is buried next to her son, Benjamin Keough, who died in 2020 at age 27.
On Jan. 8, four days before her death, Lisa Marie Presley visited Graceland to celebrate what would have been Elvis Presley's 88th birthday. She addressed the crowd at the event saying "it's been an incredible year" and expressing how proud she is of the film depiction of her father's life with Baz Luhrmann's "Elvis."
"It's just so moving how every year you come from all over the world," she told the crowd. "It's moving to me and my family, thank you."