There's good news for "Hamilton" fans who missed the chance to see Lin-Manuel Miranda in his award-winning Broadway blockbuster. He's returning to the title role!
But you won't see him on the Great White Way this time.
Miranda's taking the production all the way to Puerto Rico, and when he recently sat down with TODAY's Savannah Guthrie, he explained why that's so important to him — and to the arts community of the hurricane-ravaged U.S. territory.
"We always intended for 'Hamilton' to come to Puerto Rico," Miranda said of the show that's already had two U.S. tours and a run in London's West End. "And then when Hurricane Maria happened, we just sort of doubled down on that commitment."
Now, almost a year after that deadly and devastating storm, the time is right.
Puerto Rico holds a special place in Miranda's heart. Although he was born in New York, it's where his family comes from, and it's where he spent his summers as a child.
And it's where he wants to use his art to help others who work in the arts.
"Now the focus needs to be not making a dime on 'Hamilton' Puerto Rico, but (on) how can we help," he said. "The goal is basically, as Puerto Rico slowly recovers from Hurricane Maria and gets back on its feet, not to leave behind the artists. We're going to create this arts fund — it's the Flamboyan Arts Fund. Basically every penny that gets made at 'Hamilton' will go to this arts fund."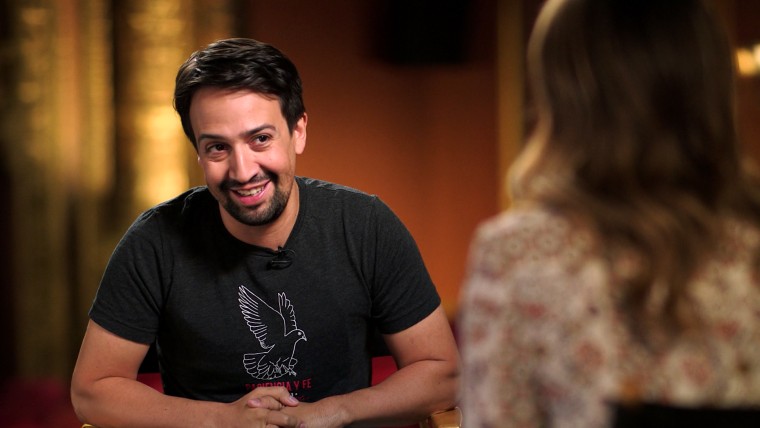 Miranda recognizes that those living in Puerto Rico still have basic needs that need tending to, and he works hard to raise funds for that, too. He's partnered with the Hispanic Federation and explained that, "I feel so grateful that we've raised, at this point, $41 million. So the work with Puerto Rico doesn't stop, you know. (The Flamboyan Arts Fund) is just sort of taking on an additional lane."
So he's ready to suit up again as Alexander Hamilton for the cause. But Savannah, speaking on behalf of Miranda fans everywhere, wanted to know if his long "Hamilton" locks would be returning to the role, too.
"I think I'm wigging up," he laughed. "I think it's too late (to grow it out)."
As for opening night, he confessed, "I am 50 percent excited, 50 percent terrified."
But he's 100 percent certain he's going to enjoy it. And one day, his fans might get the chance to enjoy another Miranda on stage.
The playwright, actor, composer and father of two believes his eldest son, 3-year-old Sebatian, has been bitten by the showbiz bug.
"He is a monologist," the star said, and for those who don't call the stage their second home, that's someone with a passion for getting up in front of a crowd and delivering dramatic readings or monologues. "So to have an audience for him is great," the proud pop added.
Sounds like he might have what it takes to take on "Hamilton" himself some day.