It's been a long time since we got to enjoy the shared talents of Jane Fonda, Lily Tomlin and Dolly Parton in a feature film — like, since 1980, when the trio made us laugh until we cried in "9 to 5."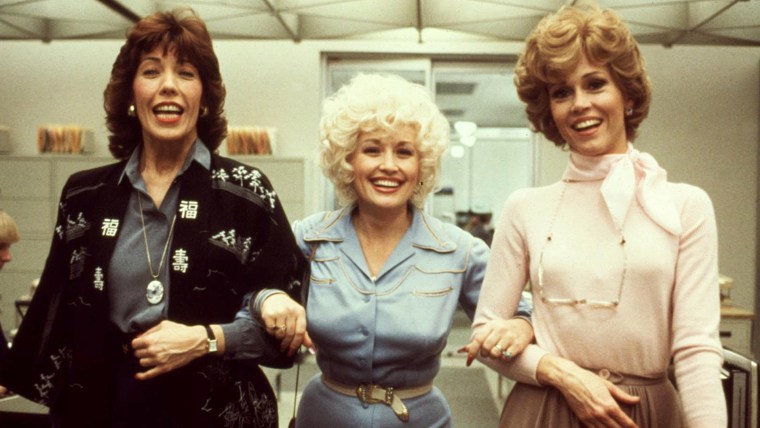 Well, we got a reunion on Sunday night (or at least two-thirds of one) when Parton presented the Life Achievement Award at the Screen Actors Guild Awards to Tomlin.
Fonda wasn't there, alas; as Parton explained, she was home sick. But we thoroughly enjoyed seeing these two ladies up on stage together again, giggling like schoolgirls (Parton is 71, Tomlin 77) and clutching each others' arms. It was almost like old times!
Tomlin's speech was peppered with humor, both personal and political: "The doomsday clock has been moved to two minutes before midnight! And this award came just in the nick of time," she joked. "Ironically, this award makes you feel not that you've done so much, but that you wish you had done so much more."
RELATED: '9 to 5' turns 35; See 1980 interview with Fonda, Tomlin and Parton
But Parton's lead-up also had us in stitches.
"Look at this room, all of these special people," the musician/actress quipped. "I almost didn't get in. They kept holding me backstage. They wanted to see my ID — or maybe it was double D's. I wanted to get that off my chest."
She added, "People have wanted another '9 to 5,' but I think we'd have to call it '95'."
So yeah, we did miss Fonda — and a perfect "9 to 5" reunion — but we know we can see her with Tomlin on Netflix's "Grace and Frankie" these days. Let's just say that for this night, Tomlin and Parton were a perfect pair.
RELATED: Happy birthday, Dolly Parton! Here are 7 life lessons from the beloved singer
Parton would probably agree. "Jane and Lily aren't my only two famous girlfriends," she noted, referencing her famous, well, assets. "Lily's getting an award I've spent my life trying to avoid: sag."
Follow Randee Dawn on Twitter.