Liam Neeson's favorite song wasn't written by his late wife, fellow actor Natasha Richardson, but the story behind her performance of it at their 1994 wedding is why he holds it in such high regard.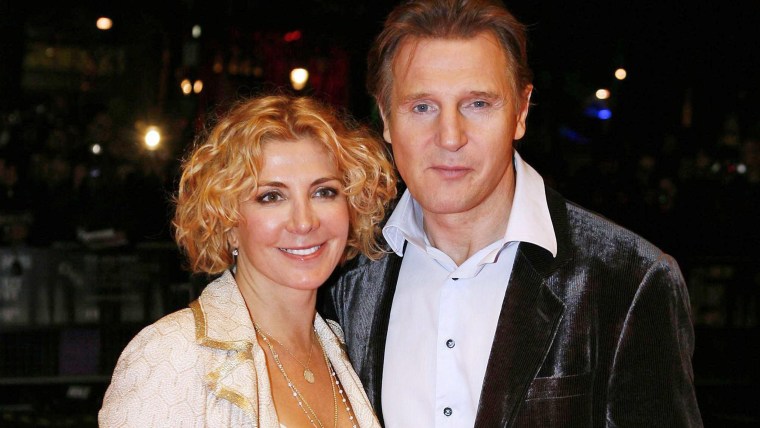 For a segment called "My Favorite Song," Neeson chatted with John Benjamin Hickey on Andy Cohen's "Radio Andy" SiriusXM show Thursday. The star of the "Taken" film franchise explained his strong personal connection to Van Morrison's romantic ballad "Crazy Love," which inspired a touching moment at Neeson and Richardson's wedding in Northern Ireland.
"Behind my back Natasha had been taking singing lessons to sing it to me," Neeson, 63, told Hickey. "After the ceremony, we were all going in to start the night's festivities, she grabbed the microphone and she sang me this. She had learned it and I was like, 'Wow!"
RELATED: Slideshow: Natasha Richardson
The singing lessons also paid off four years later, when she won a Tony Award for her role of Sally Bowles in a Broadway production of "Cabaret." Richardson's screen credits include the 1994 film "Nell," the 1998 remake of "The Parent Trap," and the 2002 movie "Maid in Manhattan."
She and Neeson had been married for 15 years in March 2009, when Richardson got into a ski accident and died two days later from a related head injury. She was 45 years old.
In February 2014, "60 Minutes" aired Anderson Cooper's conversation with Neeson, who continued to mourn his loss. "[Her death] was never real," he said at the time. "It still kind of isn't."
Follow TODAY.com writer Chris Serico on Twitter.