In "Let's Get This Party Started," Soleil Moon Frye shares fun, imaginative tips on how to turn your child's party into a colorful, vibrant event everyone involved. Here's an excerpt.
Personalized Pillowcases
This craft will make the kids happy long after the slumber party ends. Every child gets to go home with a pillowcase to remember his or her night full of fun.

Craft Paper
1 pillowcase per kid
1 piece of wax paper per pillowcase
2 tablespoons each of various fabric paint colors (adjust amount for multiple kids)
1 paintbrush per color

This could get a little messy, so lay out craft paper to catch any spills. Put a piece of wax paper inside of each pillowcase to prevent the paint from leaking through. Set up an array of paints for the kids to choose from, and let them paint their hearts away. If they want to paint both sides of the pillowcase, let the first side dry completely before painting the other side. Have the kids take their pillowcases home in the morning.
Froot Loop Necklaces
What kid won't like jewelry they can eat? Froot Loops are not only yummy, they're also the perfect shape for this craft.

1 (20-inch) string per kid
1 large box Froot Loops cereal
1 large bowl


On each piece of string, tie a triple knot 2 inches from the top. This leaves enough room to tie the ends together after the necklace is made. Make sure all the kids' hands are washed and clean. Put out a bowl of Froot Loops, and the kids will be eager to do the rest. Have them put on the Froot Loops in their favorite order. Once the necklace is full, tie a knot at the end and then tie the two ends together, and let the kids enjoy their new jewelry they can eat!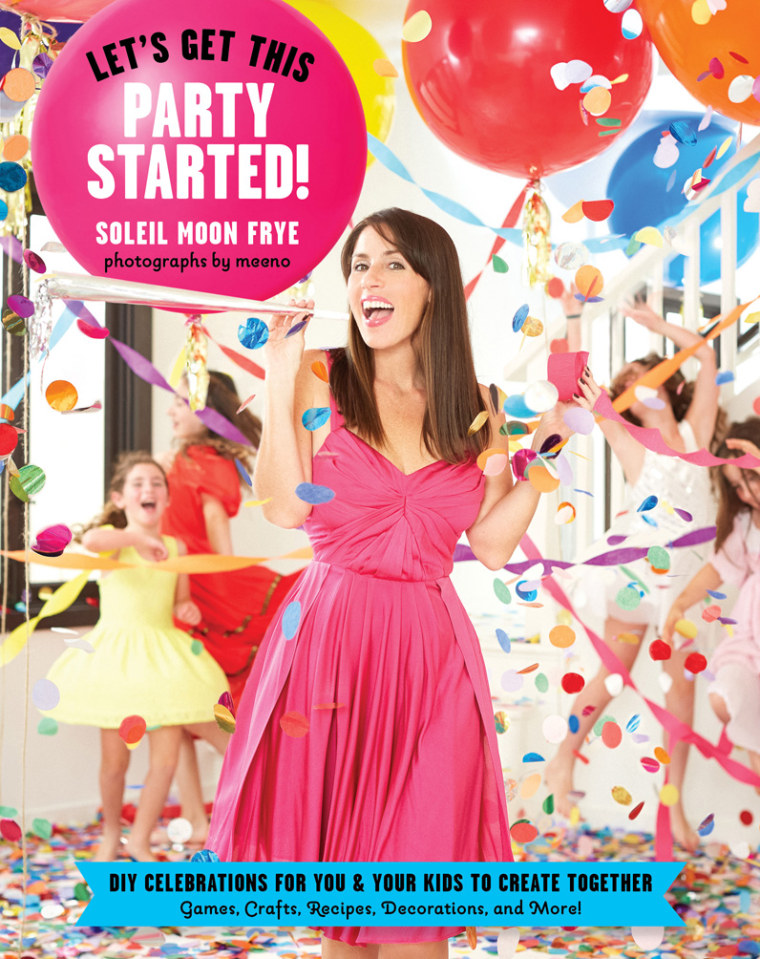 Game Night
Grab your kids' favorite games and make it one of those nights! Twister, charades, and Scrabble are some of our household favorites. Put out a selection, and have the kids pick their favorite. Board game nights are a perfect opportunity to bond with the kids and create lasting memories.

Box-Flip Dare
Truth or dare was always a favorite when I was growing up, so we came up with a kid-friendly version. Create your very own box-flip dare game!

1 (4-inch-square) folded box
2 tablespoons each of 6 paint colors
1 paintbrush per color
Selection of markers for decorating

It is great to work side by side with your little ones. Help your child fold the box and choose different color paints for each side. While the paint dries, come up with "dares": "Act like a gorilla," "Tell us a secret," "Pick someone to have a stare con­test with," "Sing your favorite song," "Do a cartwheel." I am sure the kids will have their own ideas. The finished product is a unique box full of fun-to-be moments. Have each child take a turn tossing the box up in the air, and whatever it says on the side it lands on, it is their turn to do.
Tips
·    Add style to your slumber party. Take raffia and natural-looking spoons and tie them around colorful mini cereal boxes for the next morning's breakfast.
·    Pick out some movie classics, and pass out the popcorn for a fun nostalgia night.
·    Karaoke is a great way to add some spunk to your party.
·    Why wait? Have the kids show up in their favorite PJs.
Pancakes
Nothing tops homemade pancakes the morning after a slumber party. Well, nothing except for this amazing pancake bar with toppings sure to make every kid happy.

Yield: 10-12 pancakes
1 cup all-purpose flour
1 tablespoon white sugar
1 teaspoon baking powder
½ teaspoon baking soda
½ teaspoon salt
¾ cup milk
1 egg
2 tablespoons butter, melted
½ teaspoon vanilla extract

TOPPINGS
Sliced strawberries
Blueberries
Sliced bananas
Chocolate chips
Sprinkles
Maple syrup

In a large bowl, mix together the dry ingredients. Pour in the milk, egg, melted butter, and vanilla extract. Mix until smooth. Heat a lightly oiled frying pan on medium heat. Pour the batter into the pan a large spoonful at a time and cook until bubbles begin to form. Then flip, cooking until lightly browned on both sides. Let the pancakes cool and bring out the cookie cutters for a fun pancake bar. Place the fresh fruit and other toppings in bowls and set them out to serve.
Excerpted from "Let's Get This Party Started " by Soleil Moon Frye. © by Soleil Moon Frye. Published by Abrams Books. All Rights Reserved.