It finally happened! Leonard DiCaprio has his Oscar.
On Sunday night, the star accepted the Best Actor honor for his riveting performance as frontiersman and fur trapper Hugh Glass in "The Revenant," beating out the stiff competition from Bryan Cranston ("Trumbo"), Matt Damon ("The Martian), Eddie Redmayne ("The Danish Girl") and Michael Fassbender ("Steve Jobs").
After recognizing his fellow nominees, DiCaprio thanked friends, family, cast mates and "everyone from the onset of my career."
He then moved on to a bigger issue — one very close to his heart: the environment and the impact of climate change.
RELATED: Leo and Kate walk Oscars red carpet together — and everyone lost their chill
"Making 'The Revenant' was about man's relationship with the natural world, a world that we collectively felt in 2015 as the hottest year in recorded history," he explained. "Our production moved to the southern tip of this planet just to find snow. Climate change is real, it is happening right now, it is the most urgent threat facing our entire species."
He urged everyone to support leaders who support the planet.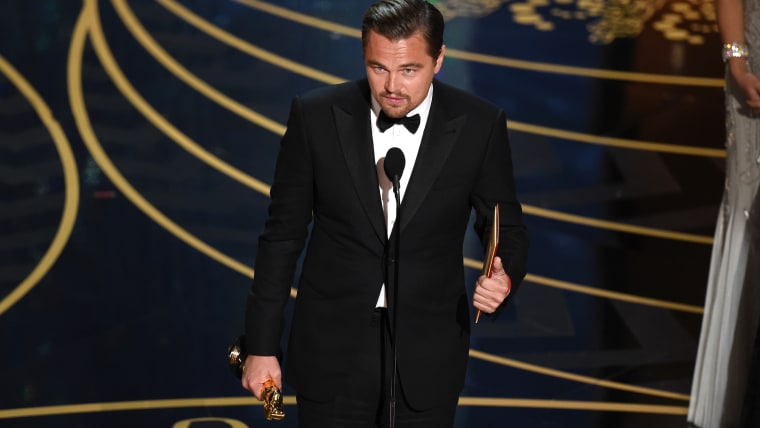 "Let us not take this planet for granted," he told the crowd who gave him a standing ovation. "I do not take tonight for granted. Thank you so very much."
This win was a long time coming for DiCaprio.
Oscar buzz first focused on him when he was still a teen, after his big screen breakout performance in "What's Eating Gilbert Grape" (1993). Since then he's been nominated and favored for leading roles in "The Aviator" (2005), "Blood Diamond" (2001) and "The Wolf of Wall Street" (2014).
See photos of Leo playing gangsters, gamblers, kings and con men during his lively Hollywood career.
When the now-winner spoke to TODAY about his Oscar odds last month, he said the award is "beyond your control." And while he knew he would appreciate such an honor and the recognition of his peers if it came his way, he wasn't in the movie-making business for that.
"I know it's a cliché, but the truth is it's ultimately not why you do these films," he told Willie Geist. "You do them because if you love the art form — and cinema to me is the great modern art form — you can look back one day and say, 'I did that piece of work, and I gave it everything I could while I was there.' And if you have enough of those later on in life, you're a happy artist."
Love Leo as much as we do? Then you'll want to click through his absolute best red carpet looks.
Now, with a gold statuette in addition to all of that, he just has one more reason to be happy.
RELATED: It's awards time! See the complete list of this year's Oscars winners
But long before the award was handed out, it was clear that win or lose, it would a big night for DiCaprio. That's because he saw the ceremony as more than a winning opportunity.
It was a landmark for him and his always-supportive family.
RELATED: Chris Rock addresses #OscarsSoWhite in Academy Awards monologue
DiCaprio, who brought his mother along as his date, stopped on the red carpet before the show got underway and spoke about the personal side of his road to stardom.
"I grew up in East Los Angeles, and my parents took me to auditions every day after school," he said. "They listened to me. You know, they listened to this kid who was overly ambitious and said he wanted to be an actor. ... They listened to a young child's dreams, and I could never be more thankful."
Talk about winning!
Follow Ree Hines on Twitter.