In order to properly portray frontiersman and fur trapper Hugh Glass in the harrowing biopic "The Revenant," Leonardo DiCaprio had to rough it in real life, enduring extreme weather, brutal conditions and one really gross meal.
DiCaprio wasn't faking it when he gnawed on a big slab of bison liver on the big screen.
"The native American actor I was working with ... was eating raw bison flesh the entire day during rehearsal, and [then] they gave me this red gelatinous sort of pancake to eat, and it just didn't look real," he told TODAY's Savannah Guthrie during an exclusive interview.
"It didn't look authentic to me. I wanted to get the real thing, and it was this giant liver. It was completely disgusting ... My reaction is very much on screen, which is a nauseating one."
MORE: Leonardo DiCaprio 'proud' to award $15 million to conservation causes
It was a one-and-done experience.
"I'll never do that again," he said.
The actor's insistence to keep it authentic didn't extend to one scene in which he crawled into a horse's carcass. Thankfully.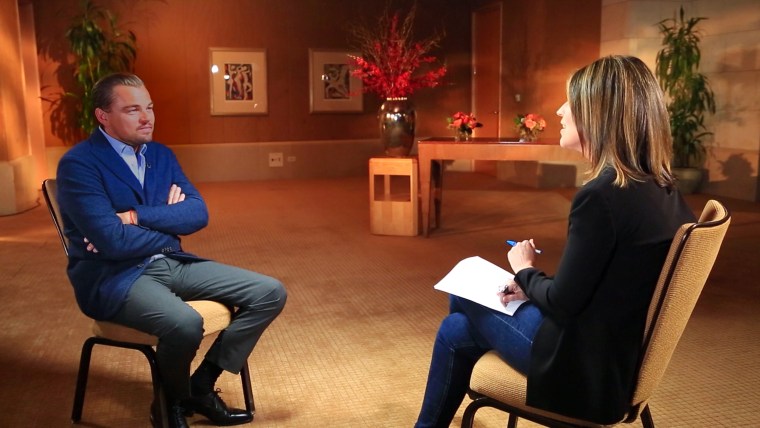 "Yeah, that was a set piece," he assured.
MORE: Leonardo DiCaprio: A great white shark almost ate me
DiCaprio described the experience as "probably the hardest film, professional thing that I have ever done." And that hard work could pay off during awards season.
He's been nominated for a Best Actor Golden Globe — an honor he won back in 2005 for "The Aviator" — and many think he's a shoo-in for it.
However, DiCaprio isn't focused on that right now, simply because "you ultimately have no control of these things."
Instead, he said he's just "very proud that a movie like this got made."
Now you can see what he's so proud of."The Revenant" is currently in select theaters and opens nationwide Friday.
And find out if takes that top acting honor when the 73rd annual Golden Globe Awards air Sunday at 8 p.m. on NBC.
Follow Ree Hines on Twitter.