In case you haven't heard, Jay Leno is moving to prime time. "The Jay Leno Show" launches Monday at 10 p.m. ET on NBC.
The writing found its way to the wall more than a year ago, via a show that has nothing to do with the big-chinned comedian. The "Leno" change, oddly enough, is related to NBC's decision to split football drama "Friday Night Lights" between DirecTV and NBC. The decision to move "FNL" wasn't as much ratings-based as it was aimed at keeping the show, which has a small but very loyal following, as profitable as possible.
Defraying the $2 million or so it costs to make each "FNL" episode by partnering with DirecTV meant less pressure on the bottom line. And it worked: "FNL" was renewed (its new season premieres on DirecTV on Oct. 28) and now we've got Leno firmly planted in prime time, under basically the same premise.
Will the Leno experiment work? Most definitely, so long as the show is profitable — and it will be hard for it not to be, when you compare what it would cost to place scripted television five nights a week in the same spot.
But will people watch? Curious viewers may tune in for the premiere, but moving forward, it could get tough. Prime time network television is increasingly a place for sports, big events, and news shows — not dramas, sitcoms, or comedians with an hour of repurposed late night television.
The good news is, it's irrelevant. Unlike big ratings-dependent network dramas, it's the bottom line here that counts, and so long as Leno's willing to play, he'll stay.
A look at Jay Leno's comedic career, including his work as "Tonight Show" host and philanthropy.
But actors, screenwriters, and the other folks who really put in the elbow grease behind the scenes of scripted network TV aren't so happy.
One prominent actor says that "there's a lot of lost opportunities by having Jay take up so much real estate. You're talking about hundreds of jobs people won't have because he's taking up five hours of television."
But scripted network television's loss could be cable's gain. What "Mad Men" is to AMC, Leno is to NBC; a new way to lock in viewers, and hopefully, make some money. And there's much greater latitude and opportunity for risk-taking in cable, and how does that sound unappealing? The model is changing — cable is where the bulk of television creativity will end up. And network television? That's actually pronounced "place to go to watch big events." But that's OK. Change is good — it just takes some getting used to. If it means better television overall, then who can complain?
Teri Hatcher turns heads at triathlon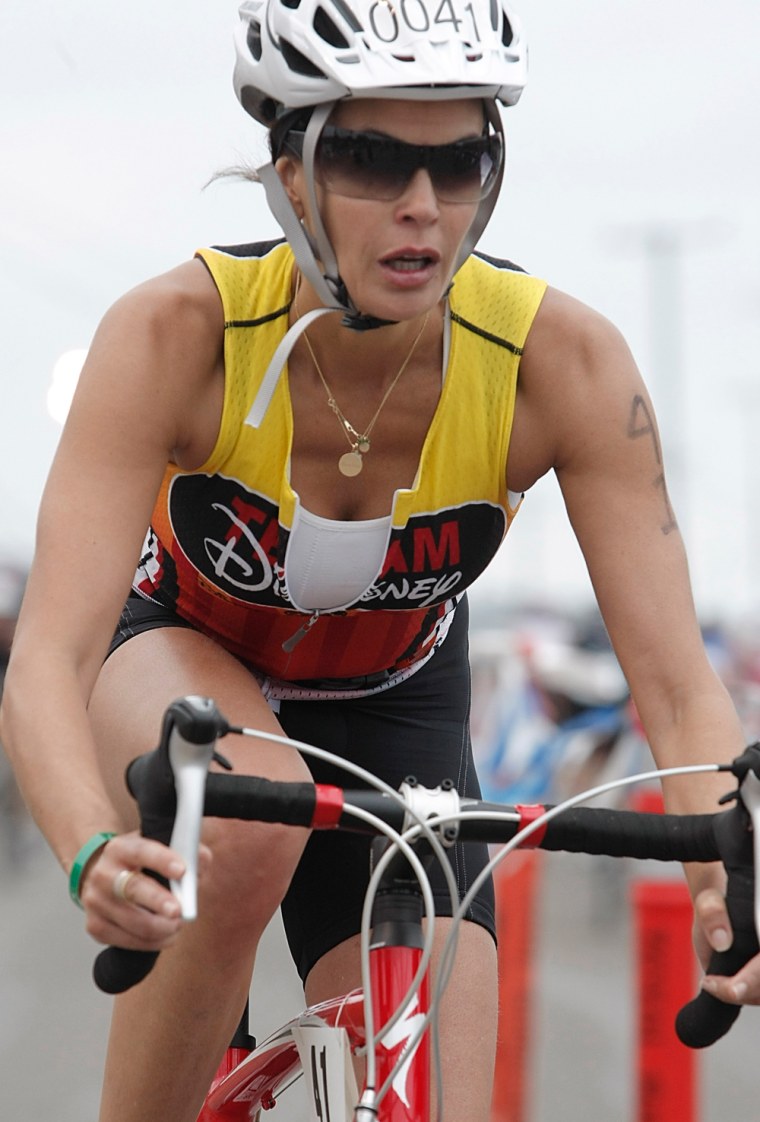 "Desperate Housewives" star Teri Hatcher made a big impression at the 23rd annual Nautica Malibu Triathlon on Sunday. She was one of the few celeb participants who competed in all three legs of the race (1/2 mile swim, 18-mile bike race and 4-mile run) and she finished second in the female celeb category.
Hatcher completed the race in 2:06:50.7; she came in behind "Bold and the Beautiful" star Heather Tom, who finished in 1:48:57.1.
Hatcher raised more that $16,000 for Childrens Hospital Los Angeles. The money raised this year will benefit The Pediatric Cancer Research Program there.
Triathlon regulars William H. Macy and Felicity Huffman also competed — it's their seventh consecutive year. Huffman raced on the "Desperate Housewives" team, which finished with a time of 1:48:39.2. Looking ahead to next year: yours truly will partake.
Weekend box office: 'Bad' does wellTyler Perry didn't have the biggest opening of his film career, but "I Can Do Bad All By Myself" did well enough with a $24 million opening.
Tim Burton's animated "9" only played at 1,661 locations, but it brought in $15.3 million over its five day opening. That's impressive.
Finally, "Inglorious Basterds" plugs away — another $6.4 million, which brings its domestic take to $104.3 million, and its worldwide total to $188 million. Didn't see that one coming.
Courtney Hazlett delivers the Scoop Monday through Friday on msnbc.com. Follow Scoop on Twitter: @ courtneyatmsnbc.