Lenny Kravitz paid tribute to the late Aretha Franklin, calling her music a "gift," during an upcoming Sunday Sitdown with Willie Geist.
Kravitz, 54, honored Franklin just before she died of pancreatic cancer at 76 on Thursday, saying her dozens of pop hits, including "Respect," "Think," "I Say a Little Prayer" and "(You Make Me Feel Like A) Natural Woman," brought joy to music lovers everywhere.
"I mean, there's certain people that just, the world would not function without. I mean, Aretha Franklin's music, I mean, what a gift ... What a gift for her to have, but what a gift for us to be able to listen and to receive that gift," Kravitz gushed. "Her music has brought so much joy to the world, and so much soul, and so much feeling."
During the interview, which airs Sept. 9, Kravitz, who performed with Franklin at the Rock and Roll Hall of Fame's 25th anniversary concert in 2009, said he understood why the powerhouse singer and 18-time Grammy winner was called the Queen of Soul over her six-decade career.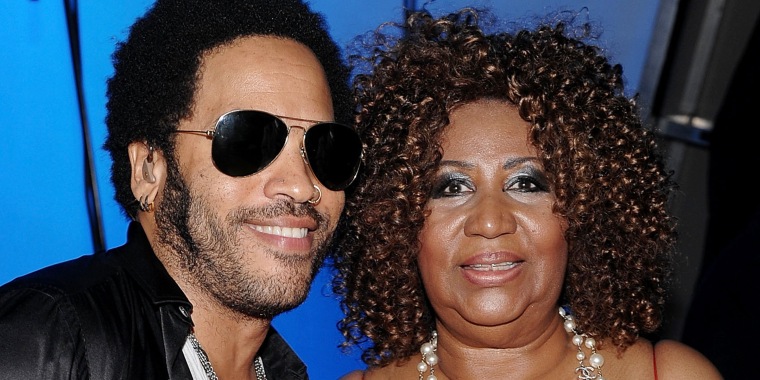 "Those records, man. Those records especially from Muscle Shoals, I mean, are just phenomenal, and through her voice, through her expression, we get to feel what soul really is. You know, what gospel really is. What the spirit of God really is," he said, adding, "I'm just grateful that I got to hear this music, and I'm even more grateful that I got to meet her, to work with her, to become friendly with her."
Does the musician have a favorite Aretha Franklin song?
"There's so many. I mean, 'Respect' was the first one for me," he said. "I listened to that track two days ago, just listening closely to the recording. It's so dynamic, the drums, I mean, the whole thing, it's just amazing. Every part of that record, the saxophones, the background singers, the guitars, the bass, everything — everything is just so, so punchy and so soulful."
While losing a superstar talent like Franklin is tough, Kravitz said the singer's fans are lucky she leaves behind a legacy.
Thanks to the Queen's music, said Kravitz, "She will always be with us."