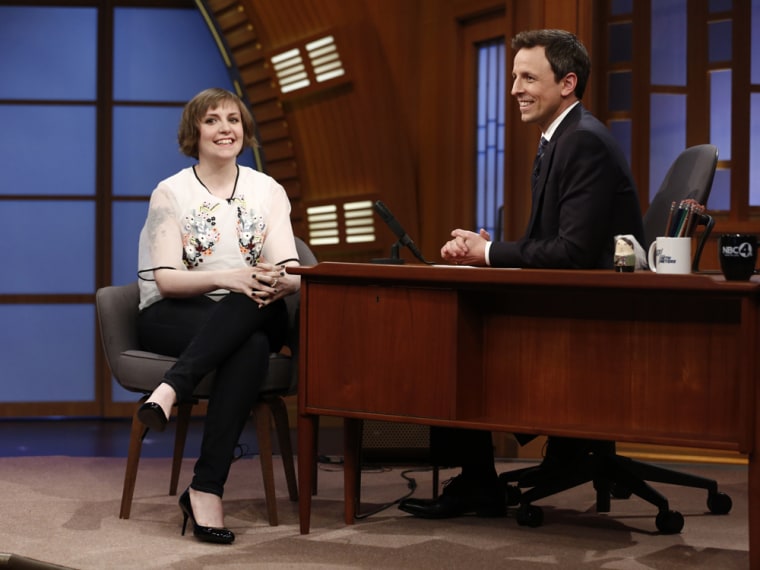 "Girls" star and creator Lena Dunham was recently detained by TSA agents at LAX when the scanners detected a "weapon" in her purse at the security checkpoint. 

"The only thing that got me out of it sane," the outspoken actress told Seth Meyers on "Late Night" Thursday, "was thinking that this might be an OK talk-show story."
She was right. 
The weapon in question was a "self-defense keychain," a gift from one of Dunham's colleagues.  
"It's shaped like a cat — it goes over your knuckles," she explained, "but I guess the two ears could gut somebody."
"I understood sort of intellectually it could be used as a weapon," she added, "but really all I thought was like, What a cute little cat!" 
The TSA agents, however, weren't as charmed by her accessory. They summoned law enforcement, refused to let her make any phone calls and did a criminal background check. 

Apparently, the airport screeners don't watch "Girls" or television awards shows — or maybe they didn't recognize her with her clothes on? (Not only does her HBO character frequently eschew clothing, but Dunham famously appeared naked in a toilet stall for Jimmy Kimmel's 2012 Emmys opening sketch.) 
At any rate, Dunham's fame — she also has a book coming out this fall — didn't help her at the checkpoint. 
"I felt like so much guilt about just hoping someone might be passing by and go, like, 'love the show,' just so they would have the sense that I wasn't a convicted criminal," she told Meyers. 
"I was so scared — I was like, They're gonna Amanda Knox me," she said, referring to the American student jailed for murder in Italy. "I'm gonna go away for a long time. The criminal justice system is broken in this country. They put away the good people and let the bad people go free."
"If it really was a weapon, I wouldn't use it as a keychain," Dunham said she repeatedly told the agents. "If I was really trying to shiv somebody on the plane, I wouldn't have attached this to like the keys to my gym locker and stuck it in my purse for everyone to see."
TSA confiscated the keychain, and eventually released Dunham with a warning. But for her, the experience "was like 'SVU' times a thousand," she quipped to Meyers. 
Maybe the TSA agents will finally recognize her next weekend, when she hosts "SNL" for the first time. 
"When I found out that I'd be hosting I screamed to such a degree that people in my writers room thought someone had died," she told Meyers. "I was insane with joy."
Dunham said she was "obsessed" with "SNL" as a teenager. 
"I'm the only kid in New York history who tried to get a fake ID … not because I wanted to drink, but because I wanted to go to 'SNL,'" she said. When she was 14, she tried to persuade her school to change her age on her student ID to 16, the minimum age for admittance to the live tapings.
"I'm not going to do anything illegal, so just give it to me," Dunham said she demanded.  
It's a good thing they refused, Meyers noted. A criminal record wouldn't have done her any favors with the TSA.