If your child is one of the many watching "The Lego Movie" on an endless loop this summer, Will Arnett feels your pain.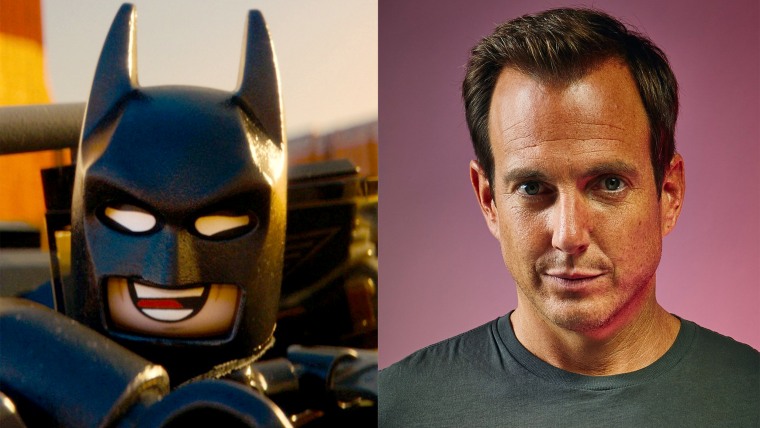 "My kids are super into it too, nonstop," said Arnett, who voices Batman in the hit film. "In fact, a couple of mornings ago, my son got into my bed at 6 a.m., turned on my iPad, and started watching 'The Lego Movie.' So I woke up to 'Everything is awesome!' and was like, 'Oh my God!'"

Now, he's hoping for an equally fervent response to his other movie adaptation of a beloved kids franchise, "Teenage Mutant Ninja Turtles," which opens Aug. 8. The premiere can't come soon enough for his sons Archie, 5, and Abel, 3 — but not because their dad is in the film.
"It's a really fun movie, and my kids and all their friends are super-excited to see that," said Arnett, who plays Vern Fernwick, the cameraman working with TV reporter April O'Neil (Megan Fox). "But they don't really give me a lot of credit. They're like, 'Oh yeah, you're in that, whatever.' They just want to see the movie!"
When Arnett filmed "Ninja Turtles" last summer in New York, he made sure to bring his Turtle-loving kids to the set, where Abel honed his nunchaku skills (turtle Michelangelo's weapon of choice) with the movie's stunt team. "I mean, every day!" said Arnett.
After spending the day filming "Turtles," Arnett would come home — and end up playing Turtles with his sons all evening. "So I was inundated with that," said Arnett, who was always asked to play the Turtles' primary foe, Shredder.

His kids won't have the opportunity to play with Arnett's "Ninja Turtles" character — a Vern Fenwick action figure is not included in the new Turtles merchandise tied to the film — which is fine by Arnett. "I hate to say it, but that action figure would just collect dust at my house," he said. "I'm way down the totem pole. It's just boring old Dad."
So much so that his kids (their mom is Amy Poehler; she and Arnett announced their split in September 2012 and Arnett filed for divorce in April) are unbothered by hearing Arnett channel his "Lego Movie" Batman persona. His distinctive voice in the film became so beloved that he read weather-related school closings as Batman earlier this year on "Jimmy Kimmel Live." "My sons don't make me do (the voice) as much," Arnett said. "It is one of those party-favor things; sometimes I do it more for my friends' kids."
With "The Lego Movie" grossing more than $467 million worldwide, it's little surprise that a sequel is coming in 2017. But Arnett isn't sure yet whether Batman will be a part of it. "I still don't know, I'm kind of in the dark," he said. "I hope so!"
While he awaits word of Batman's "Lego" fate, Arnett will shortly begin working on the second season of his CBS sitcom "The Millers," where he'll welcome new castmate Sean Hayes. "We're old friends, and I couldn't be more delighted about him coming onto this show, because very few people make me laugh harder than Sean," said Arnett. "There's nobody funnier. We're so lucky to have him."
Jason Lynch writes about TV regularly for The Daily Beast, Quartz, Parade and other publications. Previously, he was TV editor at People magazine.