Even when he's not playing, LeBron James leaves fans starstruck.
During the matchup between the Los Angeles Lakers and Golden State Warriors on Saturday, Feb. 11, James sat out for his second consecutive game due to an ankle injury, according to NBC Sports. The 38-year-old basketball star still traveled to San Francisco for the game and appeared court side to support his team— inadvertently giving a young fan the surprise of her life.
On social media, the Lakers shared a snippet of the moment James sat down next to a young fan in the middle of the game.
While James settled in, unbeknownst to him, the young fan seated next to him had the best reaction to his presence. Once she recognized who was sitting next to her, her jaw dropped and she immediately covered her face with her hands shock.
James shared a video of the moment on his Instagram, writing a sweet message alongside the clip. 
"This is exactly why I love what I do," he said.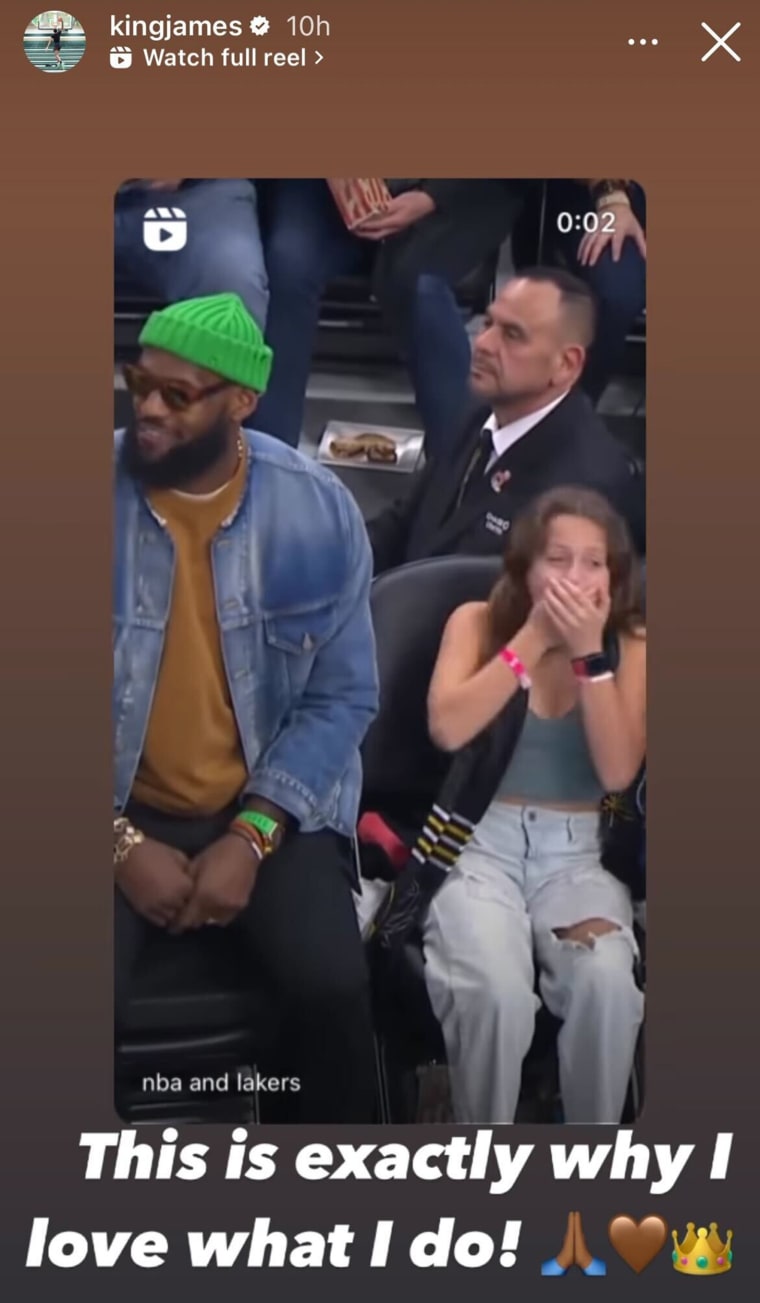 After the game, the young fan was able to meet James face-to-face and interact with the NBA star. They posed for a photo together at the arena, as shared by the Lakers on the team's Instagram. The post also included a video of the duo sharing a high-five.
"Wholesome," the caption simply read.
After she was caught on camera, the young fan was interviewed by ESPN's sideline reporter Lisa Salters and asked what she was feeling when James sat down next to her.
She told Salters that she had asked for the tickets months ago in hopes that this would be the game that James broke the NBA scoring record. However, the Ohio native passed Kareem Abdul-Jabbar's record 38,387 points on Feb. 7 in a matchup against the Oklahoma City Thunder at Crypto.com Arena in Los Angeles.
The fan said she was "sad" when she found out James had an injury that would keep him out of the game, adding, "We didn't know if he was traveling with the team to this game or not."
"And then when he ended up sitting down here, I'm not as tall as him, obviously, so I could only see his shoes," she explained. "And then I look up and I see LeBron James and what's going through my mind is, 'Oh my God, the greatest player of all time in basketball is sitting next to me!' I just freak out completely. I'm just thinking, 'Oh my goodness this is like the best moment of my life.'"