In her new book, "What I Cannot Change," the country star writes that she's learning to find freedom in sharing her story and being honest with herself. An excerpt.
My Story
I never knew the power of one song. Over the years, I've recorded hundreds of songs. I've put my heart into each of them in a different way. Some have been hits; others, not. You never know how or why a particular song catches on. It's always a mystery to me why certain songs seem to resonate more than others. That is, until I wrote "What I Cannot Change" with my dear friend and songwriter Darrell Brown (you'll hear more from him later). From the beginning I knew there was something special about this song; not just the lyrics but everything about the song.
A song can become a hit in many more ways than just money and radio play. For me this song became a hit because I saw — through postings on my website — how the song inspired people to change their lives and reveal deep secrets and also helped them understand the things in life that they can — and cannot — change. Before sharing those stories with you in the rest of the book, first I'd like to share some of the ways this song has helped me grow as a person — both emotionally and spiritually.
For me it's about becoming more transparent. Many of these stories and feelings I've never shared before with anyone. But so many of you have taken the time to share your stories with me on the "What I Cannot Change" website that I wanted to open my heart even more.
I grew up in the spotlight, where it can be hard for public perception to grow up along with you. Many people still picture me as the little girl who sang with a big voice on the song "Blue." In reality, there is so much more to me. I was born in Jackson, Mississippi. At age five, I won my first talent contest, and at age seven my parents had me record my first independent album. By then my family and I had relocated to Garland, Texas. My parents knew how much I loved to sing and to entertain, and I got my first break performing on Johnnie High's Country Music Revue in Fort Worth, a popular show that features local artists and national acts. It wasn't long before I recorded my second album at the grand old age of eleven. That project featured the song "Blue" and caught the attention of legendary executive Mike Curb, who signed me to Curb Records. By thirteen, I had a national hit. The rest became history. My history. Along the way, the little girl with the big voice has matured into a young woman, married to the dearest person on earth and the love of my life, my husband, Dean Sheremet. We have been married seven years, and I am so thankful we met.
I admit it's not easy to lay my soul bare — for one person to get to know me, let alone the whole world. Yet there's also a beautiful, enlivening freedom in becoming transparent, to being vulnerable. It can be exhilarating and scary all at the same time. I know I'm definitely on the road to accepting myself for who I am. I'm learning to let that speak for itself, learning to love my real emotions and to let those emotions come across in my relationships, in my life, and in my music.
My early life was exciting. I knew I was raised with a lot of love from my parents, but I was also raised with lots of worry and fear: the worry about where money was going to come from, the worry about whether my song was doing well on the radio charts, and the worry about my family staying together.
That was my biggest worry. I constantly worried that my parents were going to split up. There were times when my parents would get into fights, and my father would come so close to walking out the door, and I would cry and scream for him not to.
Aussie Keith Urban to 'Idol' winner Carrie Underwood, these music artists have a hot combination – talent and looks. 
They had tried for twelve years to have a baby and nothing ever happened. Then one day out of the blue, the answer to their prayers came when my mom found out she was pregnant. For my mom, I was a miracle child. Not only did she finally have a child of her own to love and care for, but my father was there by her side. In many ways, I guess I was the glue that kept my parents together. I still feel that the stress of their trying to conceive a child for so long put unwanted pressure on my parents' relationship, making them question even staying together. They did end up staying together for another fourteen years.
Growing up, I was taught to be the best at everything. Whether it was softball, piano, dancing, or singing, I had to be the best. I was taught that if I wasn't the best then why should I be doing this at all? In this way I felt I was robbed of a nurturing development — allowed to just be a kid and be able to make mistakes. Being raised in Texas added to the pressure.
As a girl growing up in Texas, it seemed like every day I was judged on how pretty my hair was and how beautifully I dressed. Because of the gift of singing I was given, my family and friends showed me off in any way they could. Now that's not to say that as a child I didn't like that kind of attention — I did. I loved to sing; but looking back I can tell you it was very overwhelming at times.
Looking pretty wasn't always so easy. I was diagnosed with psoriasis — a horrible skin disorder that covered me with unsightly silver-colored scales and lesions. My whole body itched and turned red. Sometimes, I scratched my skin so hard I was covered in blood. For three or four years almost 80 percent of my body was covered like this. I would never wear shorts or short dresses, and my parents made sure my body was covered at all times. For years my parents would apply all these medicines on me every morning and every night. They struggled so hard to find a way to get my psoriasis under control. A lot of the medicines they would apply on me were steroids that would thin out my skin. Sometimes my legs would look so horrible that I would have to wear two pairs of stockings to hide the lesions when I was singing onstage.
There would be days when I would come home from school crying because of the awful teasing I would get from kids. They would call me horrible names like "Scaly Girl" and tell everyone I was contagious. I know now it was ignorance. I think this was one of the reasons I hid my emotions so much later on in life. I had been so used to covering myself — both emotionally and physically. Thank God there are better medicines being made currently to help control my outbreaks. But even now when people say I have such beautiful skin, my first reaction is to recoil and hide. I am learning to receive the compliment now, and it feels unbelievable and so healing.
Even with the disease I still felt the pressure to be the best. Because I had to be the best and on display all the time, the joys of my childhood faded and left me frustrated and wanting for something more. It was weird, because as I grew older there would be days when I would wake up and not want to put on a show for anyone, when I didn't want to get dressed and all prettied up for the day and sing. I just wanted to be.
That's been the hardest part for me because it always seems like there is a show. But it's funny, when I wasn't putting on a show I didn't know what to do with myself. Who was I without it?
For me, those limitations stopped me from living out some of my dreams and trying new things. And even if I agree to venture into something new, I can't stop worrying about how it's going to look to the rest of the world if I fail. Fear can be crippling. It has been for me at times. Now I am making a conscious effort to push through my fears and take more chances. Yes, I might fail, but that's where I will learn the most. I am learning to trust myself. I am learning to grant myself grace, realizing that this is the best job I can do at this moment in my life. I am also allowing room for enjoyment and to finding joy over and over with my husband and our home, my animals, friends, and of course, my family.
There was little joy when my parents got divorced when I was only fourteen. This was really a hard time for me. I think both of my parents felt that because I was a very strong fourteen-year-old woman-child who was now financially stable from my music career taking shape that the divorce wouldn't be as hard on me. Even I didn't realize how hard it was on me until a few years ago. My mom and dad divorcing had more of a profound effect on me and my heart than I had realized. It left a big hole in me. It left a big hole in all of our lives.
Over the years, the relationship between my father and me became even more strained. You may have read about some of the legal problems in the newspaper. It was a difficult and painful time for all of us.
The perfectionist in me so much wanted to control the situation and fix everything, but here again was life at its most uncontrollable. Looking back on this time through the filter of the song, I have come to a new understanding after reconciling with my father. It is good to have my father back in my life again.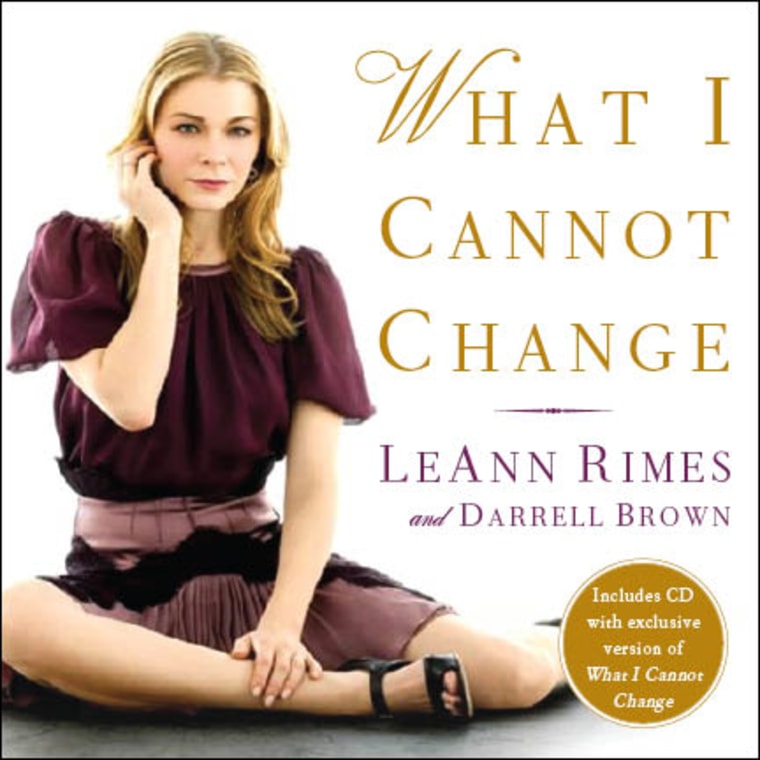 I am now trying to rewire my brain to stop thinking "it's the end of the world" thoughts. By opening my heart and trying to pour these feelings into my work and into my songs as a songwriter, I feel it is propelling my growth as a person. The more I expose myself, the more confident and safe my heart becomes.
My husband, Dean, has changed my heart — and life — in more ways than I can ever imagine. We met in Los Angeles when I was hosting the Academy of Country Music Awards. It was almost an instant attraction.
I looked into his eyes and trusted him immediately. Don't ask me how or why. The crazy thing is that at the time it was hard for me to trust anyone, much less someone I had just met. Not only was I struggling with trusting my family and my record company, but as a celebrity, one minute everyone loves you, the next minute they don't know who you are.
But Dean was different, and I knew he was the one for me. A year after that meeting we got married. He motivates me to take care of myself and encourages me to be healthy and happy. He's an amazing dancer and in great shape, so now we exercise and work out together. As for kids, we're definitely thinking about it and have talked about what that life would be like. It's a constant battle in my mind. One minute I think I'm ready and the next minute I want to wait until I'm forty. Whatever we decide, I'm now feeling more comfortable about those things in life that I can change — and those I can't.
I believe that is how the song "What I Cannot Change" was conceived. The song comes from a place where I allowed myself to be vulnerable yet strong at the same time. It's about my learning about forgiveness, acceptance of myself, and a higher will other than my own. It's about my understanding of where, when, and how to stand up or not to stand up for myself.
"What I Cannot Change" is one of those songs that, as a songwriter, is a true gift that comes around once in a lifetime. But I cannot take all the credit. I cowrote this song with my amazing friend Darrell Brown, who has helped me through some troubling times in my life.
                    ****
I can trace the inspiration of "What I Cannot Change" to a very dark day in my life. Darrell was there for me when I was trying to figure out how to love myself and how to love the people who were dear to me. I wanted to keep them in my life even though we didn't agree. It's hard to watch the people around you go through life without changing. I was working so hard to change myself for the better, but I felt others weren't.
I felt like I was leaving them behind but didn't want to. I vented all of this to Darrell, and he listened and quietly took notes on everything I was saying. At the time I thought this was kind of strange, but after I got through venting, Darrell told me I had to come over to his computer and look at the notes he had been taking from our conversation.
He said that we needed to write a song based on all of these confessions, these unfiltered, honest feelings that we shared together.
We put these heartfelt outpourings into verses and we stepped away for a couple of weeks, still not realizing where this song was leading us.
Darrell and I got back together after a few weeks, and once again I had an overwhelming revelation: I had to let go of the things that I couldn't change about other people in my life; the things that I couldn't change about myself; and start figuring out how to love myself and other people, even with all their faults. This revelation felt like a floodgate opening up, and emotions were pouring out of me.
Excerpted from "What I Cannot Change," by LeAnn Rimes and Darrell Brown. Copyright (c) 2009, reprinted with permission from Harper Studio.