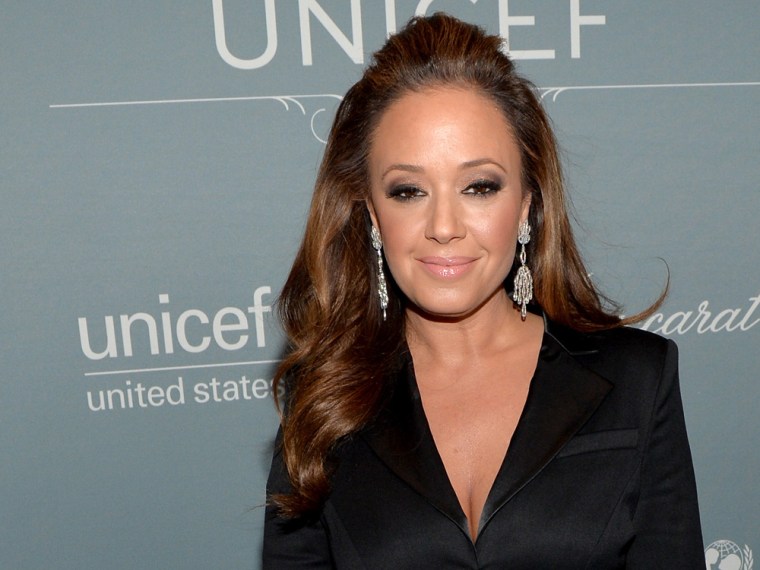 In 2013, after more than 30 years as member of the Church of Scientology, Leah Remini made headlines with her decision to leave the religious organization behind. Now Remini's finally ready to reveal what, or rather who, motivated her to make the move — her 9-year-old daughter, Sofia.

"She was getting to the age where the acclimation into the Church would have to start," she explained in an interview with BuzzFeed.
For the actress, memories of her own early years in Scientology made that a difficult prospect to face.
"We were working from morning until night with barely any schooling," she said of her experience. "There was no saying no. There was no being tired. There was no, 'I'm a little girl who just lost her father and everything I've ever known.' There was only, 'Get it done.'"
And according to the star, "it" was no small job.
"If the church needed a ballroom wall knocked down, you made it happen because there were heavy repercussions if you didn't," Remini said.
Those tough times damaged her relationship with her own mother, who was often too busy with her role in the Church to be there for her child.
"I started thinking of my own childhood and how I grew up resenting my mother because she was never home," Remini recalled. "It's funny; somehow my father, the guy who left his kids and never paid child support, was excluded from my resentment and I grew up resenting my mother for not being home to make food, like all my friends' moms were. But my mom thought she was doing something good; she thought she was helping the planet. That's what the Church tells you."
Ultimately "The Exes" actress didn't want history to repeat itself.
"In my house, it's family first — but I was spending most of my time at the Church," she said. "So, I was saying 'family first,' but I wasn't showing that. I didn't like the message that sent my daughter."
So she ended her affiliation with Scientology, and with that, inadvertently ended her relationship with many longtime members the Church. But she didn't lose her relationship with her mother. That one just got stronger.
"The fact my mother stood by me after all her years in the Church totally took away any resentment I may have been harboring," she said. "When it mattered the most, my mother was there for me."
The Church of Scientology has responded to Remini's remarks, saying in a statement to TODAY: "It comes as no surprise that someone as self-absorbed as Leah Remini with an insatiable craving for attention would exploit her former faith as a publicity stunt by rewriting her history with it, including omitting that she was participating in a program to remain a Scientologist by her own choice, as she was on the verge of being expelled for her ethical lapses."