Everyone knows there's no crying in baseball, but there's one thing some fans of the 1992 movie "A League of Their Own" aren't quite as sure about: Does Dottie drop the ball on purpose?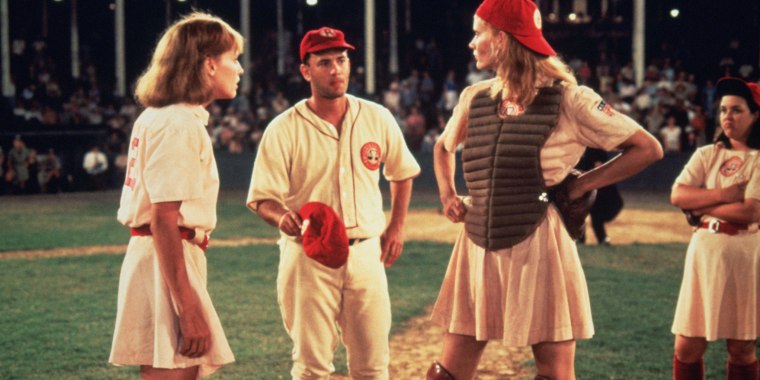 Lori Petty, who starred in the movie, brought up the memorable — and debatable — moment on Twitter Monday.
In the film about the All-American Girls Professional Baseball League formed in 1943 while many male players were overseas fighting in World War II, competitive sisters Kit Keller (Petty) and Dottie Hinson (Geena Davis) end up on separate teams and find themselves playing against each other in the World Series.
In a pivotal moment in the game, Kit hits a ball, and as she's running toward home, she collides hard with Dottie at the plate. Dottie ultimately drops the ball, leaving her sister and her team in victory. But, the question that has lingered on many minds: Did Dottie do it on purpose as a gesture to her sister, or was it a real flub on her part, meaning Kit truly triumphed over her sister?
The movie never actually answers the question, and viewers are left having to make their own analysis of the moment. But in the Twitter exchange this week, Petty took her own stance on the question.
"The customs guy in London took all of my makeup. The customs guy in LA asked me if Dottie dropped the ball on purpose. #home," she wrote.
Fans quickly jumped in. "I need this answer so badly," one said, to which Petty replied, "She did NOT."
While some fans were in agreement with Petty that Dottie didn't do it on purpose, others disagreed.
No matter which side you're on, though, we can all agree it's time to rewatch the movie — especially now that Amazon is reportedly developing it into a TV series!