/ Source: TODAY contributor
The lawyer for a man accused of extorting $2 million from David Letterman under the threat of revealing the talk show king's office affairs told TODAY Monday he is going to make sure Letterman's now-famous mea culpa on Thursday won't be the final word on the matter.
"I look forward to cross-examining David Letterman," Gerald Shargel, attorney for accused extortionist Robert "Joe" Halderman, told Ann Curry live on TODAY. "If you only hear David Letterman's side of the story, take it at face value and say, 'Turn off the sets, that Halderman's guilty' — I think that's plain wrong."
In a guarded, sometimes combative interview with Curry, Shargel decried Letterman's version of the facts on national TV last Thursday night, in which he confessed he had had sex with female staffers of his late-night talk show. 
$2 million bogus checkProsecutors say Halderman, a respected, Emmy-winning producer on CBS' "48 Hours Mystery," waited outside Letterman's Manhattan apartment Sept. 9 and handed his driver a short draft of a screenplay detailing Letterman's love life. He also allegedly handed over photographs, letters and a page from the diary of former Letterman assistant Stephanie Birkitt — a woman who has been named as one of Letterman's lovers and who later had a relationship with Halderman.
Letterman's attorneys notified police, and Halderman was paid with a bogus check for $2 million, prosecutors say. Halderman deposited the check and was arrested later that day. On Friday, Halderman pleaded not guilty to one count of attempted larceny and was released on a $2 million bond.
Letterman, who married Regina Lasko in March after a 20-year relationship, has seen his closely guarded private life now make headlines. The celebrity media is scrambling to identify Letterman's office paramours, which some reports say may total four or more.
In defending his client, Shargel told Curry the prosecution's case against Halderman "makes absolutely no sense."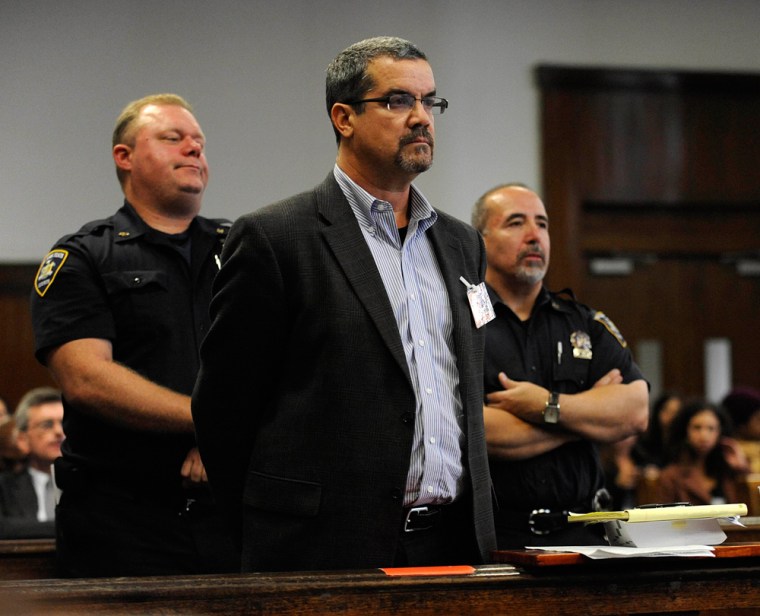 "In the history of extortion attempts, there's never been, as far as I know, someone paying by check," Shargel said. "The public should not rush to judgment. The public should not simply take the word of David Letterman."
Combative interviewCurry noted that Letterman had a national TV audience to offer up his side of the story. On Thursday night's "Late Show," Letterman admitted, "I have had sex with women who work for me on this show," and even took a shot at himself, saying he was "creepy."
But Shargel refused to go into specifics about what actually went down between Halderman and Letterman. In saying he is still in the process of investigating the case, Shargel pointed out that it's only been four days since Halderman's arrest. The attorney looked at Curry and said, "I ask that you be patient — which you're seemingly not."
When Shargel said that Letterman has "access to a huge audience" in laying out his side of the story, Curry responded, "I'm giving you access and you're not actually giving your client's side of the story." Shargel became noticeably agitated.
"You know what? David didn't give his side of the story," he said. "David Letterman said what he wanted the public to know, he wanted to get out ahead of the story, and that's exactly what he did.
"He's a master at manipulating audiences, that's what he does for a living," Shargel added. "So to think that David Letterman gave the entire story, and there's nothing more to be said, it's simply wrong."
Money problems?Curry asked Shargel about reports that despite a $200,000-plus salary from CBS, Halderman was deeply in debt. Divorced in 2004, Halderman reportedly paid $6,800 a month in spousal support to his ex-wife for the care of the couple's two children, and carried a large credit card debt.
Shargel said it was bogus to draw any assumption Halderman was squeezing Letterman to pay off his debts. "The financial problems didn't just pop up in October of 2009 or September of 2009," he said. "[Halderman] had been having financial problems since his divorce, there's no question about it."
Shargel likewise said the evidence against his client — that he cashed Letterman's bogus check, that authorities have a taped conversation with Halderman laying out his demands while Letterman's attorney, Jim Jackoway, wore a wire — are being taken out of context.
"Those points only take on significance by looking at the surrounding circumstances," Shargel said. "It's not only the motives, intent and conduct of Joe Halderman, it's the motives, intent and conduct of David Letterman as well."
He added he believes Halderman should be given more benefit of the doubt, given his sterling reputation within the TV news industry.
"Little has been said about Joe Halderman as a person — this has been all about David Letterman," Shargel said. "The thing about Joe Halderman as a person is about how unlikely this is. He's an Emmy Award-winning journalist, and when you just go a little beneath the surface, it doesn't make a whole lot of sense."