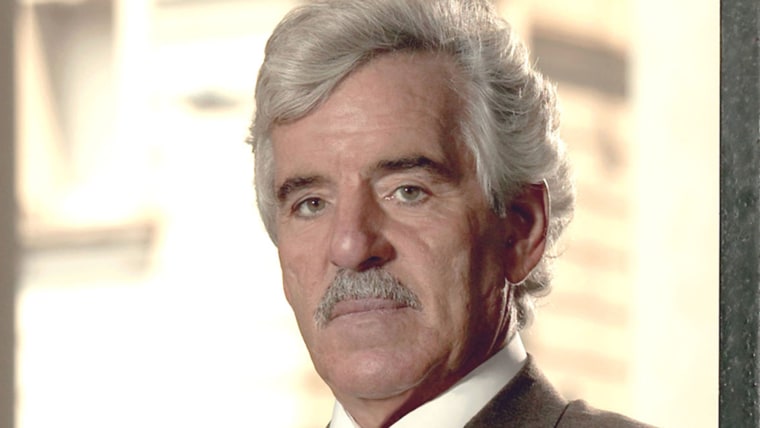 Actor Dennis Farina, the Chicago cop turned actor who played Det. Joe Fontana on TV's "Law & Order" and also starred in numerous movies, died Monday at age 69, his publicist tells NBC News. The cause of death was a blood clot in his lung, she said.
"We are deeply saddened by the loss of a great actor and a wonderful man," publicist Lori De Waal said in a statement. "Dennis Farina was always warm-hearted and professional, with a great sense of humor and passion for his profession. He will be greatly missed by his family, friends, and colleagues. We hope that he finds a new life where great roles are plentiful and the Cubs are always winning the pennant."
Farina died in Scottsdale, Ariz., and his girlfriend of 35 years, Marianne Cahill, was with him, his publicist says.
Before becoming an actor, Farina worked as a Chicago police officer for nearly 20 years. He was serving as a police consultant to movie director Michael Mann on the 1981 film "Thief" when Mann gave him a small role, which led to a rich acting career in which he mostly played policemen or mobsters.
In 2004 when Farina joined the uber-successful crime drama "Law & Order," he told TODAY's Katie Couric that he enjoyed the stylish detective he played. "I hope he's never defined, really, to tell you the truth," Farina told Couric. "It's fun finding out myself what he's gonna do next or what characteristics he might have."
Recently, he starred in the HBO horse-racing series "Luck," and produced and starred in "The Last Rites of Joe May," an independent film. Farina also had a recurring role on Fox's "New Girl." He also starred in HBO's Golden Globe-winning miniseries, "Empire Falls," and is remembered fondly for his role on the short-lived "Crime Story."
His movie resume included "Get Shorty," "Saving Private Ryan," "Snatch" and "Midnight Run." He won an American Comedy Award for his "Get Shorty" role.
His love for his Chicago hometown never left him, and he remained a frequent face in Chicago theater. When he landed his "Law & Order" role, he cracked, "The only downside is that I won't see enough Cubs and Bears games."
And in a 1998 interview with the Chicago Sun-Times, Farina said that Chicagoans are even more loyal to their hometown than New Yorkers.
"You know the first thing a Chicagoan tells you is, `I'm from Chicago!'" he said. "And then the questions come if they discover you're one, too. `What parish are you from? What ward are you from? Who's your alderman?'"

Fans remembered Farina on Twitter, and were quick to acknowledge that his pre-acting career endeared him to them. "The Dennis Farina news bums me out," wrote Zack Stentz. "He was a wonderful throwback to an earlier generation of actors who lived real lives before they acted."
"What a fun, colorful, likable actor he was," wrote movie critic Scott Weinberg. "I think 'Midnight Run' was his best. A lot to choose from. RIP Dennis Farina."
And film producer Brian Udovich said Farina had "the greatest Chicago accent in cinema history."
In addition to his girlfriend, Farina is survived by three children and six grandchildren.