Alec Baldwin was back as Donald Trump on "Saturday Night Live" this weekend … and this time, he was joined by another "SNL" favorite, John Goodman.
The frequent "SNL" guest stars helped kick off the broadcast with a sketch that needled Trump over the CIA's assessment that Russia intervened in the presidential election in part to help him win. The president-elect has questioned the CIA's intelligence findings.
The sketch began with Baldwin's Trump reviewing his cabinet choices and his upcoming inauguration with aide Kellyanne Conway, played by cast member Kate McKinnon.
After Conway exited the scene, a guest dropped in through the chimney. No, it wasn't Santa Claus — it was Russian President Vladimir Putin (cast member Beck Bennett), shirtless and carrying a red sack.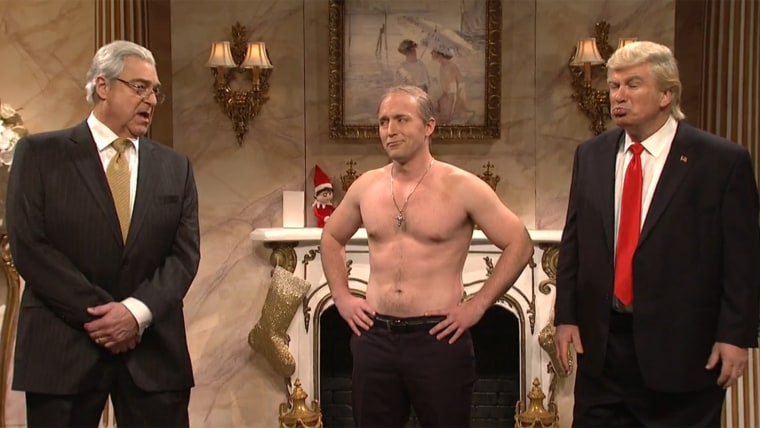 "I was just in town, you know, hiding in the walls," Putin explained.
Putin offered Trump a gift: an Elf on the Shelf, which he told Trump to keep next to his internet router.
RELATED: Bryan Cranston reprises 'Breaking Bad' role of Walter White on 'SNL'
Soon afterward, Goodman, impersonating Trump's pick for secretary of state, ExxonMobil CEO Rex Tillerson, entered the room. Tillerson, who has come under scrutiny for his ties with Putin, and the Russian president greeted each other with a fancy dance and handshake before chatting about oil drilling plans in front of an oblivious Trump.
The president-elect occasionally interrupted, at one point name-dropping recent Trump Tower visitor Kanye West.
Trump has been vocal on Twitter in the past about how much he dislikes Baldwin's impression of him, but he's yet to comment on this sketch.
RELATED: Donald Trump criticizes Alec Baldwin's impression of him, calls 'SNL' a 'terrible show'
Trump's opponent during the election race, Hillary Clinton, was represented on the show, too. McKinnon reprised her Hillary Clinton character for a spoof of the popular holiday movie "Love Actually." Check it out below!
Follow Shane Lou on Twitter.