Stephen Colbert began his reign as host of "The Late Show" Tuesday night, and fans watched to see the comedian shed his pseudo-conservative "Colbert Report" persona and find his new identity on the show David Letterman helmed for more than two decades.
The much-anticipated premiere didn't disappoint. Here are five must-see moments from the episode.
1. Colbert's jokes about Colbert.
"With this show, I begin the search for the real Stephen Colbert. I just hope I don't find him on Ashley Madison," the comedian joked during the opening monologue. He later told guest Jeb Bush, "I used to play a narcissistic conservative pundit. Now I'm just a narcissist."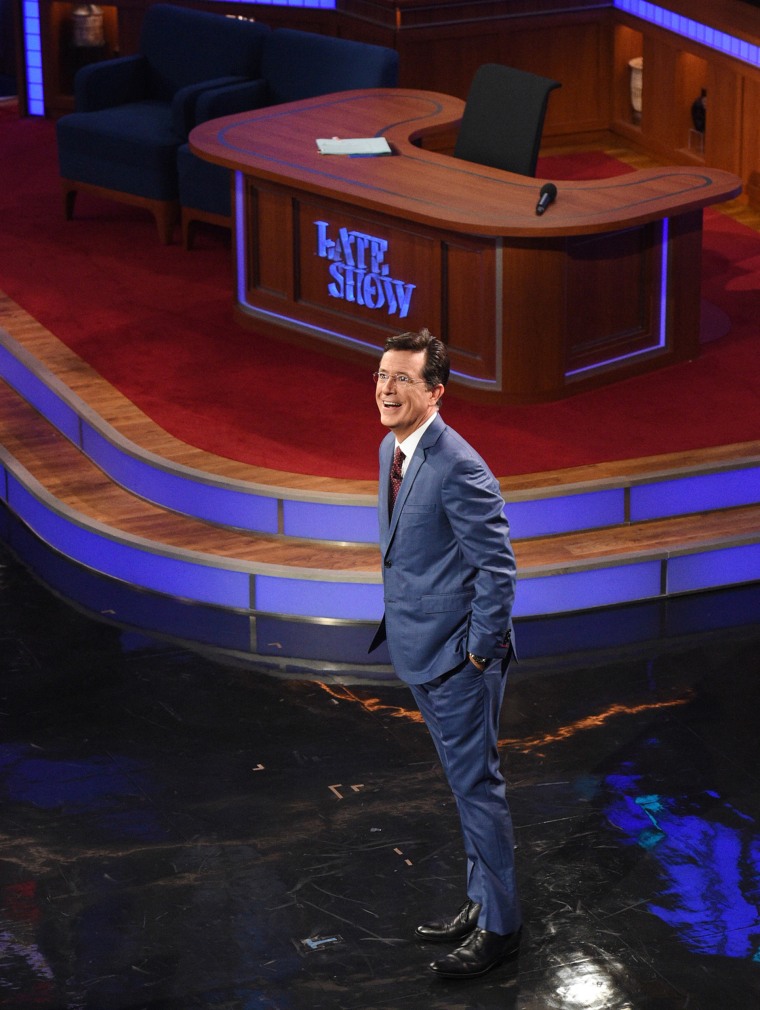 2. Colbert's jabs at Trump.
"I know, as the 'Late Show' host, I have huge responsibilities," Colbert said. "And even though I have Jeb Bush on the show later tonight, I promise you that, just like the rest of the media, I will be covering all of the presidential candidates… who are Donald Trump."
Later, when discussing Trump's popularity with white-supremacist groups, Colbert quipped, "Trump's not even white — he's more Oompa-Loompa American."
3. Colbert's heartfelt tribute to Letterman.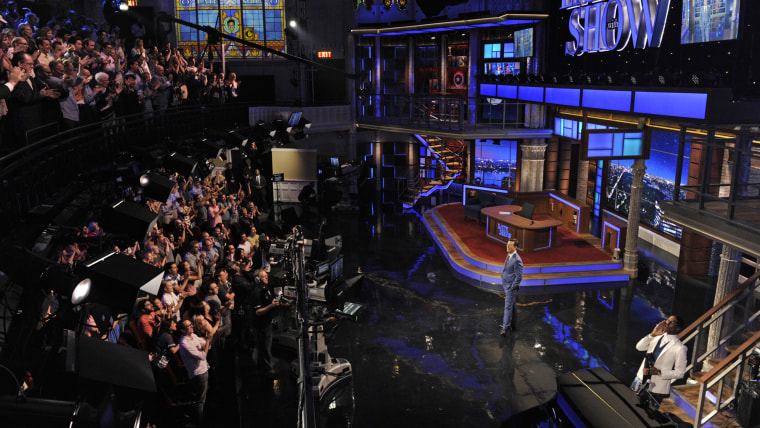 "I'm a first-generation Letterman fan. I started college the same year Dave started 'Late Night.' And not having the fullest social calendar, I was frequently available for Dave at 12:30."
"I just want to say, it's possible to lose sight of how Dave changed comedy. The comedy landscape is so thickly planted with the forest of Dave's ideas that we sometimes need to remind ourselves just how tall he stands."
And Colbert got a warm welcome from another late-night host — Jimmy Fallon, who appeared via a video clip to tell him, "Have a good show, buddy. See you in the locker room."
4. Colbert's hilarious gift to Clooney.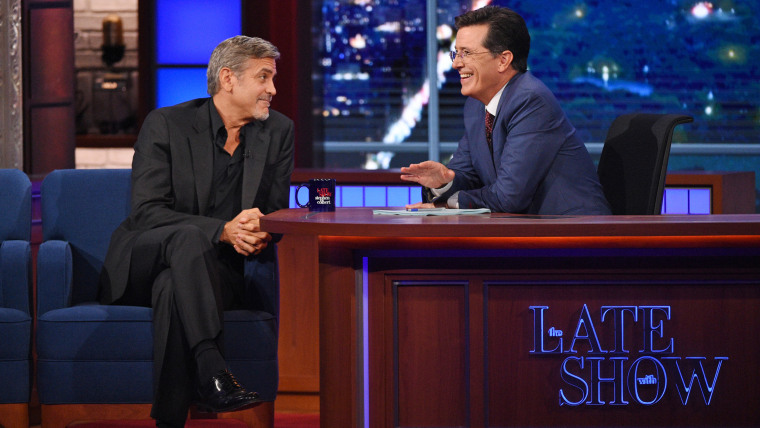 After teasing the actor about his all-black ensemble ("You could have worn a tie ... Thank you for coming dressed up as your evil twin"), the host found humor in the pair's lack of familiarity with each other. Colbert presented Clooney with a Tiffany paperweight engraved with the words "I don't know you."
"That's just to remind you that we don't know each other," Colbert explained. "I'm very grateful that you came on, and I don't want to do that celebrity thing where we pretend to know each other. And you can pass it on to another celebrity that you don't know, but have to pretend that you know."
5. Colbert teases Bush about "Jeb!"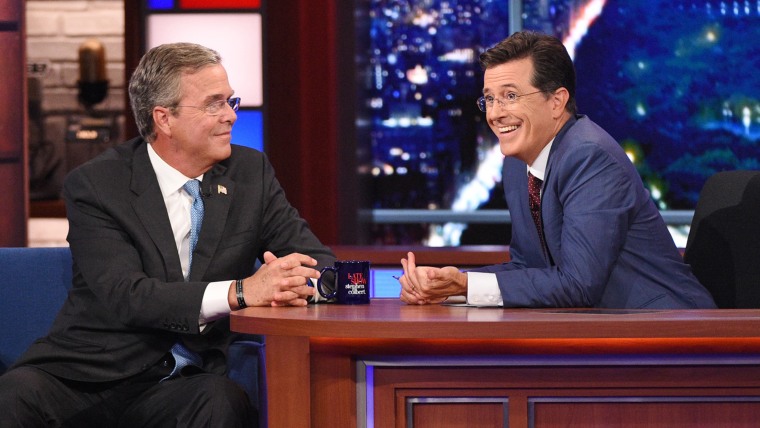 After telling the Republican presidential candidate, "There is a nonzero chance that I would vote for you," Colbert took issue with one crucial aspect of Bush's campaign: the exclamation mark in his campaign poster.
"I've been using 'Jeb!' since 1994," the former Florida governor replied, explaining, "It connotes excitement."
The 51-year-old ended his nine-year run on Comedy Central in December 2014, and in the time since has shared "Late Show" details in a series of behind-the-scenes podcasts, prepared for his new gig by shaving his "Colbeard" and surprised everyone by interviewing Eminem on a small-town Michigan public-access show.
Colbert also teased the next "Late Show" chapter this summer with the announcements that New Orleans jazz musician Jon Batiste would be stepping in as bandleader and that his first guest would be none other than George Clooney.
Colbert's upcoming guests this week include Scarlett Johansson, Kendrick Lamar, Vice President Joe Biden, Toby Keith, Amy Schumer and Stephen King. And for more on the host, see his best moments from "The Colbert Report" here.