/ Source: Access Hollywood
"Hey Larry, would you take the garbage out?"
Welcome home, Larry Birkhead. Judy Birkhead's request to her brother (or was it an order?) signaled a much needed return to normalcy for a man who has spent the past six months telling the world he was, indeed, the father of Anna Nicole Smith's baby, and three months battling in the Bahamian courts to take her home.
The legal wrangling, the relentless media pursuit, it was, at least for now, all behind him. Larry, physically and emotionally drained, was happy to be surrounded by the people he loved — people overjoyed to have the newest Birkhead family member home. Dannielynn sat contentedly on her father's lap as the Birkhead clan — sister, brother, parents, niece and nephews — gathered in a family room, chatting about the events of the past, the challenges that lay ahead and the love and support they have for each other.
Most of the talk was upbeat, happy. This was no time for negativity.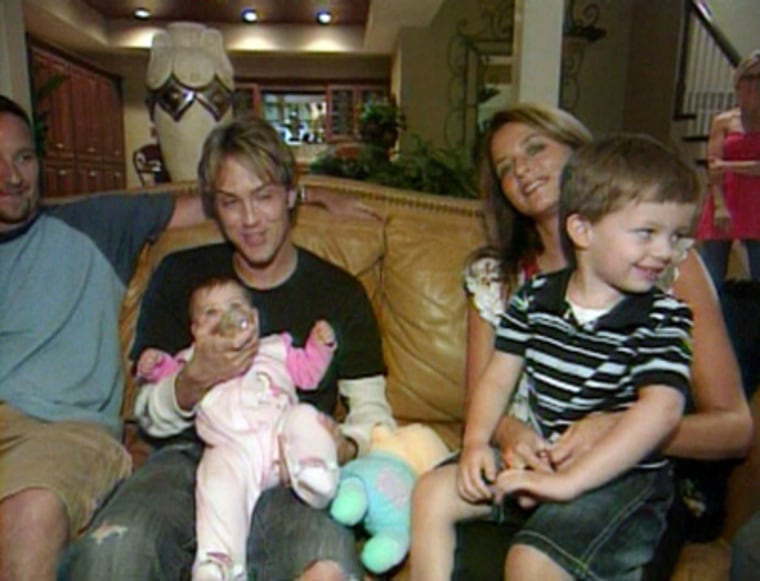 Dinner was incredibly routine: A big pot of spaghetti on one burner, meat sauce on the other, hot bread and a bowl of salad on the center island. It was a strictly help yourself affair. Everyone picking up his or her own plate, digging in, then finding a seat wherever most comfortable. Conversation was, again, casual. No whispering, no secrets to spill, just plain ordinary dinner talk.
After his meal, Larry sprawled out on the sun-room couch. He speculated a bit on the future, on what life would be like with Dannielynn in the coming months. He didn't dwell on that too long. Clearly, he was exhausted but tonight he knew he would finally sleep well.
It was good to be home.
Buddy Singer has covered Anna Nicole Smith's death and Larry Birkhead's court battles since early February for "Access Hollywood."