Tony Bennett and Lady Gaga rolled into the TODAY plaza with style — in a Rolls Royce — to make a big announcement: Their long-awaited jazz album, "Cheek to Cheek," will be released on Sept. 23. 
WATCH: Lady Gaga: 'I was so nervous' singing with Tony Bennett
The superstars, who have 22 Grammys between them, also unveiled the video for their take on Cole Porter's "Anything Goes," their first single from the album. 
"I love the way she sings," Bennett told TODAY's Carson Daly of Gaga when the pair arrived.
"The collaboration has just been so wonderful," Gaga later explained to Savannah Guthrie. "It's so natural singing with Tony."
That comes as no surprise. After all, this isn't their first time working side by side. The two first recorded together on Bennett's 2011 album, "Duets II."
But it was their work on "Cheek to Cheek" that will really leave a lasting mark on Gaga — in the form of a tattoo.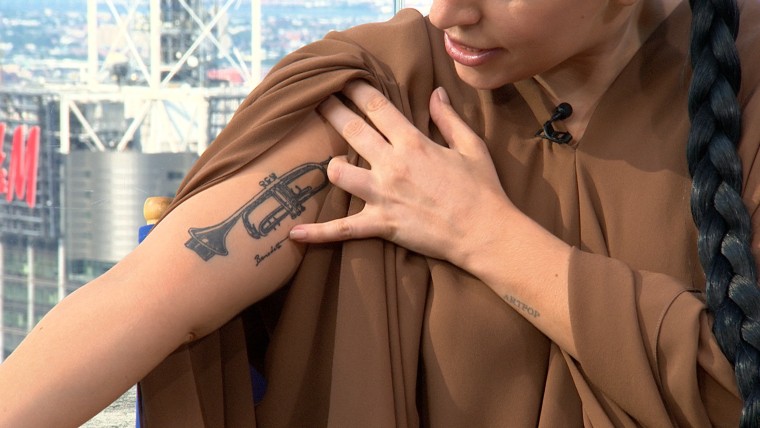 "I asked Tony to sketch a trumpet for me, and he decided to sketch Miles Davis' trumpet — an iconic trumpet. I decided to get a tattoo 'cause I loved it so much."
"Cheek to Cheek" features the two singers performing jazz standards, including duets and solos. Tunes include "It Don't Mean a Thing (If It Ain't Got That Swing)," "Sophisticated Lady," "Lush Life" and more.
"Anything Goes" is available now on iTunes.
Follow Anna Chan on Google+ and Twitter. Follow Ree Hines on Google+.