Lady Gaga may be a flamboyant pop star and Bradley Cooper an Oscar-winning Hollywood actor, but the two became each other's biggest fans while filming the upcoming "A Star Is Born."
"Her learning curve was insane, just from the first day to the second day," Cooper, 43, told the Los Angeles Times of Gaga's acting ability. "Everybody already knows that she's got a God-given talent as a singer, and she was able to utilize that plutonium to act."
The pair revealed they formed a close bond on the set of the musical romantic drama, which tells the story of a seasoned country star named Jackson Maine (Cooper) who falls in love with a struggling young singer named Ally (Gaga).
Cooper, who made his directorial debut with the film, won over Gaga, 32, on their first day of shooting when he walked up to her, makeup wipe in hand, and began erasing every bit of concealer, mascara, and blush from her face.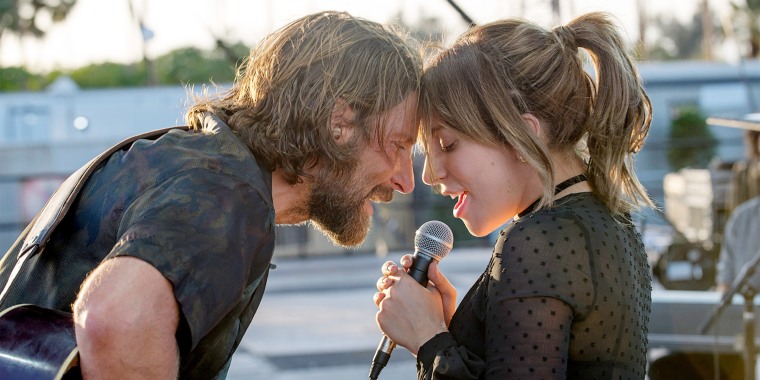 "Take it off," Cooper said as he wiped, explaining that he wanted to act opposite the real Stefani Germanotta — not her pop star alter-ego.
"Completely open," he said. "No artifice."
Cooper even developed a shorthand with Gaga to help her find the right emotional tone before shooting scenes. If Cooper wanted Gaga to evoke warmth and "a certain feeling of love," he'd whisper "Tony" to her, knowing of her close friendship with legendary crooner Tony Bennett, 92. To get her to focus, he'd say "ninja" or "assassin."
In turn, the "Born This Way" singer helped Cooper play a famous musician convincingly, filling him in on what rock stars do backstage during concerts, and sharing her insights about how readily available drugs and alcohol are to them.
The six-time Grammy winner even wrote several songs for the film's soundtrack. But to hear her director tell it, Gaga's greatest moments in "A Star Is Born" will definitely be seen onscreen.
"If (acting) is something she wants to pursue," Cooper gushed, "I will just have been lucky to have been part of her story as an actress."
"A Star Is Born" opens in theaters on Oct. 5.