Kristin Chenoweth's faith is almost as big as her legendary voice.
The Tony and Emmy Award winner opened up about the role her faith has played in her life, saying her career as a singer can be traced back to her childhood when she sang in church in Broken Arrow, Oklahoma.
"God was a huge part of my life and how I found my gift was through church music," she told TODAY's Savannah Guthrie in an interview that aired April 7 from New York City's famed St. Patrick's Cathedral.
She says there's nothing quite like singing a hymn that moves her.
"It gets me back to my roots," she said before starting to sing "Great Is Thy Faithfulness."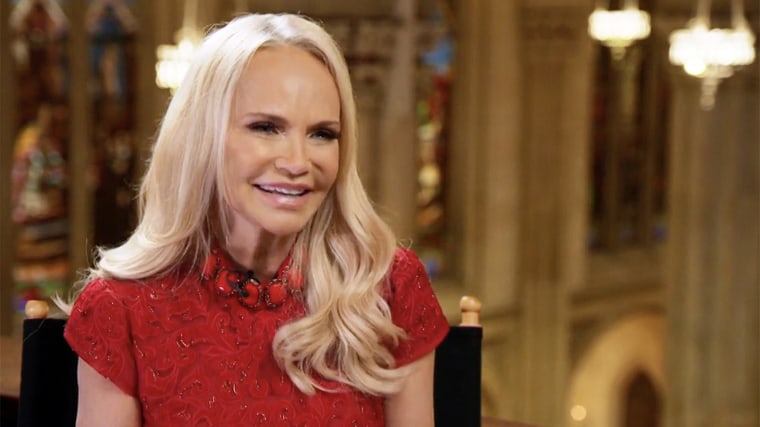 The road to stardom was paved in those early days in church.
"I was in the choir, little kids choir and they were having an audition for an adult solo and my mom said, 'You can't, you're a kid.' I said, 'Let me just go try out.' So I went and I got the solo," she recalled.
"And I love to sing for all kinds of faiths because I believe that we worship a God that is loving and if I can spread that joy as much as I can, then I'm going to try, because that was one of the things God told me when I was a little girl. I get these impressions on my heart, I don't know how else to explain it. It's a still, small voice and when I get that impression, it's like a handprint, like yes, that's correct."
Chenoweth was adopted as a newborn and she says she believes that speaking out about it is a benefit for everyone while also underscoring the power of God. Her adoptive mother was in the hospital the same day Chenoweth was born for an operation that would result in her not being able to have kids.
"She said to the doctor, I always wanted to try for a little girl and I won't be able to," she said.
"And he remembered that story, so when my birth mom, Mama Loon, came to give birth, they called my dad before and said, 'Do you want to surprise Junie tomorrow? Because I've got a little baby here that's going to need a home. And so we went home together."
Chenoweth said her birth mother could sing and her birth father also had a flair for music.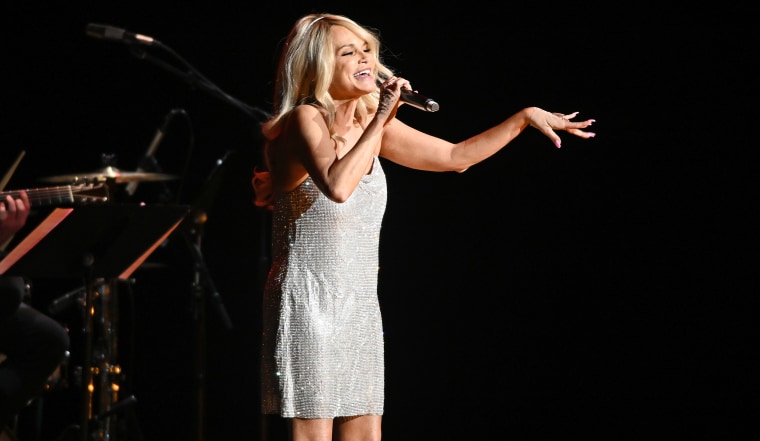 "My birth father was a great musician, as well," she said. "Billy Ethridge, and some people might know who he is out there but, so I know where it came from and she's petite and he's tall. I got her height."
"It's divine," Savannah said.
"Divine," Chenoweth echoed.
The "Wicked" star has also endured her share of hardships throughout her life. In 2012, she nearly died after getting struck by lighting equipment on the set of CBS' "The Good Wife." She said that incident marked a key moment in how she dealt with adversity.
"It was horrific and scary and awful," she said. "Now, I could go on the path of bitterness and anger and I did for a while, I did. But I could let all that go. So guess what I'm going to choose?"
She has been plagued with doubt, too, but sees that as an opportunity to grow.
"The big question of 'Why God me?' When you find yourself asking God, 'Why me?' you can also then turn around and ask yourself, 'Why not you?'" she said.
Chenoweth also says it's important to absolve others as a way of following God, while also understanding forgiving oneself is just as essential.
"I have started forgiving people that I feel have hurt me because I'm the one that's hurting and that's God's grace," she said. "He says, 'See my child, if you've done this the whole time, you wouldn't have carried that on your journey.'"
She added, "I've had more trouble, Savannah, learning to forgive myself when I have disappointed others, disappointed myself. But guess what? Learning to forgive yourself is the most important, so that you can move forward."
When Savannah presented the notion that "we are all God's children," Chenoweth seized on the good that can come from that.
"Then we really would be, look at each other as brother and sister, instead of the enemy," she said.