Over the years, we've gotten used to Kristen Bell's adorable personal quirks: We know she cries over sloths. And that she will wage war over a dominant La-Z-Boy in the room.
Well, add to the list the fact that she won't go swimming unless she can don special gloves. As we learned the other day thanks to a photo posted on husband Dax Shepard's Instagram, "The Good Place" star really, really hates prune fingers:
This particular life twist came as a surprise to Shepard, despite having known her for 11 years (they've been married since 2013), as he explained on "Jimmy Kimmel Live!" Wednesday.
"What I've been told thus far is she doesn't like going to the pool," he said, noting that the recent West Coast heat wave made her rethink her policy of sitting on the sidelines and watching their two children, Lincoln, 5; Delta, 3, splash around.
"She said, 'Oh, I'm getting in,' and I was like, 'Oh! This is exciting!' and she said, 'I have to get my pool gloves,'" he recalled. "[I] come to find out that she has this weird phobia that when her fingertips are pruney, she doesn't want to touch other people's skin. That's too much for her."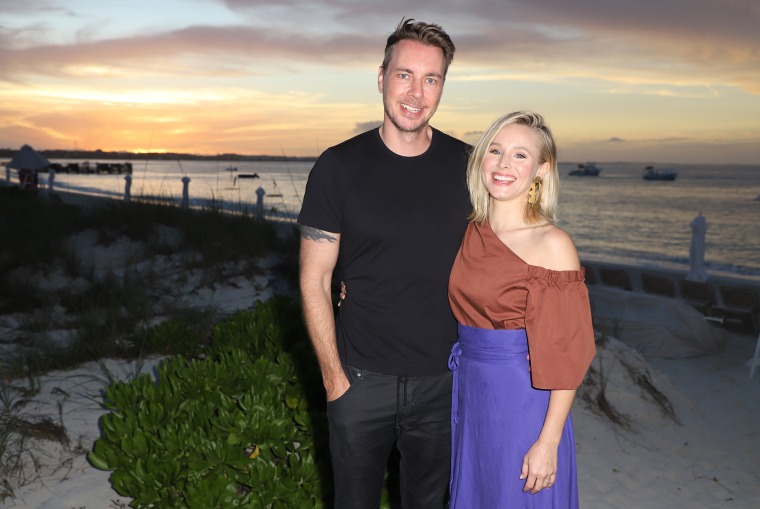 Loathing the feel of prune fingers is not unheard of; multiple comments on the photo affirm Bell's "phobia."
Scientists believe that parts of our body wrinkle after extended exposure under water to provide a better grip on surfaces, though, so the effect is actually a natural reaction.
But no one tell Bell that feet also tend prune up in the pool! At the moment, we're not sure she has boots.
Follow Randee Dawn on Twitter.