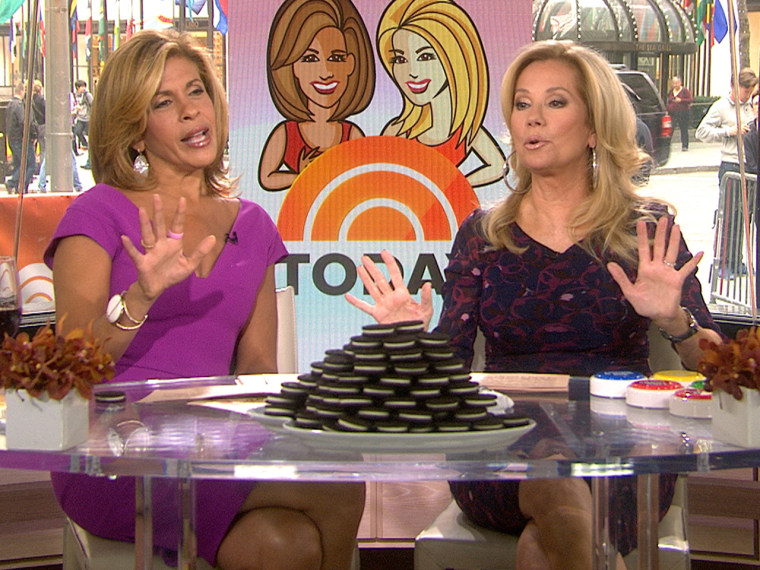 Maria Kang is a fitness blogger and mother who sparked controversy this week after she posted a photo of herself looking toned and tanned, alongside her three young children, with the caption: "What's your excuse?"
Dressed only in a fitness bra and exercise shorts, Kang's photo highlights her super fit body, and seems to ask other mothers why they're not also in such great shape. Naturally, the image garnered a huge response. And Kathie Lee and Hoda weighed in, too. 
"Anyone who says 'What's your excuse?' — nobody likes people like this," said Hoda. 
"I have a theory on that — and I'm not saying what she did is right or wrong," said Kathie Lee. "I'm saying the reason people immediately have that type of response is because it's got a grain of truth to what she's saying. How many of us make excuses for lots of bad behavior, and yet we're offended when someone says 'why not?'"
"Here's the thing," countered Hoda. "I work out every day. I'm not worried about my excuses. I just don't like someone who's preachy. But I do think it's weird that we're saying 'Is this mom a bully?' I think bully is being used for everything."
"Let's save the word bully for actual bullies," said KLG. "Maybe she just wasn't being as thoughtful as she could have been.
"I think sometimes we have to look at why are we defensive about something," she added. "We should ask ourselves the question at least. We don't like it when the doctor says 'you know, you really need to lose 20 pounds.' But what they're saying is, it may save your life. You don't want to hear it, but he's telling you the truth."
"Are people mad at us now?" wondered Hoda. (Don't worry Hoda, we could never be!)
"You can speak the truth," said KLG, "but you've got to speak it in the spirit of love."
What do you think of the "What's your excuse?" mom? Tell us!