One of the most exciting moments of Super Bowl magic went on behind the scenes last week, when Kathie Lee and Hoda were reunited with their "Saturday Night Live" counterparts, Kristen Wiig and Nasim Pedrad.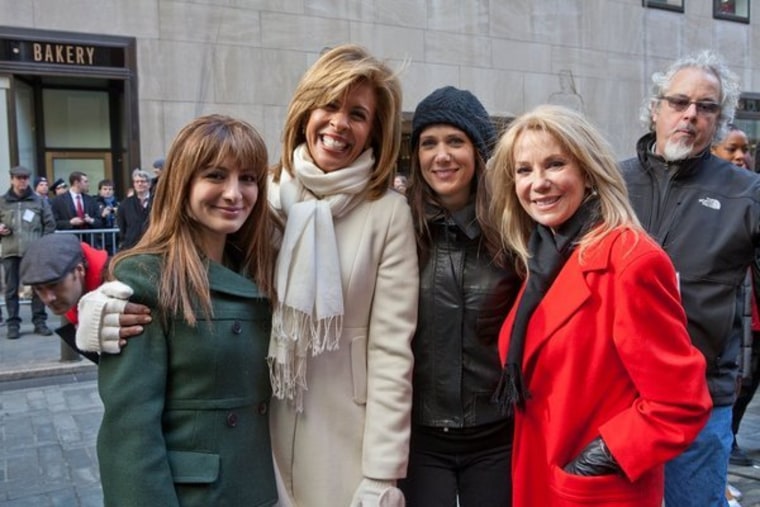 The "Parent Trap" moment went down during the shoot for the big NBC Super Bowl ad. The TODAY anchors joined over 100 NBC stars in a singing-dancing montage led by Tina Fey and the "30 Rock" crew. The many, many memorable moments (hello, "Law and Order" cast's jazz hands) culminated in a massive ensemble number, where the spoofers met their spoofees.
But alas, anybody spoiling for a dance-fight would be sorely disappointed, as the real fourth hour has nothing but love for the faux one, and no earrings were removed that day.
Kathie Lee and Hoda mentioned the meeting last week, and it sounds like everybody was very well behaved. Kathie Lee congratulated Kristen on her "Bridesmaids" Oscar nod, and the ladies posed for a friendly twin photo (see above). Imitation is the sincerest form of flattery, and they're both pretty adorable.
Go down memory lane and relive some of the best SNL, Kathie Lee and Hoda moments:
Hoda's 'imaginary boyfriend' gets the 'SNL' treatment
Kathie Lee spoofed on 'SNL' with mic full of wine
A curse? 'SNL' drops second Hoda impersonator
Kathie Lee meets her doppelganger, makes her 'grovel'
Julieanne Smolinski is a TODAY.com contributor. She does a mean Alec Baldwin impression.