In April, Bruce Jenner opened up to the world about his transition, revealing that "for all intents and purposes" he is a woman. But in the new special "Keeping Up With the Kardashians: About Bruce," the focus is on Jenner and his famous family as they open to each other about the experience.
Part one aired Sunday night, and Monday morning Access Hollywood's Billy Bush shared an interview with Kim Kardashian on the topic with TODAY.
While Jenner has yet to reveal his full transformation publicly, Kardashian said he has shared a new look and identity with family.
"I just recently met her," Kardashian said of Jenner's private reveal. "It was amazing and she looked beautiful, really beautiful. ... She was dressed up, beautiful makeup, beautiful hair, very, very, very beautiful and very comfortable."
WATCH: Kathie Lee Gifford says Bruce Jenner's transition was 'new for Kris'
(Kardashian only used female pronouns for Jenner when discussing that private moment. Otherwise, Jenner and his family are continuing to use male pronouns until his full transformation is made public.)
While Kardashian noted that it all "felt really natural" for her, she also acknowledged that the change brought out a range of reactions from others.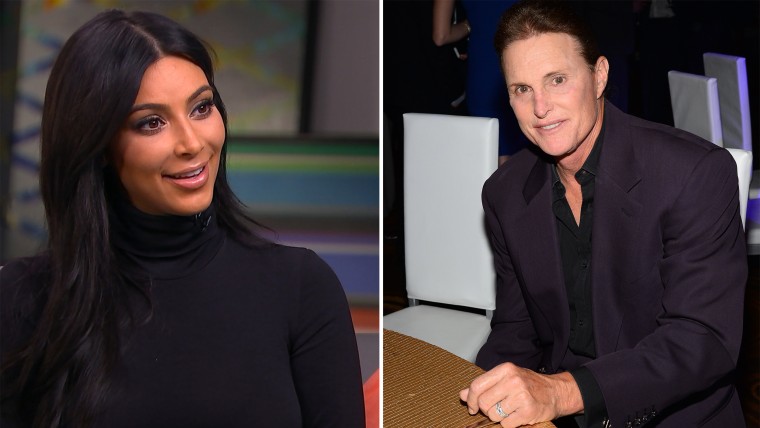 "I think — and you'll really see this [in the special] — everyone in the family has such a different emotion," she explained. "We all get back to acceptance, and everyone supports him. But it's OK to have every emotion."
In fact, Kardashian compared parts of the experience to mourning.
"There is this sense of death that people around feel," she said. "And he understands that, but he's not going anywhere. And sometimes Kendall and Kylie get emotional over that and feel like, you know, their dad's gone. But they understand that they've gained someone else that is just as — the same person although a little bit different. ... It's just a new chapter."
MORE: Bruce Jenner: Love, acceptance from Kris is 'absolutely overwhelming'
See more from Bush's sit down with Kardashian Monday on Access Hollywood. And catch more from the whole family when part two of "Keeping Up With the Kardashians: About Bruce" airs Monday at 9 p.m. ET on E!
Follow Ree Hines on Google+.