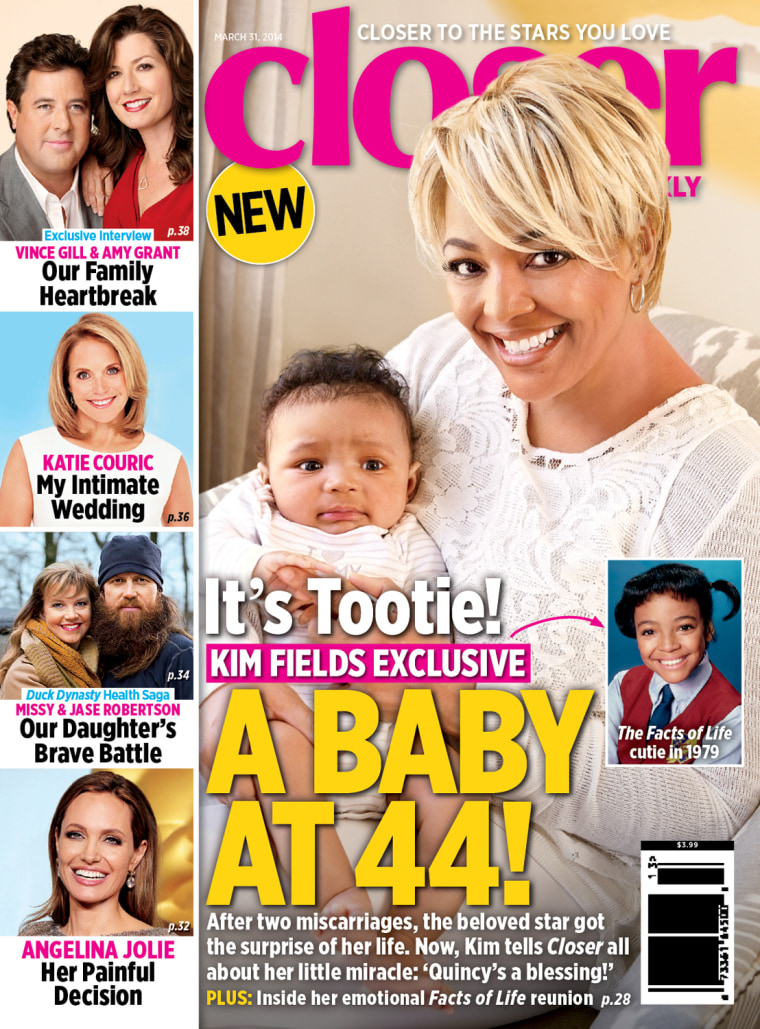 Actress Kim Fields, 44, is famous for learnin' the "Facts of Life" on the hit 1980s TV show. And her recent unexpected baby boy is a reminder that those facts can sneak up on you. Fields says the birth of her son Quincy on Dec. 3 was a surprise, but a happy one. 
"I know it sounds like a cliché, but it's a blessing," Fields tells Closer Weekly in an exclusive story. "There was so much gratitude that he was here and healthy."

Fields, who also has a 6-year-old son, Sebastian with husband Christopher Morgan, had suffered two miscarriages in the past, and thought her baby days were behind her and menopause on the horizon. But after she found herself feeling unwell, a doctor told the actress that a new baby was on the way.
"He thought I might be dehydrated, then I find out I'm two months pregnant!" Fields tells the magazine. "I was stunned out of my mind."
But happily so. "We were both overjoyed," says Morgan.
Quincy is named for music legend Quincy Jones, and like his namesake, was surrounded by music right from the start. 
"Turns out the anesthesiologist was totally into singing, so we were doing three-part harmonies and holding hands!" Fields tells Closer. "We were singing 'Family' from 'Dreamgirls' when Quincy came out."
Big brother Sebastian is so proud of his little sibling that Fields jokingly dubs him "Quincy's publicist." 
"Being a mom is really the greatest role in my life," she says.