"Die already! Die! Die!" How often do you shout that at one of the TV shows you watch? What would you have left to shout if your wish actually came true for a character who you can't stand to lay eyes on (every week)?
Spoiler alert! Beware if you're behind on "Game of Thrones" or have a fear of mortality.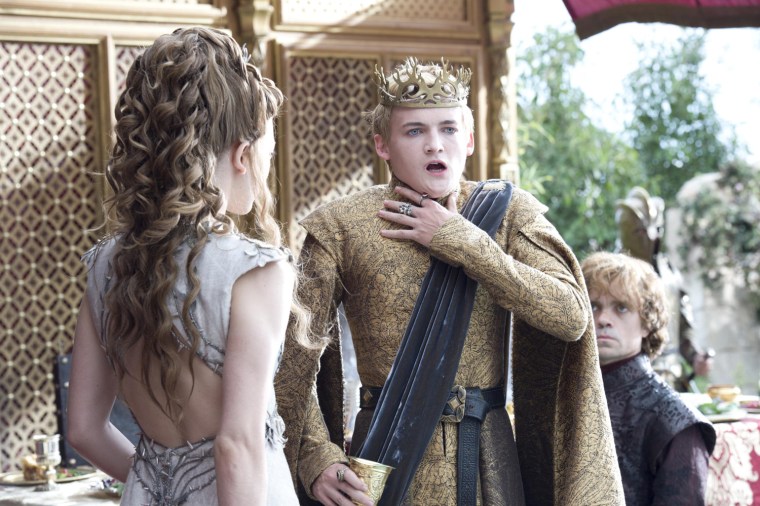 When little King Joffrey recently had trouble catching his breath and turned purple during his aptly named Purple Wedding, "Game of Thrones" fans no doubt rejoiced. In that episode alone we were begging and pleading for someone to take Joffrey's insufferable head off with his own Valyrian steel sword. But as the blood and whatever else oozed from Joffrey's nostrils, it was hard not to feel a little sad about losing a character we loved so much to hate.
The prospect that we'll be rewarded with something bad happening to such a character is a weekly draw in television land. So let's go ahead and toast some other characters who we want to see choke and go bye-bye. In the moment it's worth it, even if it means that we, and their shows, will suffer in some way without them.
Cersei Lannister, 'Game of Thrones'
Why she's worth hating: The death of her son Joffrey will only amplify all the ways with which the Queen Regent tends to get under our skin. That smirk. Those eye rolls. The horrible joy she gets out of being mean to everyone, including now her onetime lover-of-a-brother, Jaime. Cersei would be missed for the same reasons Joffrey now is — because once she's dead there's no looking forward to hoping it happens in the next episode.
Best way to kill her: Picture three fire-breathing dragons descending from the sky into King's Landing. Picture them returning to the sky all carrying separate Cersei steaks.

Don Draper, 'Mad Men'
Why he's worth hating: Mope mope, sulk sulk, oh what a relief there never is. There. We wrote a jingle for Don. Think he could crack a smile? He needs to fix the broken balcony door, kill the roaches, set his miserable wife free and go find another job. The one thing that ever made him momentarily happy — hooking up with random women — wasn't even in the cards at 36,000 feet in last week's episode.

Best way to kill him: That crazy cabin-looking crib Megan Draper landed in L.A. must be a good drive from the nearest liquor store. A sporty car and a winding, steep-canyon road in the dark of night ... coyote darts out. This stuff writes itself, Don.
Hannah Horvath, 'Girls'
Why she's worth hating: It's tough to pick the most self-absorbed of the bunch on this show, but the queen bee takes the prize. We're supposed to care every time she quits a job, fights with her friends, or eats something ridiculous for dinner. What we really care about is why no one can take responsibility for anything and act like an adult. We had to grow up, put on big-people clothes and go to work, so we're mad that Hannah and her "Girls" won't.
Best way to kill her: In the dead of winter in Iowa City, Iowa, newly accepted Iowa Writers' Workshop member Hannah will succumb to frostbite on the bits left exposed by the tiny gym shorts and half-shirt which passed as fashion back in Brooklyn.
Gemma Teller, 'Sons of Anarchy'
Why she's worth hating: The sneakiest, back-stabbingest characters are always the most fun to hate. The motorcycle mama hasn't disappointed over six seasons. For as many bullets fly on this show every week, how could one not catch Gemma? She's a liar and a manipulator and a killer, and like Cersei, each week's episode brings with it new hope that it will be her last.
Best way to kill her: It only makes sense that Jax should be the one to take out his crazy mom. The gavel he slams into the club's heavy wooden table every episode could easily whack something else.
Rick Grimes, 'The Walking Dead'
Why he's worth hating: Maybe we should have rooted for Shane. We've endured Rick the way we've endured Don Draper, through all of the mood swings and long faces. Cheer up — it's the post-apocalypse! You get to poke a stick through a fence into zombie heads. Surely the sport of that is worth waking up to every day. If you don't want to be in charge, just let Daryl do it, or even Carl at this point.
Best way to kill him: Have him sit in a room and listen to Glenn and Maggie gush for 10 minutes. He'll take matters into his own hands.
Follow Kurt Schlosser on Google+