"Kill Bill Volume 1"There is a thin line between a slice of Americana and the slicing of Americans. Quentin Tarantino presents the former in "Kill Bill Volume 1" by creating an homage for every sofa jockey who spent afternoons during the '70s devouring chopsocky mayhem imported from Asia until it became a uniquely American ritual that fit under the larger umbrella of grindhouse cinema. As for the slicing of Americans, Tarantino does that just for fun, and he throws in a few hundred Japanese to boot.
This is trumpeted as the fourth film by Tarantino, but it actually turned out to be 4A and 4B, because Tarantino found it problematic to cram all the swordfights and viscera into the confines of one puny little feature. So as Volume 2 is set to invade theaters, Volume 1 is being released on video.
If you get Tarantino, this is a delightful romp. If you don't, you'll be appalled. And if you don't, you're missing out.
"Kill Bill Volume 1" doesn't possess the narrative mastery to qualify as a great film, but it is fabulous entertainment by a passionate fan of movie making, and especially of the low-budget martial arts genre. The story is rail-thin — an exploitation revenge chick flick — but it is told with gusto, flamboyance and wicked humor. If nuance stuck his head in this picture, he'd have it lopped off.
Uma Thurman plays The Bride, who was not only left at the altar, but left in a puddle of blood. As it turns out, the rest of her wedding party fared worse. The Bride thus embarks on a journey of self-enlightenment and payback. Before she has a showdown with Lucy Liu's O-Ren Ishii, The Bride has to dispense with legions of black-masked henchmen. No contest.
While the film is a blast, the DVD is somewhat of a disappointment. Not bad, mind you, but with Tarantino you expect excess on every level of a production, and the special features here are fairly routine. There is a solid featurette called "The Making of 'Kill Bill Vol. 1'" with a serviceable amount of insight provided by Tarantino, Thurman, Liu and producer Lawrence Bender. There is also a musical performance by a band called "The 5, 6, 7, 8s" discovered by Tarantino during a shopping tour in Japan and used in the film, and some Tarantino movie trailers.
But that's it. Maybe the filmmakers have an overall strategy of rolling out these efforts in pieces and whetting audiences' appetites, and therefore we can someday expect a combined director's cut "Kill Bill" special-edition extravaganza that comes with a souvenir samurai sword. As usual, Tarantino keeps us guessing.
"Salvatore Giuliano"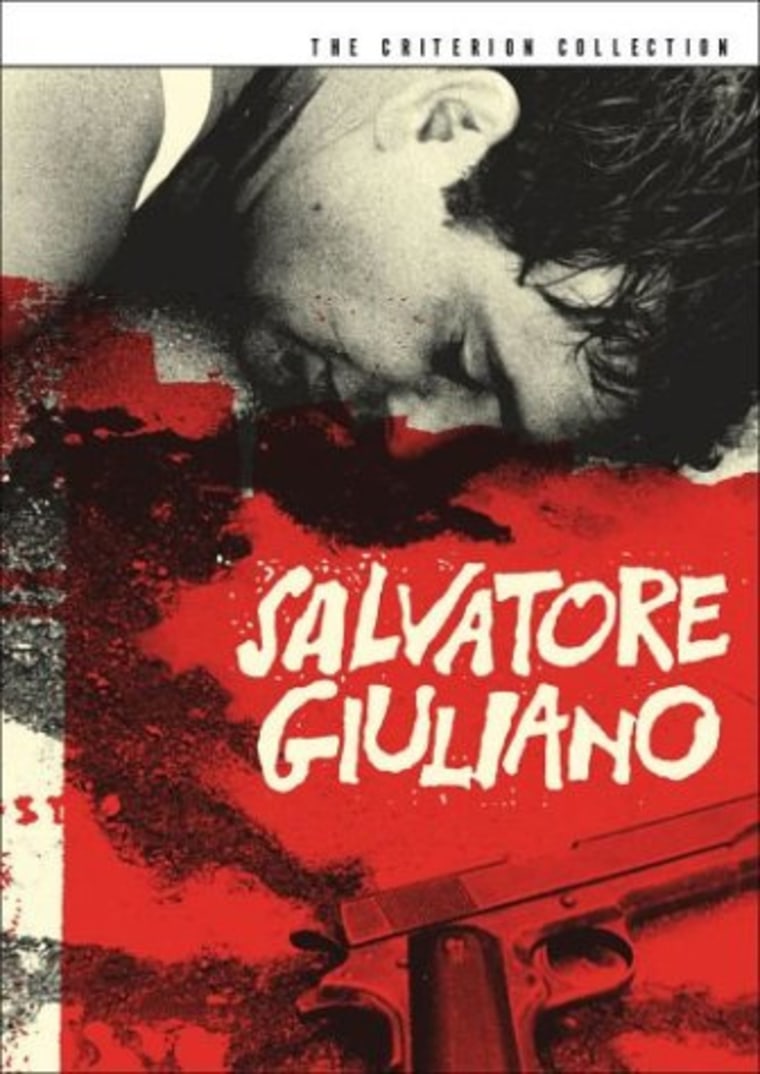 Mario Puzo, best known for penning "The Godfather," wrote a popular novel called "The Sicilian," based on a true story about an infamous Robin Hood-like bandit who flourished in Sicily in the late 1940s. The book was adapted into a forgettable film in 1987 by director Michael Cimino, starring Christopher Lambert in the title role.
Well before that, in 1961, Italian director Francesco Rosi tackled the subject matter with a surer hand. While his work wasn't a film for mass audiences, it distinguished itself because of its authenticity and passion. Rosi's take embraced the political backdrop of Giuliano's life, and demonstrated that his outlaw behavior was partially an outgrowth of Sicily's quest for independence from Italy and not simply a hunger for money and power generated by the local mafia.
"Salvatore Giuliano" doesn't have a clear narrative thread. Instead, it jumps back and forth between the past and present, and gives little insight into Giuliano himself or his motives. It does, however, provide a vivid illustration of the impact of Giuliano's life on those in his orbit.
Rosi may not be a household name like Fellini among mainstream cinephiles, but he is a master in his own right. He and cinematographer Gianni Di Venanzo frame images with poetic skill, reminiscent of the more ballyhooed compositional work of Bernardo Bertolucci and Vittorio Storaro in "The Conformist." What the picture lacks in storytelling grist it more than makes up for in mood, spectacle and social commentary.
Like most Criterion Collection DVDs, this one comes with a bunch of extras. On Disk One, there is the digital transfer with restored image and sound; a fine audio commentary by film historian Peter Cowie, and the original theatrical trailer. Disk Two contains the bulk of the extras, like a featurette called "Witness to the Times," a look at the film with Rosi and critic Tullio Kezich, and a piece from an Italian newsreel from July 12, 1950, reporting on the death of Giuliano. There is also an insert with written tributes by Francis Ford Coppola and Martin Scorsese.
Check out this special feature: Disk Two includes a satisfying documentary called "Il cineasta e il labirinto," which cover Rosi's entire career, with special commentary by Scorsese and Guiseppe Tornatore. It illustrates the impact of Rosi's work on both his profession and his countrymen, and sets him apart from his peers because of his politically charged vision.