More than three months after Lamar Odom was found unresponsive in a Nevada brothel, Khloe Kardashian gave the latest update on his road to recovery.
The 31-year-old television personality joined sister Kourtney Kardashian on "The Ellen DeGeneres Show" via FaceTime Monday, telling the TV host that Odom was "doing really good."
"His long-term memory is great. His short-term memory isn't so good, but I mean if I met someone earlier today I probably wouldn't remember either so I mean that's understandable. But he's great," she revealed. "He's hung out with Kourt's and Kim's kids. He loves family time. I think it makes him feel good to be around everyone too and to just be in a happy environment over, obviously, where he was."
RELATED: Khloe Kardashian opens up about Lamar Odom's prognosis, 'terrifying' ordeal
Kardashian said that the former NBA star has been asking questions about the ordeal that found him fighting for his life in October.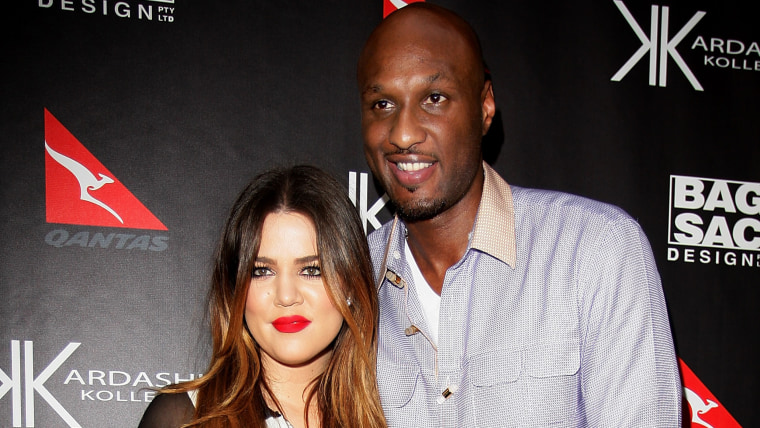 "Every day he'll ask me, 'So what happened to me?' Like today specifically, he was like, 'So how many tubes did I have in me again?' And I'm like, 'I don't know what's too serious to tell you,' but I'm honest. I'm like, 'Well, just a lot. I didn't count, I don't know.' But it's good that he wants to know these answers. Before he didn't want to know. He wasn't ready to know. So it's great that he's at the point that he's ready to know everything that happened."
When Kardashian visited TODAY in November, she expressed gratitude that Odom was no longer dependent on life-support machines following his overdose one month earlier.
"He is learning how to walk again and learning ... cognitive therapy and speech therapy," she explained. "They think, like, within a year and a half to two years that, mentally, he might be fully recovered. But they don't know."
RELATED: Khloe Kardashian opens up about Lamar Odom's brain injury, 'long road ahead'
She added that "every day is different," echoing a sentiment she'd expressed during an appearance on "Ellen" the same month.
"Sometimes he knows who the president is and his birthday, and sometimes he thinks he's 26," she told DeGeneres. "I say, 'I bet you wish you were 26 — so do I!'"