For the past two seasons, Kevin Bacon has admittedly been in a dark place: Fox's "The Following" routinely pits him against a ruthless serial killer, and there have been zero song-and-dance sequences.
So when he visited "The Tonight Show Starring Jimmy Fallon" last year, Bacon thought they might be able to change things up. In honor of the 30th anniversary of his iconic 1984 movie "Footloose," he came up with the idea to reprise one of that film's most memorable sequences on "Tonight."
"I pitched the idea, thinking that it was going to be some simple little thing — because I knew they liked to do bits," he told TODAY's Savannah Guthrie. "And they sent me this elaborate, elaborate breakdown of what was going to happen."
It ended up being a nearly four-minute segment in which Fallon announced that dancing had been outlawed at "Tonight" (as in "Footloose"), and Bacon rebelled by tripping the light fantastic down the hallway with a gaggle of followers right into Studio 6B. But it wasn't as easy as just getting the breakdown and kicking off his Sunday shoes.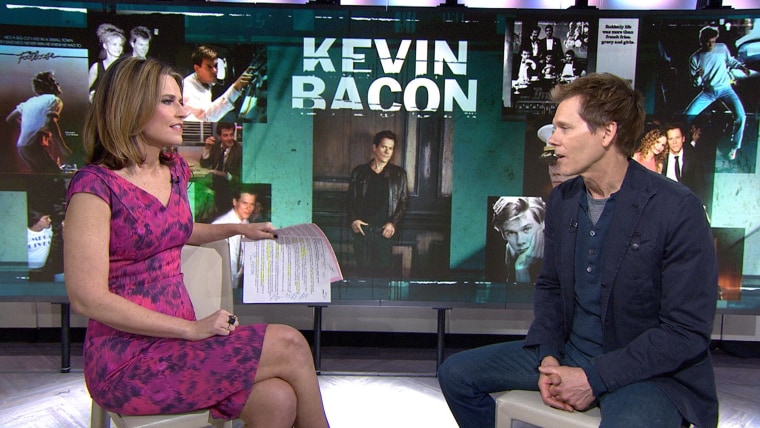 "I didn't actually have a copy of the movie," Bacon admitted. "I had to get it off Netflix, and sit there in my kitchen on the computer trying to remember these moves. And we were shooting 'The Following' at the same time."
Yet he pulled it off beautifully. "It was a challenge," he admitted. "But it was a lot of fun to do and we all had a gas."
Be sure to watch the original segment, and check out what else Bacon had to say during Monday's interview!
"The Following" returns for a third season on Fox on March 2 at 9 p.m. ET.