It's a sad day in the Muppet world. After 40 years together, Kermit the Frog and Miss Piggy have decided to end their relationship.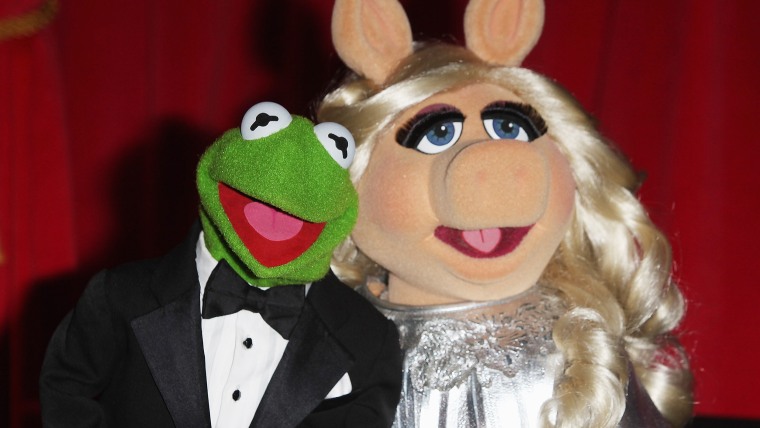 Kermit revealed the unfortunate news that he and his longtime love had called it quits on Tuesday at the Television Critics Association summer press tour.
"It's a day-by-day, moment-by-moment process," Kermit said at the event. "Piggy and I have gone our separate ways romantically."
Miss Piggy, who showed up fashionably late to the event, seems to be doing just fine post-breakup, and fortunately for "Muppets" fans, has no issues working with Kermit.
Kermit, Miss Piggy and the rest of the gang return for 'Muppet Show' reboot
"I have no problem working with my ex, OK? It's fine. You know what? Dating moi is like flying close to the sun. It was inevitable that Kermit would drop down to the ground while I stayed in the heavens."
WATCH: Kathie Lee gets in a catfight with Miss Piggy
Both tweeted official statements later this afternoon, confirming their split.
Miss Piggy set her sights on Kermit in 1979's "The Muppet Movie," but it wasn't until two years later in "The Great Muppet Caper" that the two shared their first kiss. Eventually Kermit returned his affections for Miss Piggy and the two were married in "The Muppets Take Manhattan," although some say they got married again in "Muppets Most Wanted." We'll have to wait for the tell-all book to come out for the real truth.
We're not the only ones mourning the end of this relationship. Celebrities have expressed their sadness over the news on social media.
Sadly, it doesn't seem like these two are going to get back together anytime soon. Kermit has already moved on. He confirmed at the event that he is dating another pig named Denise, who works for ABC.
Kermit on newly discovered look-alike frog: 'Googly eyes run in our family'
There doesn't seem to be any hard feelings between the stars since they'll be teaming up for the upcoming TV series "The Muppets" and Miss Piggy's late-night talk show.
Either way, we're sad that these two couldn't make it work.