It's hard to imagine any woman not being charmed by Kenny Chesney writing a song for her, but it was a rough start for the country music superstar when he first got into music.
Chesney, 48, wrote his first song to try to get a girl and it failed miserably.
"Looking back on it, that was my first taste of rejection with my music,'' he told Natalie Morales on TODAY Friday. "It's what every entertainer and every songwriter that tries to break into the business feels on a daily basis."
The superstar originally from Knoxville, Tennessee, spoke with Morales at his home in Malibu, California, about early rejection, how he gets in shape to go on tour, his legion of fans and his new album, "Cosmic Hallelujah," which was released on Friday.
RELATED: Kenny Chesney gets audience, anchors to kick off their shoes on TODAY plaza
For those who think Chesney's life is all cold beers and tequila with friends around bonfires on the beach, it's a far cry from that when it's time to get in shape for another demanding stadium tour.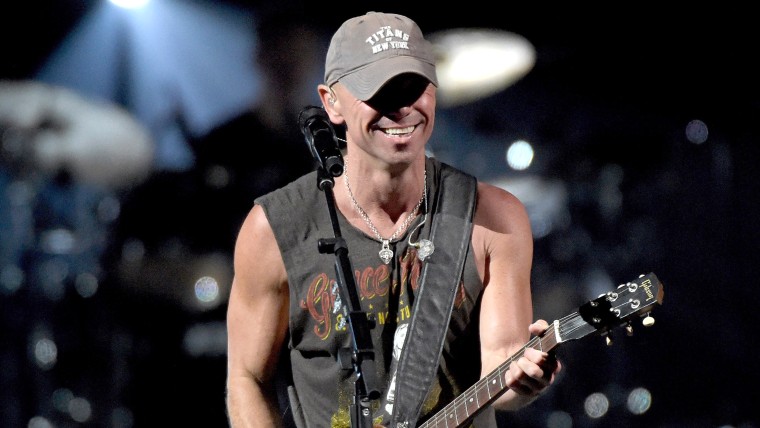 "I do treat what I do out there onstage and my career a lot like an athlete trains,'' he said.
That means no bread, no beers and no days off from tough workouts like standup paddleboarding. Natalie even joined him as he got a quick SUP session in, hoping he was just kidding about seeing sharks.
That type of drive led Chesney to sell more concert tickets than any other artist from 2003 to 2013, but he still finds time to live in the moment. That also happens to be the theme of his latest album.
"I have been a big dreamer, and I have been very hyper-focused on my career,'' he said. "And I've been climbing a certain ladder almost my whole adult life. I guess the lesson in that is just to enjoy the journey. Enjoy the climb."
The new album also includes a collaboration with Pink on the song "Setting the World on Fire."
"I knew it would work because I've sang harmony to her records for a long time,'' he said before laughing. "You know, in the car."
It's his latest gift to his legion of fans known as the "No Shoes Nation." It also turns out that his life outside of training for tours actually is a cold drink, a bonfire on the beach and some good friends, as he showed Natalie firsthand while playing a special version of the fan favorite "You and Tequila."
"There's a lot of adjectives to use about my fans, but I think that we share a certain philosophy in life,'' he said. "We work really hard, we play very hard, we love very hard, and just walk through the world in kinda the same way, you know?"
Follow TODAY.com writer Scott Stump on Twitter.