/ Source: TODAY contributor
Celebrity mom and former Hugh Hefner squeeze Kendra Wilkinson had some unsolicited advice for fellow reality show star Kate Gosselin Tuesday: Don't go dancing when you have kids at home.
The comment came at the end of a chatty appearance with TODAY's Hoda Kotb and Alan Thicke, who was sitting in for the vacationing Kathie Lee Gifford. Kendra had been talking about her new reality show "Kendra" on E! and how much she was enjoying her infant son, Baby Hank.
Suddenly, she was offering advice to Gosselin, who is competing on "Dancing With the Stars."
"Kate is on 'Dancing With the Stars,' " Kendra said. "I just told my publicist, if I were asked to go on 'Dancing With the Stars,' I don't think I'd do it. I would definitely say no to it, because I am that mom that wants to be there every step. I don't want to spend three months away from my baby. I just couldn't do that."
TV or not TV?
Kendra has been a mother only since Dec. 11, when she and husband Hank Baskett III, a wide receiver with the Indianapolis Colts, welcomed Hank IV into the world. Kate's Gosselings are considerably older: The twins are 9 years old and the sextuplets 5.
TMZ.com has reported that Kate has installed a dance studio in the basement of her Pennsylvania house, where she will practice with her partner, Tony Dovolani. According to TMZ, Kate will spend just two days a week taping each show in Los Angeles while her children are with a nanny at home.
Kendra admitted to Kotb and Thicke that she was spending three days away from home to talk about the second season of "Kendra."
In last year's first season, Kendra left Hefner and the Playboy mansion, where she had first starred in a reality series, "The Girls Next Door," with two other playmates, Holly Madison and Bridget Marquardt.
The 24-year-old had met Hefner in 2004 when she hired on as a model in body paint. She's done three photo spreads in Playboy and has been on the cover four times.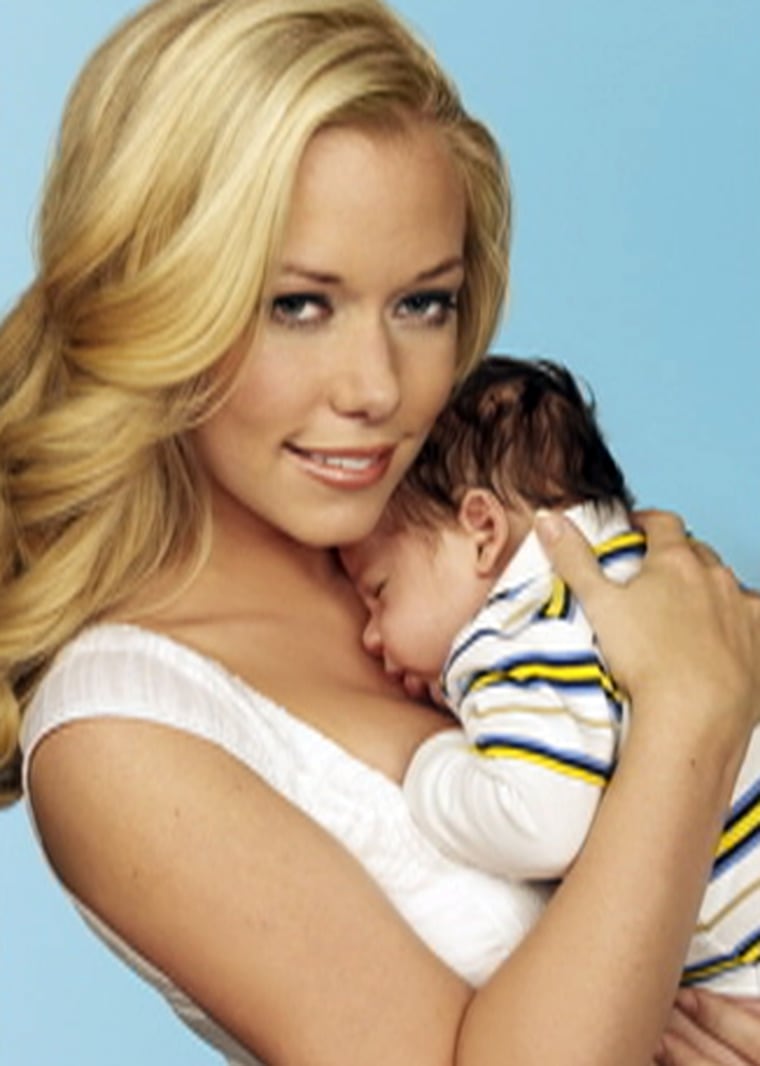 She left to marry wide receiver Baskett, who played last year for the Colts after spending three years with the Philadelphia Eagles. (Baskett is back with the Eagles this year.)
'Perfect timing'It's all been storybook perfect, Kendra said. In her mind, she always saw herself having a baby when she was 24, and that's what happened.
"It's amazing," she said. "I think that my life has come with perfect timing. I was that party Playboy girl, and now I'm a wife and a mother. I'm enjoying every chapter of my life. I have the best husband and the best baby I can ever imagine."
Kendra said that while she's working to get her body back in shape, she's not obsessing about becoming a size 2 again. She even insisted that E! film her still-saggy tummy for her show.
"I love my body now. I love the weight," she said.
She did not talk about her well-publicized crying jag after the Colts' loss in the Super Bowl. But she did say she knows "Kendra" won't last forever.
"They're not going to follow me when it's time to take [Little Hank] to elementary school," she said. "That's when it will end."