Everything old is new again, at least in prime time.
"Will & Grace" and "Fuller House" are already revived and revamped hits, respectively, and both a "Murphy Brown" and a "Buffy the Vampire Slayer" revival are on the way. And recently, there's even been buzz about a return to "The Office" or a refresher for fan-favorite sitcom "Frasier."
As for the latter, we've got an update — straight from the leading man himself, Kelsey Grammer.
Grammer stopped by TODAY Thursday to talk about his new Netflix film, "Like Father," alongside director and writer Lauren Miller Rogen, but the feature-length comedy wasn't the only thing on his mind.
When Kathie Lee Gifford and Hoda Kotb asked him about the "Frasier" reboot rumors, he confirmed that talks are indeed underway.
"We're talking to some writers about it," Grammer teased. "The odds right now are probably about, um, 40/60."
In other words, not bad!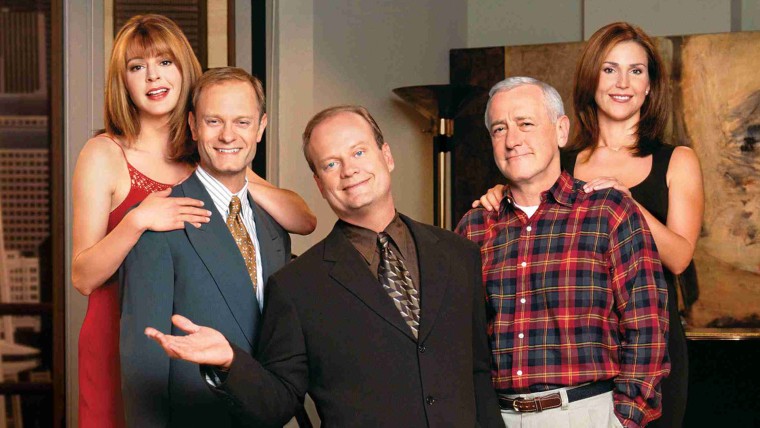 "We'll see," he said after dishing up those hopeful odds. "We've listened to a couple of takes. We have a couple of ideas that might work out. I don't want to go back to the apartment and pretend I never left Seattle."
He added, "Hats off to 'Will & Grace,'" given how that series was able to pick up right where it left off. "But I don't want to do that. So, we'll see."
Besides, in the case of "Frasier," going back to the apartment like nothing changed wouldn't really work.
When last fans saw their favorite radio psychiatrist, he'd left Seattle behind and was on a plane headed toward Chicago — and a possible reunion with his lost love, Charlotte (Laura Linney).
And no matter where or when a return to "Frasier" might happen, it would have to happen without a couple of the most beloved characters.
Stage and screen star John Mahoney, who played patriarch Marty Cane, died in February. And, sadly, his constant companion on the show, a Jack Russell terrier known as Eddie (or Moose, off screen), died in 2006 — just two years after the final episode of the series aired.
So fans will simply have to wait and see if and how "Frasier" makes another appearance. If it does, it would be the second go at the show and a threepeat for the character, who got his start on "Cheers."
"Frasier" ran for 11 seasons and raked in 37 Emmys before taking a bow in 2004.