Kelsea Ballerini opened up about her former marriage in a raw new interview, and her ex-husband, Morgan Evans, doesn't seem too thrilled about it.
In the latest episode of the "Call Her Daddy" podcast, Ballerini, 29, looks back on their nearly five-year marriage, and reveals that they were in therapy for years before breaking up.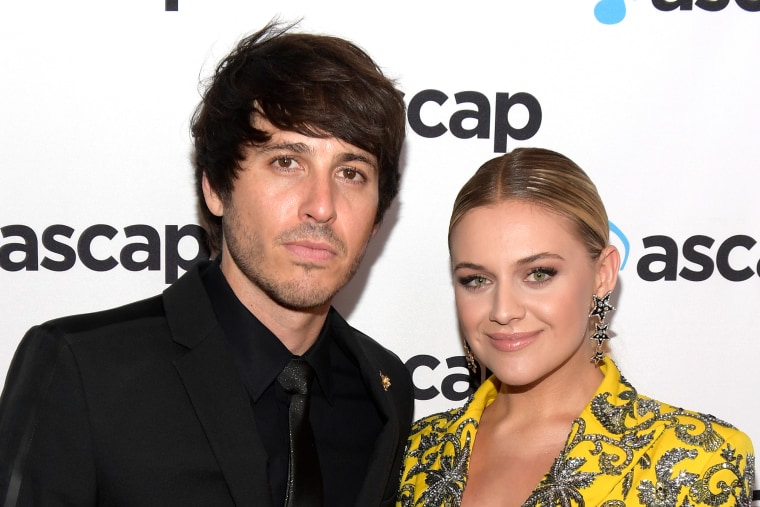 In response to claims that Ballerini made during the interview, the Australian singer-songwriter posted his own thoughts on TikTok Tuesday.
"It's really sad for me to see this person, who I spent so much of my life with, and loved with all my heart, saying things that aren't reality and that leave out what really happened," Evans wrote.
The 37-year-old then asked the public to be respectful of his ex-wife.
"She knows I'm not the type of guy to speak on those things publicly. If this is what she needs to heal, I hope it helps," he said. "All I ask is that if you're on my pages, please don't be mean. Don't be mean to Kelsea, don't be mean to each other. Life's too short."
The musicians got engaged after less than a year of dating and were married in 2017. They officially split in 2022. In her interview, Ballerini admitted that she can now see some red flags as she reflects on the early days of their relationship.
"At 22, I was much quieter. I didn't have an opinion on much. I'm a people pleaser to my core and I think that that was the thing that was in the driver's seat," she said. "I was a mirror back to whoever was in front of me and I was really good at being whoever people needed me to be and then I grew up."
The singer said that Evans "felt steady" to her as her life was changing a lot early on in her career. But she also explained that she never really thought she'd get married since her parents had a "nasty" divorce. Still, Ballerini said she felt attracted to the "security" that her ex offered since he came from a solid family.
Looking back on wedding day, the singer said that she wasn't really focused on herself.
"I just wanted everyone to have a nice time. I didn't want to have a wedding," she said. "I think at the end of the day, I didn't really want to get married. I did in that moment but fundamentally, I think from the trauma that I had as a kid, I didn't. And then I think I told myself that I did and I take full responsibility for that narrative."
Ballerini claimed that she made more of an effort to keep her marriage going amid her and Evans' busy schedules, and admitted that she became "resentful" of him.
The singer said she would often sleep on the couch when they were in the middle of a disagreement, but said they would never have loud, angry fights.
"There were separations, there was years of couples therapy. There was, like, many a night of sleeping on the couch. This was just a relationship that took work for a long time," she said.
Ballerini then described one night where she slept on the couch.
"We hadn't seen each other, there was a lack of effort to see each other. I was getting resentful because any time we did see each other, I felt like I was carrying that load, and I was tired," she said. "I was just tired of showing up in that way all the time and not feeling like I was seen or matched."
The singer said she truly realized that she and Evans weren't on the same page when she knew she wasn't ready to have kids and he was. She said she brought up the idea of divorce and hasn't spoken to Evans since that moment.
Looking back on their breakup, the 29-year-old acknowledged that it takes two to tango.
"I don't pin the whole downfall on him at all. I was not perfect, he was not perfect, it was not perfect," she said.
Ballerini said the breakup helped her realize the importance of female friendships and said her girlfriends helped her through the painful experience. She also learned more about herself.
"I think I got married because of my parents. I think I got divorced because of me," she said. "I think me choosing to get out of that marriage was me kind of rewriting what divorce looks like and what it means."
Ballerini's fans have recently been wondering if she's dating "Outer Banks" star Chase Stokes after photos of the pair circulated on social media. When asked if she's single during her interview, the star simply said, "No."
"I'm just vibing," she said coyly.
The singer was then asked if she thought about how her ex would react to seeing the photos of her with a new man.
"No, because I'm not married to him anymore and I don't need to care about his feelings anymore. And I mean that with all the respect in the world. But his journey is not mine anymore," she said.
The singer acknowledged that she knows she will likely be criticized for this opinion, but explained her stance more.
"I hope that he's protected from whatever he needs to be protected from seeing. I hope he has people in his life that help him do that. That is not my job," she said.