Kelly Clarkson can't promise viewers that she'll be as funny as some of the Billboard Music Awards' past hosts. However, thanks to her inability to filter herself, she's predicting that her first official awards-show-hosting gig will at least be memorable.
"If it's great, it's great, and if it's not, it's not," Clarkson told TODAY. "At least it's still funny to laugh at!"
"You should tune in just to watch me epically fail, possibly!" she added.
Clarkson admits she's terrified to host the awards show, which will mark its 25th year when it airs live on NBC this Sunday. In fact, thinking about the gig has, at times, left her speechless.
"You know I'm really nervous when I'm really quiet," she said. "I'm never quiet! There's a lot going on inside (my head), trying to figure out, how do I do a monologue? How do I pull that off? I'm not a comedienne!"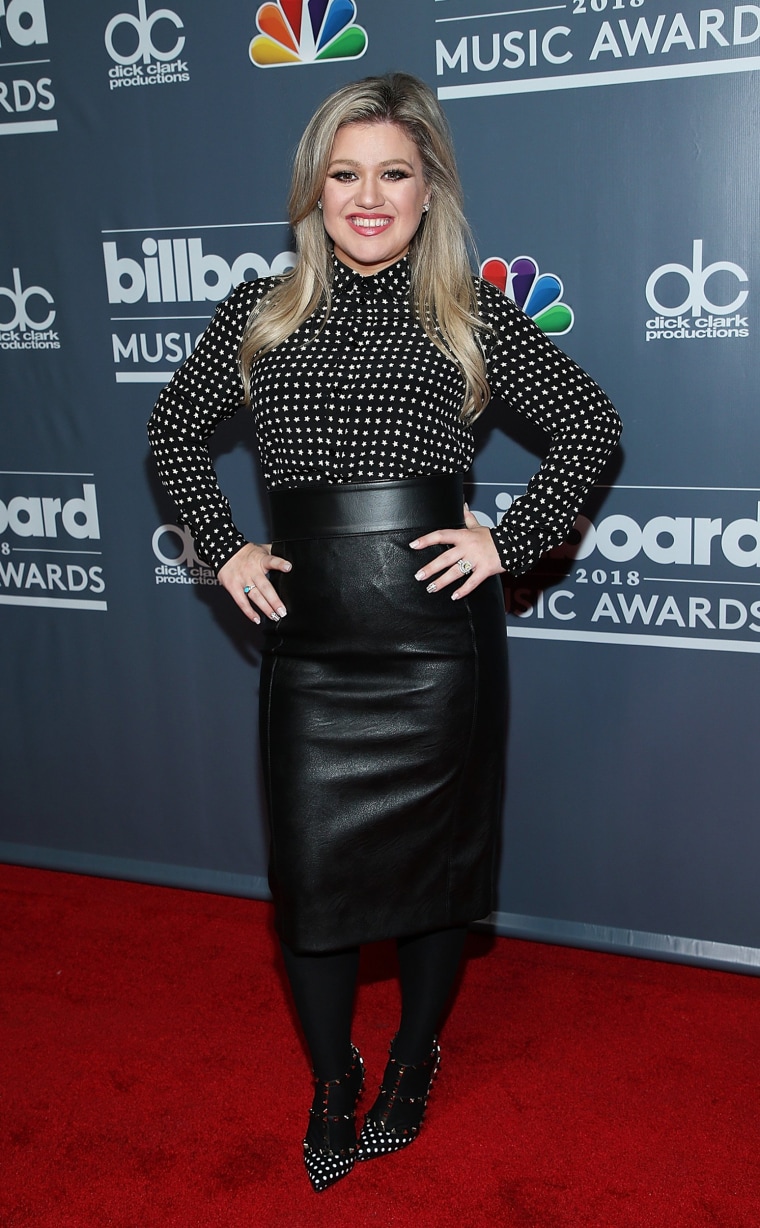 And don't expect any canned, made-for-TV jokes from Kelly … or, at least any that go off as planned.
"I have this nervous thing. Even if we planned something, I look at the prompter and say something totally different!" she said. "I don't know what it is; I know how to read. I get nervous and then I just ramble about things I probably shouldn't talk about. I'm actually very nervous because I have no filter!"
The 12-time Billboard Music Awards winner knows that she can count on the support of at least a few viewers: her kids. Clarkson — who shares 3-year-old daughter River and 2-year-old son Remington with husband Brandon Blackstock and is stepmom to Blackstock's 16-year-old daughter, Savannah, and 11-year-old son, Seth — says that her family will be watching her hosting debut.
"I know my nannies will try (to get River and Remington) to watch, but … they're kind of over (seeing) me on TV!" Clarkson said. "I'm on TV every week now live (on 'The Voice') so they're kind of over it."
While her little ones may be over seeing their mom on TV, appearing on the 14th season of "The Voice" has made Clarkson an idol (pun intended) to her teen stepdaughter.
"Nothing I do is cool to a 16-year-old," Clarkson said. "(But now) she's like 'Oh my gosh, me and my friends are actually watching the show! It's awesome and you're funny.' And I was like, "I'm cool to my daughter?!' That was probably my favorite thing — that I was cool in her eyes!"
Clarkson has been "cool" to her fans since she burst onto the music scene back in 2002 after winning the inaugural season of "American Idol." However, Clarkson believes that the talented young people she's coaching on "'The Voice" are much more advanced musically than she was when she won "Idol."
"With Brynn (Cartelli), the girl I've got left (to compete in the season finale), she's amazing," Clarkson said. "I was not as cool as Brynn and I can own that! I was 19 and I had no idea what was going on."
The "I Don't Think About You" singer said her younger self may not have fared well against the contestants on "The Voice."
"Before getting in here and doing (the show), I would have thought I would have done well on 'The Voice,'" she said. "(Brynn) just turned 15 and I look at her and I'm like, 'Maybe I wouldn't have done well!'
Clarkson will have plenty more chances to coach talented singers, as she has just been announced as a coach for the 15th season of "The Voice." Joining Clarkson, Blake Shelton and Adam Levine on the coaching panel will be fellow "American Idol" alum Jennifer Hudson. Although the former "Idol" contestants have worked together before, Clarkson predicts things may get crazy once she is battling Hudson for talented contestants.
"We're different, but we both do love big singers!" Clarkson said. "It will be interesting to see who picks who. She's won 'The Voice' before in the U.K., but I haven't won … yet!"
The Billboard Music Awards airs May 20 at 8 p.m. on NBC.