Fox News Sunday's Chris Wallace has apologized to Kelly Clarkson after body-shaming her, following a public backlash, while radio host Mike Gallagher has also expressed remorse.
Wallace, 67, and Gallagher, 54, had mocked the 32-year-old pop star, first "American Idol" winner and mother of a 9-month-old baby over her weight on "The Mike Gallagher Show" on Friday. Wallace said Clarkson "could stay off the deep dish pizza for a little while."
"I sincerely apologize to Kelly Clarkson for my offensive comment," the Fox News Sunday host said in a statement to E! News on Sunday. "I admire her remarkable talent and that should have been the focus of any discussion about her."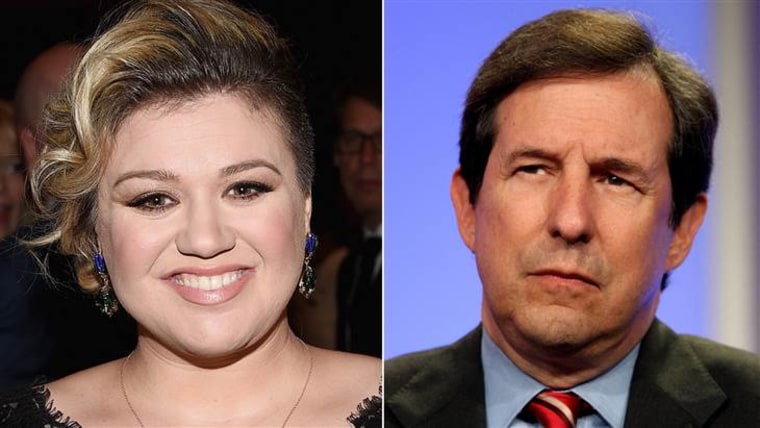 During the radio chat, Gallagher said, regarding Clarkson, "Holy cow, did she blow up." He also poked fun at his own weight."
Tubby Mike is the last person in the world who should bring up anyone's weight," Gallagher, who is occasionally featured as a contributor on Fox News, said in a statement posted on his website. "I couldn't possibly feel any worse than I do for making an observation that led to the conclusion that I 'fat-shamed' this talented and classy entertainer. It was a really stupid thing for me to do."
While both Gallagher and Wallace complimented Clarkson about her singing talent during their radio chat, Greta Van Sustern, another Fox News host, had penned a post on her website in which she condemned them over their "obnoxious" "guy snickering" and called on her Fox News colleague to apologize. Many people echoed her comments online.
Clarkson has not responded to their remarks. She has shrugged off criticism about her weight before. Last week, on "The Ellen DeGeneres Show," and also earlier this month, she responded to body-shaming remarks made by British TV personality Katie Hopkins, who had for months criticized her for not being thinner.
On Saturday, as the men's body-shaming interview started to go viral, Clarkson shared one post on Instagram, which showed she is focusing on what's truly important and near and dear to her heart.
This article was originally published Apr. 6, 2015 at 4:29 p.m. ET.