Anyone who hadn't fallen under Kelly Clarkson's spell already certainly felt the magic Thursday night when she performed the hauntingly intimate "Piece by Piece" on the first live show of "American Idol XV."
Now in its final season, "Idol" famously launched Clarkson's rise to fame as she became the show's inaugural winner in 2002. She's since gone on to have a stellar, award-studded career including three Grammy Awards.
RELATED: Kelly Clarkson shares family's amazing 'Game of Thrones' Christmas card
It's no surprise that Clarkson's emotions were running high when she found herself back on the stage that made her famous. This time, though, it was due to the bittersweet lyrics she sang. Her voice cracked and her eyes welled up as she made her way through the emotional ballad.
"I begged you to want me but you didn't want to," she sang, alluding to an absent father. The song's narrator, presumably Clarkson herself, goes on to highlight the good she sees in her current lover, who, "piece by piece," puts her back together and teaches her that men can "stay" and "be kind."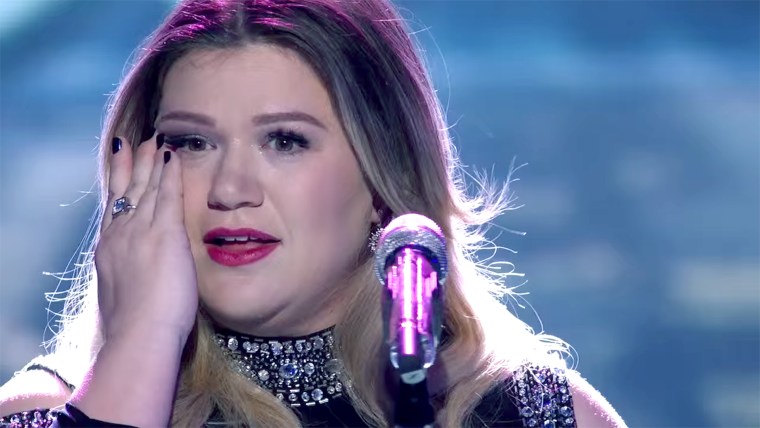 And it wasn't just Clarkson who found herself overwhelmed by emotion. Host Ryan Seacrest and judges Jennifer Lopez, Keith Urban and Harry Connick, Jr. were all blown away by her performance, as was the entire "Idol" audience.
RELATED: Kelly Clarkson makes surprise pregnancy announcement mid-concert
"You have us all in tears," Seacrest explained. "The emotion that you exude always, but especially in that important song ... it's just incredible."
Clarkson wrote the song when she was pregnant with her first child, River Rose, and now she's expecting once again (this time, a boy!) with husband Brandon Blackstock. Asked about the origins of the song, she told Glamour last year: "I don't know what my father went through as a child, and I don't know why he left and made the decisions he made, but everyone's human. I don't understand it for me, but I understand the depth of what that is — having a child — now, and he's made me want to be that much more present in my family."
RELATED: Kelly Clarkson reveals gender of baby No. 2
That might have explained some of the waterworks. "I'm pregnant and it's nostalgic, and I can't believe it's the last season. I'm really sorry I just bawled."