As a new mom to a baby boy, Keke Palmer is getting real about the hardships of motherhood.
Sending some positivity and praise to parents everywhere, the 29-year-old said in an Instagram video, "If you are a single parent, pull out your cape. As a matter of fact, unclip your angel wings because I don't know how else you did it."
She noted that she doesn't want the message to sound insensitive since there could be many reasons why someone becomes a single parent.
"Maybe they lost somebody. Maybe they don't want to deal with somebody. Maybe it's a choice," she continued. "But when it comes to raising a kid, I've already learned in these short few days that it takes a village and sometimes that's a privilege."
Addressing her friends, family and parents who were not in her circle, Palmer teared up, becoming emotional. "It could bring tears to my eyes. I am just truly, profoundly impressed," she said.
The actor then captioned her video, "I ain't gon' lie, I'm gettin' COOKED!"
Palmer welcomed her first child with boyfriend Darius Jackson in a sweet Instagram post on Monday, Feb. 27, which featured the new parents bonding with newborn Leodis Andrellton Jackson.
"Hey Son!!!!," she began the post, before breaking down the first 48 hours as a newly minted mother. In an itemized list, Palmer noted items like the significance of the of the song "Someone" and joked about revealing her child to the world.
"4. 'I'm not hiding the world from my son, I'm hiding my son from the world.' Hahaha," she wrote. "5. I'm just playing, my baby face is on this slide."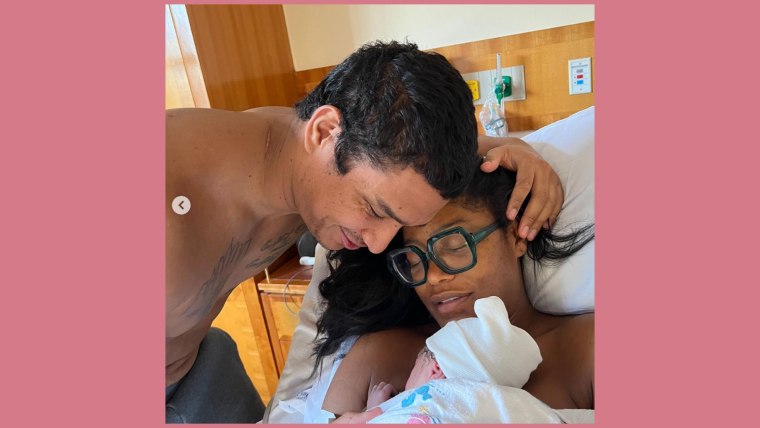 Palmer did give fans a first look at her son towards the end of her photo slideshow. She revealed the precious face of Leo, who is sporting a little grey onesie and white cap, as he cuddles close to a plush elephant wearing a sweater.
"Born during Black History Month, with a name to match," Palmer ended her caption. "LEODIS ANDRELLTON JACKSON, welcome to the world baby Leo."