Keke Palmer and Darius Jackson are no longer together.
In court documents that Palmer filed on Nov. 9, she said she stopped seeing Jackson in October after they started dating in June 2021.
In the documents, obtained by NBC News, Palmer asked for sole custody of their 8-month-old son, Leodis, saying she feared for her and their son's safety after Jackson displayed multiple instances of physical and emotional abuse.
"I am afraid for my safety and the safety of our child given Darius' erratic, unpredictable and abusive behavior, including entering my house without my knowledge or permission and physically accosting me," she said in her declaration.
Palmer also said Jackson became "rough physically" with their son while changing his diaper in an incident in September.
The court documents show that Palmer has been granted a temporary restraining order against her ex.
However, their love story didn't start out this way. The two fell for each other fairly quickly after they met at an "Insecure" after-party.
Read on to find out more about their love story.
Keke Palmer and Darius Jackson meet for the first time
During a June 2023 appearance on "The Terrell Show," Keke Palmer revealed she met Jackson "very casually" at an "Insecure" after-party that Diddy threw for Issa Rae and the rest of the cast.
In an interview with Bustle, she said the party happened in 2021.
"I had just done the show and (Jackson's) brother (Sarunas Jackson) worked on the show. And you know, I see his brother around a lot. I'm like, who's here with you?" she said playfully. "I see you at the parties, but you never brought him with you. And he was like, 'That's my little brother."
Palmer said she was immediately taken with Jackson and she found the courage to talk to him after speaking with her best friend, Nora.
"I walked up to him... My best friend, she was like, 'You should just say something to him. You should ask if he wants a drink,'" Palmer recalled.
Although they agreed to take shots together, Palmer said she wasn't looking for love at the time.
"I was looking for a roster, you understand? And so I was like, 'He fits the physical bill,'" she said.
But once they got started talking, Palmer said she realized that Jackson was such a "sweetheart."
"I think what I saw, you know, was just that he's just a sweet guy," she said.
Keke Palmer and Darius Jackson go Instagram official
Palmer and Jackson went Instagram official in August 2021 when Palmer posted some Polaroid photos of the two of them together at her 28th birthday party.
In one snap, you can see them sharing a kiss on the lips.
Keke Palmer opens up about going public with Darius Jackson
In a March 2022 interview with Bustle, Palmer talked about her relationship with Jackson and revealed why she decided to go public with him on Instagram.
"I just think [this] was a moment in time in my life where I really stepped into this kind of boss behavior [of doing] whatever the hell I want to do," she said.
"This is the happiest I've ever felt with someone. So why would I go out of my way to hide this person? That's a lot more work than just living in my life and being in my life," Palmer continued.
Keke Palmer reveals she's pregnant
In December 2022, Palmer hosted an episode of "Saturday Night Live," and while taking the stage, she revealed she was pregnant when she unbuttoned her trench coat and showed off her growing baby bump.
"There are people in my comments saying, 'Keke's having a baby, Keke's pregnant,' and I want to set the record straight," she said. "I am."
"It's bad enough when people spread rumors about you but it's even worse when they're correct," Palmer continued. "I mean, I was trying ... so hard to keep it on the down low because I have a lot of stuff going on."
The actor-singer also joked about feeling a bit ambushed when people came up to her and told her, 'Congratulations?'"
"I'm like, 'Shh! Can y'all stop? I have a liquor sponsorship on the line!' Once the check clears, then we can get to the damn baby shower!," she quipped.
"This has been the biggest blessing," Palmer added.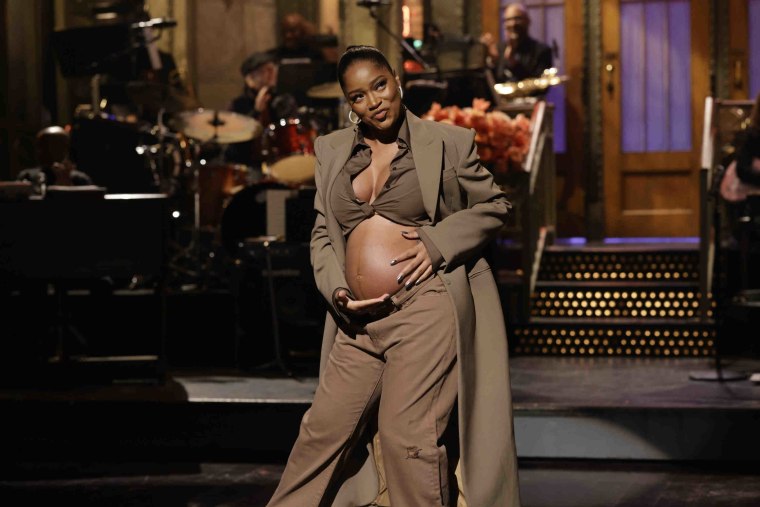 Keke Palmer and Darius Jackson welcome their first child together
In February, Palmer and Jackson became parents, welcoming their sweet baby boy, Leodis Andrellton Jackson, into the world.
On Instagram, the actor shared a video of Jackson cradling their son in her hospital room while she laid in bed. In another frame, Palmer posted a sweet photo of her holding Leodis while Jackson embraced her.
"Welcome to the world baby Leo," Palmer wrote in the caption.
Darius Jackson publicly criticizes Keke Palmer over her Usher concert outfit
In July, things took a turn for the worse for the couple when Jackson responded to a video that someone posted online of Usher serenading Palmer at his Las Vegas residency while she wore a tight, black bodysuit underneath a sheer dress.
"It's the outfit tho.. you a mom," he wrote in a now-deleted tweet on X, formerly known as Twitter.
After receiving backlash online for his comment, Jackson decided to double down on what he said in another now-deleted tweet.
"We live in a generation where a man of the family doesn't want the wife & mother to his kids to showcase booty cheeks to please others & he gets told how much of a hater he is," he wrote. "This is my family & my representation. I have standards & morals to what I believe. I rest my case."
Keke Palmer responds to breakup rumors about her and Darius Jackson
In September, Palmer responded to speculation about her relationship with Jackson after rumors started surfacing online that they broke up.
When asked whether she and her beau were still together on TODAY with Hoda & Jenna, Palmer responded, "I'm going to take a page out of Beyoncé's book: Mind y'all's business."
Jenna then asked Palmer if she was happy and the "Nope" actor said, "Yes, life is good. I have nothing but gratitude, honestly. Seriously."
Keke Palmer accuses Darius Jackson of domestic abuse
In November, Palmer filed for sole custody of their 8-month-old son, Leodis, and was granted a temporary restraining order against Jackson.
In court documents obtained by NBC News, Palmer alleged multiple instances of physical abuse along with emotional abuse in a declaration filed on Nov. 9 in a Los Angeles Superior Court.
In the declaration, Palmer said she dated Jackson from June 2021 to October 2023 and noted the alleged abuse continued even after they ended their relationship.
In the court documents, Palmer also recalled an incident where Jackson entered her home without her consent and attacked her in a scene caught on surveillance video. She included those screenshots in the documents.
"Darius trespassed into my home, physically attacked me, knocked me over my couch and pinned me down, and stole my phone after I threatened to call the police," she wrote.
"He was yelling, leaning into me, getting into my face," Palmer added. "At that point, he lunged at me, grabbing at my neck and face, knocked me backwards over the couch, stole my phone out of my hands, and then ran out of the house."
Palmer said she then ran outside to get her phone back and that was when Jackson "nearly hit me with his car."
After Palmer filed the court documents on Nov. 9, Jackson posted a photo on X of him holding Leodis.
"I love you son," he wrote. "See you soon."