/ Source: The Associated Press
Toby Keith heads to "Honkytonk University," System of a Down hopes to "Mezmerize" fans and Cowboy Troy delivers the latest album from Nashville's Muzik Mafia in this week's reviews.
"Honkytonk University," Toby Keith
Toby Keith's latest gets off the line like Jeff Gordon at Talladega, but unlike the NASCAR champ, Toby Keith's latest recording runs out of gas way before the finish line.
The album opens with the title track, a four-on-the-floor biopic that has Keith at his outlaw country best. Using members of Waylon Jennings' backing band, the song takes us through the highs and lows of Keith's career: "I am a red, white and blue-blood graduate of Honkytonk U." The following tracks, "As Good As I Once Was" and "She Ain't Hooked On Me No More" (a duet with Merle Haggard), likewise capitalize on Keith's good ol' lug persona.
As with 2001's "I Wanna' Talk About Me," Keith shines in this lightly self-deprecating mode, but, unfortunately, the remainder of "Honkytonk University" gets mired in by-the-numbers love songs. That sentimentality doesn't really fit Keith, who's made his name as a rough-and-tumble everyman, and in the end, "Honkytonk University" ends up in the middle of the pack, far away from victory lane.— Paul V. Griffith
"Mezmerize," System of a DownOne sign that you've got your hands a great album is the fact that you've listened to it three times on the first day and it's not even noon yet. I'm guilty of such activity and it's all System of a Down's fault. The Southern California band's latest album, "Mezmerize," is simply that good.
This is the first of a two-disc "set" (the second disc "Hypnotize" is due to be released in the fall). It covers love, politics and mass media implosion set to the hardest brand of rock you could imagine.
And it is, at times, a stunning work.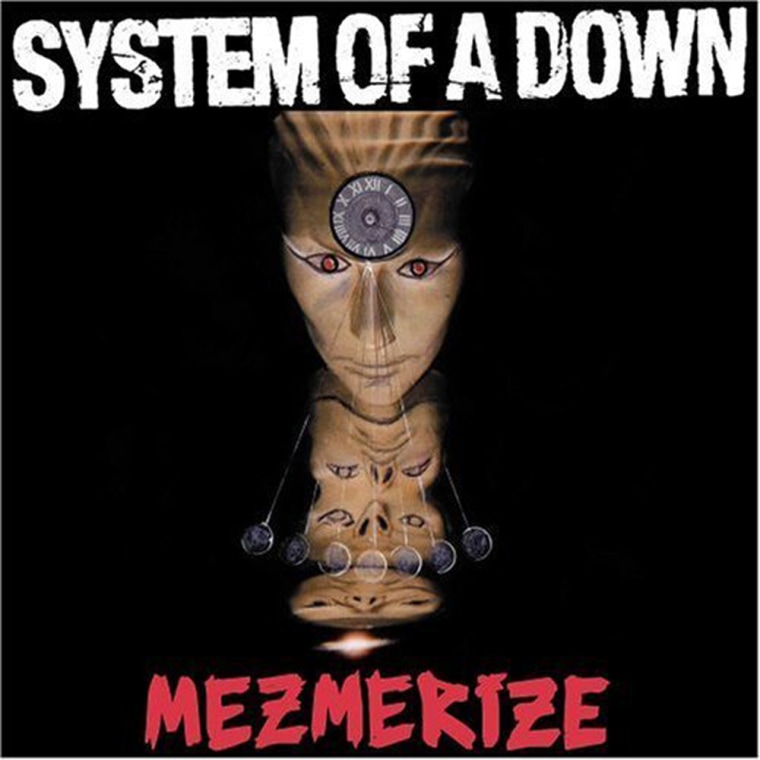 You can feel lead singer Serj Tankian's brain spinning in irony on the war-questioning track "B.Y.O.B." as he sings "Everybody's going to the party have a good time/ Dancing in the desert blowing up the sunshine." This song confronts turmoil in the Middle East, calls leaders to task for sending the poor into battle, and does it all at a breakneck speed that the band is known for.
System of a Down packs a wallop on each track, but stops just short of pointing an accusatory finger in any one particular direction. To do so would pigeonhole them artistically and politically. Rather, they correctly chosen to lay bare a series of emotional vignettes and let listens draw the conclusions.
"Lost in Hollywood" is another great song, an odd homage to Tinseltown and its curious allure that can prove fleeting to failures. "Look at all of them beg to stay/ Phony people come to pray," Tankian sings. His vocals are stellar as usual, only at times giving way to a shrill whine that's a little too close to Les Claypool for comfort.
Guitarist Daron Malakian continues to amaze. One moment he's delivering a scorching lead, and the next he's providing a staccato crunch of guitar so raw that Suicidal Tendencies fans would be proud. How fast can he play? Use your imagination — then double it.
But here's where the group excels best. It's one thing for an artist to nudge listeners into a certain direction of thought, as Green Day did with the election-timed release "American Idiot." It was a listenable but ham-fisted call to defeat Bush. It's another matter altogether to offer true artistic depiction of the world's political landscape, and not just the landscape you'd like to see flourish.
System of a Down takes the more honest approach, and music fans should thank them.— Ron Harris
"Loco Motive," Cowboy Troy
Cowboy Troy is the latest artist to break out of Muzik Mafia, the rambling, carnival-like collective that's responsible for Gretchen Wilson and Big & Rich. "Loco Motive," Troy's debut, combines rap, rock and country in a style he labels "hick-hop."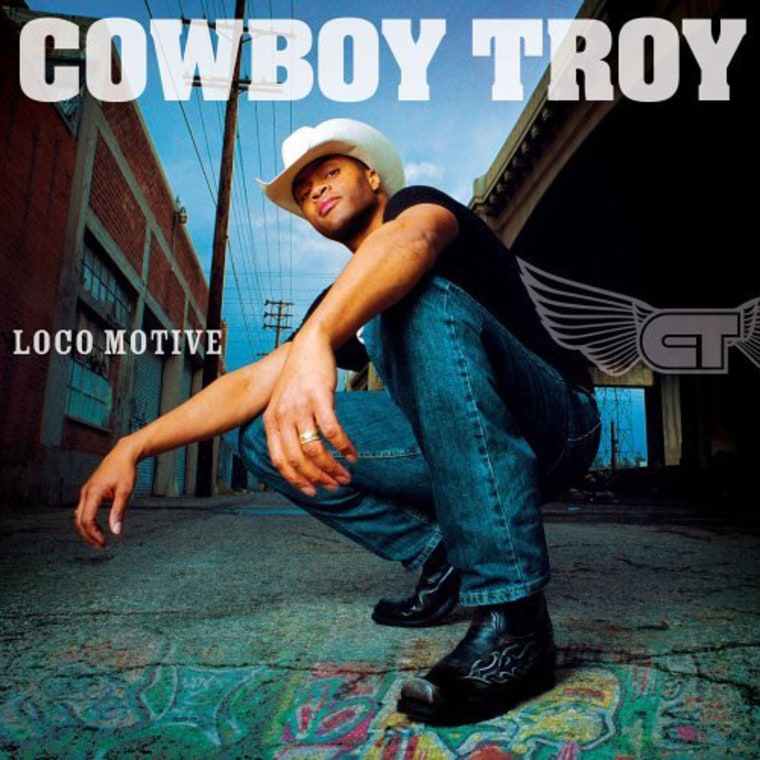 The record's first single, "I Play Chicken With the Train," is an autobiographical romp that features fiddles, banjo, a heavy metal riff and a refrain sung by Big & Rich's Kenny Alphin and John Rich. Unfortunately, most of "Loco Motive" doesn't hold up as either country or hip-hop. Many of the backing tracks are formulaic, and Troy, who's a Texas-born African-American, doesn't have the syrupy flow of other Southern rappers like Ludacris and OutKast.
Like most of the Muzik Mafia spawn, Gretchen Wilson excluded, his songwriting is limp ("I'm a beast on the mic, can't get no satisfaction/ Step aside 'cause it's time for some action"). The exception is "If You Don't Wanna' Love Me," Troy's duet with satin-voiced Sarah Buxton. Strings and pedal steel accompany the track, a countrypolitan lament that deals with single parenthood and homelessness.— Paul V. Griffith
"You're Speaking My Language," Juliette and the Licks
Come cut class and join Hollywood bad girl Juliette Lewis and her brooding buddies the Licks as they smoke cigarettes and talk trash behind the bleachers. They've got something they want to tell you on "You're Speaking My Language," their first full-length outing.
Usually there's something strangely indulgent and thus repellant about actor-fronted bands. Keanu Reeves' Dogstar, Russell Crowe's 30 Odd Foot of Grunts and Johnny Depp's P always seemed more like pet projects than serious endeavors. Not so with Lewis. Take a listen to her gut-wrenching chorus during "I Never Got to Tell You What I Wanted To." Neither Juliette or her playful Licks are joking around. Got it?
While guitarist Todd Morse and drummer Jason Morris do their best impression of the Van Halen brothers, it seems Lewis has been hanging out in the girls' bathroom with the likes of Patti Smith and Chrissie Hynde. "Pray for the Band Latoya" and "Got Love to Kill" feel like notes passed in class from Scandal to the Licks.
Jocks, bad nerds, drama club members and stoners are all welcome to party. This is rock for everyone. The keg's in the back. And there's a few ballads, too. "This I Know" is a soulful ditty about love's illusions. "Long Road Out of Here" blends Lewis' raspy voice with a delicate piano and lonely guitar, all coming together in a finale of Zeppelin-like proportions.
With the 12 tracks on "You're Speaking My Language," Lewis and her Licks have earned their place in contemporary rock's yearbook. Have a great summer, Juliette. See you next year!— Derrik J. Lang
"Joyous Encounter," Joe Lovano
Saxophonist Joe Lovano doesn't believe in sequels. Until now, he has never recorded back-to-back albums with the same ensemble, preferring to alter his lineups as he changes styles and themes from one CD to the next. But rules are made to be broken, and Lovano couldn't resist the chance to record again with this group of consummate jazz professionals: the 86-year-old pianist Hank Jones, drummer Paul Motian and bassist George Mraz.
This is the rare sequel — like "Godfather II" — that is superior to the original, and that's saying a lot because the quartet's "I'm All For You — Ballad Songbook" made many jazz critics' Top 10 lists for 2004. On "Joyous Encounter," the quartet has benefited from playing together in dozens of gigs between recordings, refining the ensemble interplay and taking on more risky challenges. The result is a CD that more fully reflects the broad spectrum of the quartet's talents than their all-ballad album.
The opening "Autumn in New York" sounds at first like a continuation of the first CD, as Lovano's breathy tenor sax languidly exposes the ballad's melody, but suddenly the quartet turns the tune into a midtempo swinger. The quartet sets an even brisker tempo on the next tune, Lovano's own "Bird's Eye View," which draws inspiration from bebop master Charlie Parker's "Confirmation" with some references to John Coltrane's "Giant Steps," both of whom are among the many jazz legends Jones has played with during his distinguished career.
Lovano's quartet pays tribute to other departed jazz greats, notably Jones' younger brothers Thad and Elvin, by offering fresh takes on the older material with new harmonizations and reconstructed melodies. There are three tunes by trumpeter-big band leader Thad Jones: "Don't Leave Me Now," the waltz "Quiet Lady," and his classic ballad "A Child Is Born," a delicately understated duet featuring Hank Jones and Lovano on curved soprano sax. Elvin Jones is honored by two tunes from albums he played on: Oliver Nelson's uptempo and somewhat funky "Six and Four" in an unusual 6/4 time signature, with Motian's drums and crashing cymbals driving the pace, and the modal "Crescent," from a 1964 album by the Coltrane Quartet, performed here in a restrained manner with more emphasis put on the melodic lines.
This is an album that has moments of poignancy — the exquisite piano-tenor sax duet on the ballad "Alone Together" — mixed with buoyant toe-tappers — Hank Jones' sprightly bebop tune "Consummation" — and the end result is mainstream jazz of the highest standard.— Charles J. Gans
"You Ain't Talkin' to Me: Charlie Poole
and the Roots of Country Music," Charlie Poole
Somewhere in the past, before sound was ever recorded, people sang the music of Appalachia's hills and valleys to each other and sculpted something that would eventually grow into country music.
Their names are lost to history, and their voices will never be heard. But in the 1920s, when what was pejoratively called "hillbilly music" started selling records, a few folks committed those traditions to acetate and became the first country musicians — people whose talents would form an archive of inspiration for future generations.
For the blues, it was musicians like Son House and Charley Patton. Jazz remembers Ferdinand "Jelly Roll" Morton. And for country music, no one was a better conduit of what came before than a man named Charlie Poole. Along with performers like Clarence "Tom" Ashley, the Skillet Lickers, Darby & Tarlton and the Carter Family, the hard-charging, hard-living, hard-drinking Poole became a first-generation country recording artist who carried the music of the hills to the rest of the republic.
Which makes it all the more puzzling why, outside country music circles, Poole's name and that of his string band, the North Carolina Ramblers, don't resonate as House's, Patton's and Morton's do with the general public. Fortunately, a marvelous new box set of his music, recorded in the mid- and late 1920s, is making sure that this cream of yesterday's music remains available to today's ears.
"You Ain't Talkin' to Me: Charlie Poole and the Roots of Country Music" is stuffed like a fat pork chop full of succulent material that shows cultures coming together in a dawning age of technology — old Scotch-Irish ballad traditions, Southern songster innovations, black minstrelsy, even echoes of Tin Pan Alley that journeyed into Appalachia via sheet music and re-emerged wearing new coats.
It's misleadingly simplistic to brand Poole a purist, a mere spear-carrier of an age earlier than his own. We tend to do that with the earliest recorded performers simply because their music is the oldest available to us, so it's a natural conclusion that they are the wellsprings.
Not Poole. Though to many 21st-century ears his songs sound like weathered postcards from the 1800s, in his time he was a blender and an innovator, reaching backward into American yesterdays and harvesting them for the musical fuel he needed to charge forward. If Bill Monroe was the father of bluegrass, you could make a strong argument that Poole was its grandfather.
His performances were just that — musically and lyrically calibrated to audiences and microphones, making them different from true front-porch "folk music." Some of the songs here, like the long-unreleased "Mother's Last Farewell Kiss," are unabashedly sentimental parlor tunes. Others, like "Leaving Home," a reading of the old "Frankie and Johnny" text, are raw and refined at the same time, managing to sound utterly white and rural while still incorporating the black influences that were pervading that earliest recorded country music. And "Sweet Sixteen," writer unknown, crackles with Tin Pan Alley lyricism ("I loved her well, but it's sad to tell, she'd chew her chewing gum").
Poole's three-finger banjo playing and the nasal exuberance of his voice — itself a blend of old Appalachian ballad tradition and the energy and trajectory of 1920s modernism — serve as tour guides through the 72 tracks. Also included: a passel of non-Poole recordings (including one from 1902!) that act as yardsticks to measure the evolution of Poole's style.
We visit arguing husbands and wives, girls left behind, outlaws headed for bad ends. His magnificent take on W.C. Handy's "Rambling Blues" carries us to Paris, to Broadway and to Memphis, Tenn., as Poole extols the joys of rambling around. "Talk about your whiskey and your bygone days," he says, and his voice is sentimental and laconic all at once.
Rarely do lives have climaxes, at least while they're in progress. The set's final track is "He Rambled," and he did. A broken Poole died in 1931 at age 39 after a weeks-long bout of drinking, living his music until the bitter end. With this astonishing collection, he lives again, singing his own brand of Appalachian awakenings to a world of music that he wouldn't recognize — but that owes more than it knows to him. Sometimes recorded sound offers delayed immortality to the deserving. For Charlie Poole, "You Ain't Talkin' to Me" does exactly that.— Ted Anthony
"Nhava," Oliver Mtukudzi
"Nhava" is a Zimbabwean word for carrying a bag. In his satchel, Oliver Mtukudzi has gathered nuggets of advice about humble living and personal and social responsibility in songs that are light in tone, heavy with meaning and, unfortunately, somewhat repetitious.
Mtukudzi has long been a staple of the Zimbabwean music scene and fathered his own genre, "Tuku Music," that blends South African and Zimbabwean styles. Bonnie Raitt covered Mtukudzi's "Hear Me Lord," generating his broadest American exposure.
On "Nhava," the band is groove-tight. Circular guitar riffs, sing-song melodies and sparse background vocals give the album an airiness, even when discussing heavy topics like scratching out an existence as a migrant laborer, or a child pleading with an alcoholic father.
Between the dramatic crescendos and storyteller's delivery in his singing, Mtukudzi almost seems to make fun of his rough-hewn tenor by using a sound that mimics clearing his throat as a percussive musical accent. His style is reminiscent of the Afro Pop sound Paul Simon made famous on his "Graceland" album. But it's carried across a few too many tracks and gives the album an unwelcome sameness.— Aimee Maude Sims