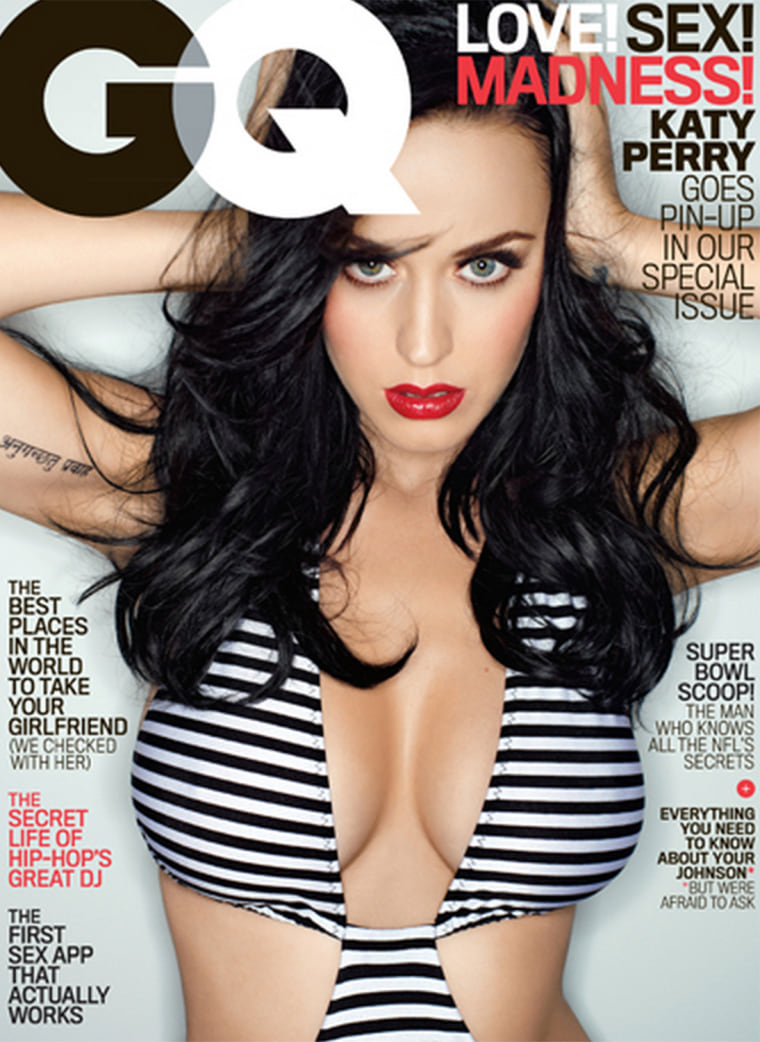 This just in: Katy Perry believes in aliens. But that's not the only revelation she makes in her new GQ cover interview, where she talks about her relationship with John Mayer, her split from Russell Brand and her controversial American Music Awards performance last November, when she appeared as a geisha.
The geisha outfit, she said, was meant in part as homage to Japanese culture — she called the country "the "capital of adorableness" in the magazine's February issue, where she appears on the cover in full pin-up girl, major-cleavage mode. 
But some considered the makeup/kimono combo worn during her performance of "Unconditionally" at the AMAs to be racist.
Perry told the GQ reporter she respected the debate, but disagreed that it was tantamount to singing in blackface. "All I was trying to do is just give a very beautiful performance about a place that I have so much love for and find so much beauty in, and that was exactly where I was coming from, with no other thought besides it," she said.
Perry also addressed her on-again-off-again, now on-again relationship with Mayer, saying, "I'm just having a wonderful experience with a wonderful guy" and noted that they were able to start dating again after her marriage to Brand ended because "I think that I needed to grow up."
She did much of her growing up in a poor household, she said ("We kind of barely got by") and revealed that before her parents found God, they had some wild times, dancing with Jimi Hendrix (mom) and taking LSD with Timothy Leary's followers (dad). But Perry, who was brought up in a strict household — no rock 'n' roll, no Lucky Charms since luck involved Lucifer — ended up losing her virginity at 16 while listening to Jeff Buckley's album, "Grace." ("Love that record so much," she said.)
Now, about those little green men. "I see everything through a spiritual lens," she told the magazine. "I believe in a lot of astrology. I believe in aliens.... I look up into the stars and I imagine: How self-important are we to think that we are the only life-form? I mean, if my relationship with Obama gets any better, I'm going to ask him that question."
Relationship with the president? Typically, Perry remained charmingly tongue-in-cheek when she said he had called her a few times, and quipped, "I might have won Wisconsin for him."