It was a wild first night at Atlantis, and poor Hoda is feeling the effects of yesterday's shots. Sadly, for Hoda, we're not speaking of booze.
If you missed it, yesterday Hoda and Kathie Lee were offered the unique Bahamian experience of slurping down raw conch. According to local lore, eating a certain slimy portion of the sea slug – called the "pistol" – has incredible aphrodisiac powers.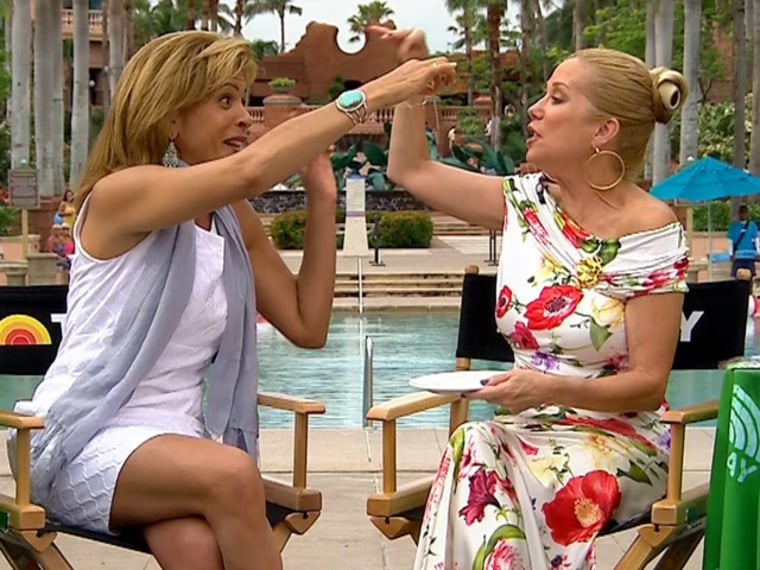 The girls made a pact to do the seafood shot together, but alas, only Hoda went through with it. Ah, burned by the old "You go first!" trick.
This morning, KLG impishly replayed the footage and hinted that Hoda had suffered some sort of gastrointestinal distress, which seemed like insult to injury.
"Do you know what it's like working with Kathie Lee Gifford?" Hoda sighed. Uh, awesome? No word on whether or not the aphrodisiac thing was a go, and thankfully nobody pressed Hoda on the issue, as she probably already needs a vacation from this vacation. She's been through enough.
More: KLG and Hoda kiss a girl ... (dolphin)
Tropical dance-off! The fourth hour vs. a sea lion
What have KLG and Hoda been up to in the Bahamas?
Julieanne Smolinski is a TODAY.com contributor. She has brothers so she never goes first in eating pacts.