Meet the hottest act to ever hit "The Voice" stage, The Winos!
Music lovers should keep a close eye on this up-and-coming singing duo. You may have even seen them on TV: Kathie Lee Gifford and Hoda Kotb.
Turns out the TODAY fourth-hour anchors have great chemistry on the music stage, too. They showed up to the set of "The Voice" to surprise their friend Carson Daly and audition for Adam Levine, Blake Shelton, Alicia Keys and new coach Kelly Clarkson.
They had a great band name. They had matching outfits. They had the perfect song choice: Carole King's "You've Got a Friend." They even had a couple of celebrity friends rooting them on from backstage: Kris Jenner and Curtis Stone.
But did they have the musical talent? We know Kathie Lee can sing. But by her own admission, Hoda was the weak link in the group.
"My prayer is that when Kath starts singing that someone hits a button, because the minute I start, it's over," she said before the two took the stage for their blind audition.
That's not how it played out. In fact, Kathie Lee and Hoda managed to convince all four coaches to press their buttons! It was more out of curiosity than genuine interest in their act, but, hey, they'll take it!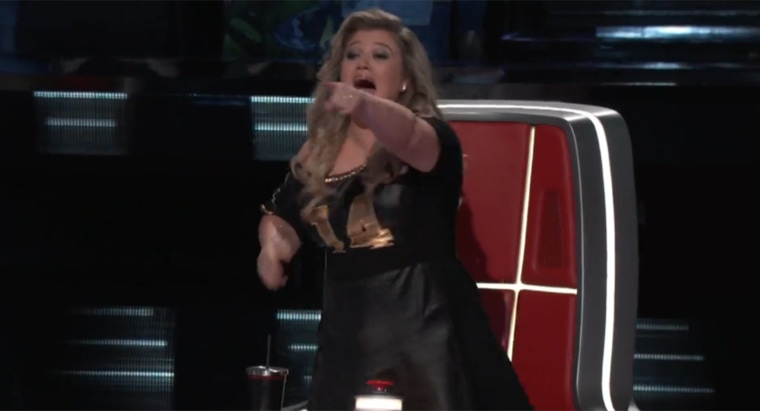 "Did you know what part (of the performance) was mine?" Hoda asked the coaches afterward.
"Kathie Lee saved your ass on that one, 100 percent," Blake joked.
Since Clarkson was the first coach to turn around, Kathie Lee and Hoda decided to join Team Kelly. Whether we will see The Winos on "The Voice" stage again remains to be seen, but don't count out this duo!
You can scout Kathie Lee and Hoda's competition when the new season of "The Voice" begins tonight at 8 p.m. EST on NBC.