Kathie Lee Gifford expressed gratitude for the overwhelming support and condolences she has received over the loss of her husband as she returned to TODAY on Monday, her first time back as co-host since Frank Gifford's death.
"I want to thank everybody for your love, and your texts and your tweets. Just just the outpouring has been extraordinary," she said. "It's a heck of a way to find out how loved you are. Believe me, my family and I got great strength and comfort from it."
Frank Gifford died on Aug. 9 from natural causes, and the tributes to the football legend have been "extraordinary," said Kathie Lee, who said her husband would have loved each one.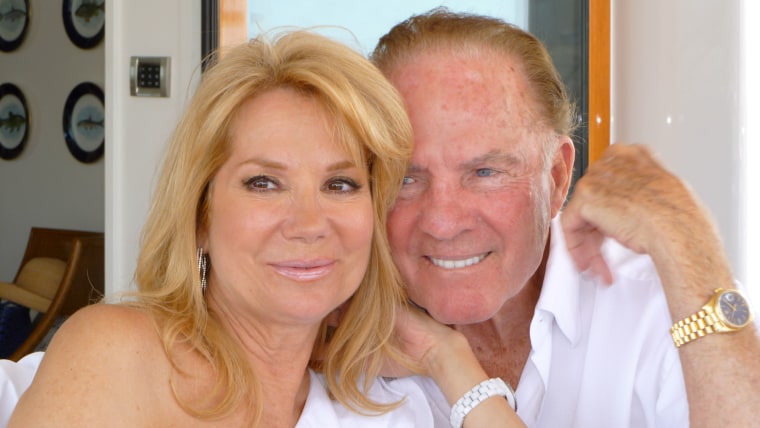 "We laughed up to the very end. I just want everybody to know that this is a man who was at complete peace in his life," she said. "He might have been the happiest, most content person in the world at this point in his life."
Kathie Lee noted that Frank was born during the heart of the Great Depression and grew up in severe poverty, sometimes eating dog food as a child and "grateful to have it." He lived in 29 places as a child as his father moved around looking for work.
"People who think that he was born with this silver spoon in his mouth? He goes, 'We didn't have spoons.' But it made him so grateful. Honestly he's the most grateful human being I've ever, ever known, and that colored everything he did," she said.
Frank also was shaped by his faith, something that kept his family together during their dark moments.
"That remained with him for the rest of his life. He strayed from his faith on occasion but his faith never left him," she said. "His world got smaller as his God got bigger and he'd want you to know that, that he died in complete peace. He knew every sin he committed was forgiven."
Kathie Lee said that Frank "passed away instantly," while waiting to go to church.
"I'm grateful that the Lord took him that way, because the only thing that Frank has ever been afraid of his entire life was being a burden to those he loved," she said. "He never wanted to be hooked up to machines. He never wanted to lose his dignity. I thank the Lord for that, for his grace to us as a family, and I pray his grace to all of you as well."
Kathie Lee also was welcomed back to TODAY with a live performance by a 5-year-old Heavenly Joy Jerkins. The pint-sized powerhouse sang "This Little Light of Mine" to Kathie Lee while she was away. While in Studio 1A, she sang a spiritual, "Jesus," and later helped celebrate Kathie Lee's birthday, which was Sunday, by bringing in a cake and a present – a crystal angel figurine.