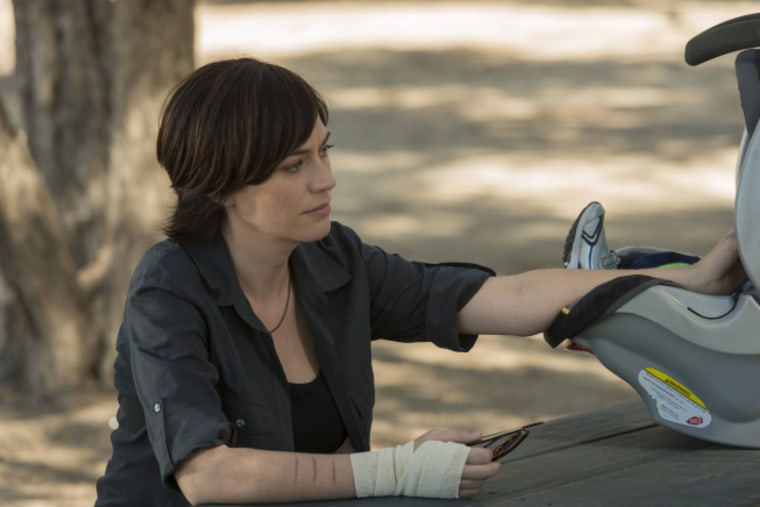 Spoiler Alert: Do not read this story if you have not watched the "Sons of Anarchy" sixth season finale.
By the end of the "Sons of Anarchy" season finale on Tuesday night, there wasn't a dry eye in the show's North Hollywood sound stages where FX hosted a small press viewing with creator Kurt Sutter and actors Katey Sagal and Maggie Siff.

The loudest sobs came from Sagal, who plays matriarch Gemma on the show, but Siff also wept consistently as they both watched for the first time the shocking scenes they filmed months ago unfolding on the screen. Throughout the season, Gemma and her daughter-in-law Tara (Siff) fought for control over Jax (Charlie Hunnam) and the children. The feud ended as brutally as most of the season has been — with Gemma striking Tara with an iron, shoving her head into a kitchen sink full of dirty water, and finishing her off with a carving fork.
"Watching it was really hard," said Siff, wiping her eyes a few minutes after the closing credits rolled and Tara lay dead on her kitchen floor in her despondent husband's arms. Near Tara was the dead body of Sheriff Eli Roosevelt (Rockmond Dunbar) who was shot by Juice (Theo Rossi) when he discovered what Gemma had done.
"Really hard," added Sagal.
"Shooting it was really hard," Siff continued. "Because the character kind of ends, so my experience shooting was feeling everything around me: Katey and then Charlie and that was really painfully hard. I was so aware of their loss. It wasn't about me. It was about them and at the same time digesting that this character I've been (playing) so long is gone."
Even though she knew Siff would be leaving the show, Sagal said that she lived in denial hoping that Sutter, who is her husband, might change his mind and keep Tara alive. Sutter said he decided several seasons ago that Tara would eventually die because he wanted there to be a "major and psychic emotional shift" in Jax as the series heads to its conclusion next year. Tuesday's episode began with Jax journaling at his best friend's grave and ended with the love of his life gone.
"First of all, I love Maggie," Sagal said. "We've been this female island in this testosterone world. But as an actor, it was kind of awesome to do things you haven't done. I've never killed anyone violently in anything that I've done before.
"That was beautiful honey," Sagal said to her husband. "But it was hard to watch, really hard to watch."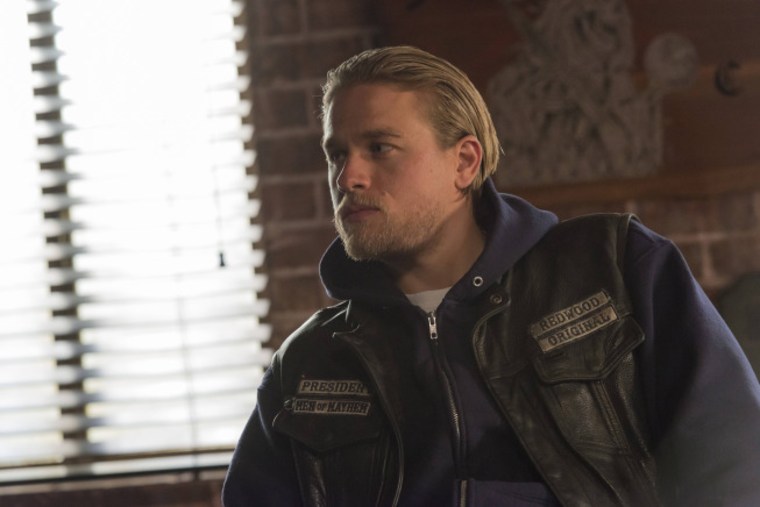 Before Tara died, she and Jax had managed to find their way back together after a season of distance and distrust. Jax forgave Tara for faking a pregnancy and blaming the subsequent "miscarriage" on Gemma after he realized Tara's life with him was what pushed her to go to those extremes. Filming the poignant scene in the park in which Jax told Tara that she doesn't have to resort to becoming an informant so that she and their sons can be safe from him was "a hard day at work," Siff said.
"I feel like that was the most important thing for me seeing the episode," she said. "I knew that was the only moment for Jax and Tara to really penetrate each other in a sense. It was about saying all the things she had to say to him and reckoning herself and saying goodbye to her children.... Whenever I work with Charlie, I feel like we find our way together."
Tara's over-the-top actions have generated much fan vitriol this season, which Siff said she has not been able to comprehend herself. "The Tara haters love Jax and Jax loves Tara so therein lies the confusion, you know, because those people out there who are like 'Tara needs to die,' I find that confusing on a number of levels," she said.
"'Disturbing,' I think, is the word," Sutter piped in.
"I understand that she breaks the code these people live by and that we're invested in this code and in Jax and in loyalty," Siff said. "And she has also served as a portal for the audience to love these people and understand these people. But ... if you root for Jax, then you sort of root for Tara and Jax because they love each other. She's a big part of his happiness. So, I don't know, I think the Tara haters are a little bit irrational."
Sagal joked that maybe the haters will aim their negativity at Gemma. Then she thought better of the resilient "Old Lady" matriarch she embodies: "She's a lovable murderer."
Siff said she was pleased that Sutter gave Jax and Tara a loving ending in the same way that Gemma and Clay (Ron Perlman) managed to be compassionate toward each other before Jax killed him.
"I really didn't want the series to end for me or for Tara with this kind of continued alienation into distrust, into enmity, into hate and into death between Jax and Tara," she said. "That felt wrong to me. Given how much they've been through together and everything they've been fighting for ... and there's this romantic center to these people. The Jax and Tara love story is a real piece of that. It's part of what makes the series work in a way that you really believe this family and these people love each other passionately."