/ Source: TODAY contributor
Kate Gosselin's legal adviser complained Friday that she wants to talk to her estranged husband about the issues that have halted the filming of their — now her — television show, but he isn't cooperating.
"She really wants to engage Jon, but he's not engaging back," attorney Mark Momjian told TODAY's Matt Lauer Friday in New York. "And that's really regrettable in any custody case."
No trespassingTLC announced that it was suspending filming of the show after Jon slapped a sign on the gate of the family's home warning film crews not to enter the property.
"Effective immediately, no production crews are to enter Jon's family home for any reason," TLC was informed. "In the event that anyone enters the marital property, Jon Gosselin will notify the local authorities to effectuate police action against any trespassers."
Jon Gosselin told TLC, People magazine and Larry King that the reason he wants to stop filming is because he's concerned about the couple's children.
"Basically we've put a halt on the show," Jon's manager, Mike Heller, told People magazine. "Jon has been talking to TLC for a long time to cut back on the production and still honor his contract — because it's been getting in the way of his family, his children are complaining. It's been hurting the relationship that he's trying to reconcile with his wife — he's trying to get back with her as a parent ... He wants to take 90 days."
"I need to be a father, and I need to take my kids off the show," Jon told Larry King Thursday. "I don't think it's healthy for them, and the reason I don't think it's healthy for them is we're going through a divorce right now," he continued.
"We know we're not going to be husband and wife anymore, but we're always going to be Mom and Dad."
Must the show go on?
Although TLC has halted production, Momjian told Lauer that Jon Gosselin has no legal right to stop filming.
"It's my standing [that it's] just the opposite," the lawyer said. "These two parties entered into an agreement once the divorce action was filed that allowed each parent that had physical custody of the children to make the filming decisions when the children were with them. So when the children are with Kate, Jon agreed that Kate would make the filming decisions involving the kids."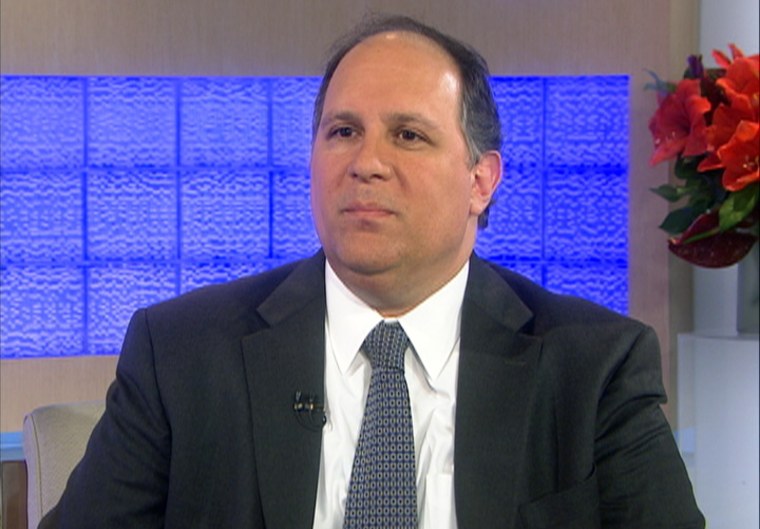 Neither Jon nor Kate talks about money as being the driving factor, but Jon did tell King that the couple was receiving $22,500 for each episode of the show. That money was their main source of income.
Momjian said Kate is going to continue filming the show with the children if she can.
"She's going to honor her contract. She'd like to continue with the show. She loves doing the show," he told Lauer.
Momjian added that Jon didn't think of the children when the couple announced their intent to divorce in June, and he participated in shows discussing the breakup of the marriage.
"His active participation and encouragement of the show involved all the children and a decision by both parents to include the children in continued production," Momjian said. "This is less about a change of heart and more about a change of strategy on Jon's part.
"Here we have children who are loved by both of their parents. Jon admits that his wife is a wonderful parent. They live in their family home. Kate is their primary caregiver. They've reached agreements about custody."
But for the moment, they do not have an agreement about the name of what was once their show and his part in it.
Momjian said Kate's problem is her estranged husband's identity crisis.
"She doesn't know which Jon is going to show up," he told Lauer. "He's obviously different people at different times."
The Associated Press contributed reporting to this story.